Central Louisiana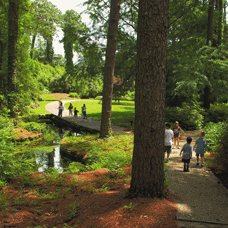 Central Louisiana, also known as Cenla and, more recently, Crossroads, is a meeting of the northern and southern parts of Louisiana, a melting pot of the cultures that inhabit the area. Alexandria is the heart of Cenla, with highways and back roads meandering around the land, from the plains where American Indians once ruled to the tall majestic pine trees that whisper in the breeze.
This is an area steeped in tradition and a unique community spirit. The spirit of each small town embraces visitors with its quality of life and values. This helps make Cenla a perfect blend of heritage, tradition, culture, natural resources and innovation.
French, Spanish and English settlers made their own mark on the land of Cenla. Natchitoches is where the builders of the French Quarter drew inspiration for architecture and design. It is also the oldest permanent settlement in the state.
The cultural diversity of Cenla is full of rich history and small-town friendliness.
American Indians are still active in their communities, teaching residents and visitors about their culture and traditions. Marksville, located in Avoyelles Parish, is home to one of the earliest American Indian civilizations yet discovered in the United States. The Tunica-Biloxi Tribe is located in this area, which also boasts Paragon Casino Resort, a museum and an anthropological conservation laboratory.
Toledo Bend, an outdoor paradise, was disputed property between Spain and the United States during the time after the Louisiana Purchase. This was no man's land, where bandits and outlaws ruled. Stories abound in Cenla, leaving legends that last through the centuries.
In nearby Florien, Hodges Gardens State Park is a unique member of the state parks system. Hodges Gardens was initially opened to the public in 1956 by oil and gas businessman A. J. Hodges Sr. Hodges took an abandoned quarry and planned a scenic garden on the property. These 700 acres feature a formal rose garden, Japanese red maple trees and waterfalls among its scenic beauty.
Cenla is the land of Steel Magnolias and All the Kings Men. It is also the inspiration for Divine Secrets of the Ya-Ya Sisterhood. If you venture far enough off the beaten path, you'll be surprised by the meandering waterways and the old farmhouses, where living life off the land is still evident. Frogmore Cotton Plantation and Gins stands as a testament that what was old can still be new, with its computerized cotton gin and on-site tours of the old days.
During the Civil War, Union troops burned the city of Alexandria, but from the ashes came the touch of Victorian times in the area architecture. Years later, just before the United States entered into World War II, Gens. Patton, Marshall and Eisenhower mapped out war strategies during the Louisiana Maneuvers.
Central Louisiana is a gumbo pot where all parts of the state meet and collide with the residents who keep life going today. Music is an important part of the entire state of Louisiana, but the Cenla area has its own piece of music history, with its zydeco and rock 'n' roll roots. So stay awhile, and meet the people. See the sights. And enjoy the music that brings it all together for a symphony of the soul.
A visit to the back roads and small towns of Cenla is like finding a diamond in the rough.
Cenla offers many back roads that take you off the beaten path and into the heart of Louisiana. Discover all we have to offer by exploring the byways and scenery.
Road Trip
Attakapas-Coushatta Scenic Byway
The Attakapas-Coushatta Scenic Byway follows a part of what was once the famed El Camino Real, which dates back to Spanish colonial times. Discover American Indian heritage, the 19th-century timber-industry heritage of Central Louisiana and World War II military history.
Colonial Trails Scenic Byway
In the years 1698 to 1850, settlers blazed the winding trails that created the frontier. They searched and found what became Louisiana's farms, towns and plantations. Journey through the Kisatchie National Forest and the Cajun prairies. Visit Marksville, home of the Tunica-Biloxi Tribe, or stop in Louisiana's oldest city, Natchitoches.
Longleaf Trail Scenic Byway
South of Natchitoches, this 17-mile stretch of scenic byway guides motorists through some of the most scenic parts of Kisatchie National Forest. This drive offers natural beauty, as well as access to several popular recreation spots in the Kisatchie Hills area. This byway traverses some of the most scenic spots within the 600,000-acre national forest.
Toledo Bend Forest Scenic Byway
Toledo Bend is a fun and exciting destination for the entire family. This 186,000-acre man-made reservoir is filled with bass, bream, catfish and crappie. Those who venture onto the Toledo Bend Scenic Highway will be transported back in time by experiencing the villages of Fisher and Fort Jesup. This route is a history-lover's delight, with small towns and museums around every bend. This is also the perfect drive for outdoorsmen and water-sports enthusiasts.
Top Destinations
•A common occurrence in Cenla and throughout much of Louisiana is a celebration of community with festivals, fairs and farmers markets. Most festivals have a theme and occur annually. They are also unique to each community. These traditional gatherings stem from farming days, when members of communities lived too far away from each other to gather together very often. They planned festivals as a way to bring residents together, both in body and spirit.
•The Alexandria/Pineville area is the undisputed heart of Cenla, with rivers and highways bringing life into the rural parts of the area. It was once a trading post and was the center of river traffic, which still plays an integral part in Cenla economics. Even though it is the center of Cenla, the surrounding areas are sure to surprise and delight with unique history and heritage.
•The Alexandria Zoological Park is a family-friendly attraction that was founded in 1926. It encompasses 22 shady acres and includes more than 500 animals, including 20 endangered species. It offers large viewing windows that provide a view into the natural habitat enclosures for tigers, lions and jaguars.
•Nearby Kent Plantation House is a classic example of French colonial architecture. It stands on the original land grant from the King of Spain to Pierre Baillio II. The home offers a glimpse of the French, Spanish and American cultures that have influenced Louisiana. It is also one of the oldest standing structures in the state.
•Ferriday, west of the Mississippi state line, is home to the Delta Music Museum. It showcases its musical heritage and also its famous musicians: Jerry Lee Lewis, Mickey Gilley and the late Pee Wee Whitaker, to name a few.
•The Louisiana Country Music Hall of Fame in Marthaville is a testament to the Anglo-Scotch-Irish settlers who came to the area. Their folk music and instruments are the roots of what country music is today. The museum is located at Rebel State Park, west of Natchitoches.
•Each August in Natchitoches Parish, the Cane River Zydeco Festival & Poker Run gets visitors' toes tappin' and feet stompin'. This style of music, indigenous to Louisiana, features accordions and washboards, also known as rub-boards or frottoir. This festival dedicated to fast-tempo beats is not to be missed.
•Melrose Plantation, located 16 miles south of Natchitoches, offers a glimpse into yesteryear. It tells the remarkable story of how a slave woman gained her freedom and property to help her family become one of the wealthiest families of color in the nation at the turn of the 19th century. This is also the site where nationally recognized artist Clementine Hunter worked as a field hand and cook while recording Cane River life through primitive art. The plantation is open daily from 12 p.m. to 4 p.m., except for major holidays.
•Upriver, Natchitoches is the oldest permanent settlement in the state of Louisiana. The city was founded in 1714 to promote trade between the Spanish and Mexicans. This area was also made famous by the colorful politics of the Long brothers. The Louisiana Political Museum and Hall of Fame in Winnfield showcases memorabilia from the 1920s and '30s that calls to memory Huey Long's campaign slogan, "Every man a king."
Natchitoches is also home to Northwestern State University, which hosts the Louisiana Piano Series International. Chez des Amis, a charming bed-and-breakfast in the center of town, offers a romantic escape where many notable pianists have entertained on the property's baby grand.
Families can have fun in Natchitoches, also. Bayou Pierre Alligator Park allows visitors to explore the unique, mysterious and exciting world of the American alligator. It is set on 5 acres of an authentic Cajun countryside, complete with Cajun music, genuine Cajun cuisine and an abundance of fun.
•Zwolle is the site of numerous festivals relating to the timber industry that is prevalent in the Cenla area. The Zwolle Loggers & Forestry Festival recognizes agriculture as an important part of the economy and honors the oldest living logger each year. It is also their way of bringing the community together for socialization.
•Main Street in Cloutierville is home to numerous historic structures, including the Kate Chopin House. This house is a Creole-style home that celebrates Kate Chopin, author of The Awakening. She was unappreciated in her own time but is now regarded as one of the great American writers of the 19th century.
Sports and Outdoors
Cenla is a great choice for nature- and outdoor-lovers. Big Bend, southeast of Marksville, is where the Sarto Old Iron Bridge can be found. This steel-truss swinging bridge was built over Bayou des Glaises in 1916. Don't try to ride a bike over this bridge; it's for foot traffic only.
Campers and hikers will enjoy Kisatchie National Forest, where the Wild Azalea National Recreation Trail can be found. Nearby Kinkaid Lake provides a relaxing spot for a picnic and a swim. Another place of note is Indian Creek Lake and Recreation Area, which encompasses a 2,250-acre lake, 100 acres of recreation facilities and a 250-acre primitive campsite, all located in Alexander State Forest.
The popular fishing area of Toledo Bend was once a disputed strip of land between territories but is now one of the premier areas for fishing, hunting, birding, and canoeing in the state. The area also offers hiking and golf.
Golf courses abound in Cenla, with Tamahka Trails in Marksville, OakWing in Alexandria and Cypress Bend near Toledo Bend. These three courses are part of the Audubon Golf Trail, but there are many other courses in Cenla that offer fast greens and plenty of game. Watch out for those water hazards!
Lodging
High-End
The Palmoire is one of Alexandria's finest inns. The luxurious 1,200-thread-count sheets are just one of the special touches the Macklins provide for your stay. Lunch and dinner can be served by request. There are also spa services on property.
The PARC England is a boutique hotel with an adjoining restaurant, Bistro on the Bayou. This boutique hotel combines the ultimate in Louisiana charm and décor with modern amenities. Definitely on the upper end of Alexandria's lodging offerings, the Parc England is suitable for business or leisure.
Natchitoches' Levy-East House is by far one of the most elegant bed-and- breakfast homes in the South. The three-story Greek Revival house has been restored to capture the spirit of its time.
Paragon Casino Resort has recently completed a major renovation. The new guest rooms are decorated with fluffy bedding fit for royalty. The older rooms need updating, but they are clean, and the location is what makes this place stand out. The lobby houses a swamp setting with real alligators, a three-screen movie theater and a few shops. There is also a full-service spa on-site, Spa la Vie; workout facilities; an indoor lagoon-style pool; and many activities for children, including an arcade and Kids Quest. Oh, and then there's the casino.
Cypress Bend Golf Resort & Conference Center on Toledo Bend Lake offers golf suites, fine dining, legendary fishing and relaxing spa facilities, not to mention a nationally recognized championship golf course that can stand on its own.
Bed-and-Breakfasts
Fairmont Plantation is Alexandria's circa 1869 plantation that offers an evening meal upon request. Inglewood Plantation is also located in the area and is considered Alexandria's best-kept secret. This property is located on 3,000 acres amongst ancient oak trees on a working plantation. Susan's Cottages has four private cabins that are cozy and filled with many amenities.
Leesville's Booker-Lewis House has nine guest rooms with luxurious and distinctive accommodations. The large, well-appointed rooms provide a welcome haven for weary travelers.
It is located in Leesville's historic district and is loaded with character.
In Jonesville, Kirby House of Trinity Bed and Breakfast is a beautiful pre-Civil War home listed in the National Register. The home is furnished in antiques and offers three guest rooms in quiet seclusion.
Natchitoches is home to numerous bed-and-breakfasts. The Blessed House is a three-story raised Creole cottage circa 1836 and is located in the historic district. Cane River Cottage and Guesthouse is situated on beautiful Cane River Lake. Visitors can dock their boats at a private dock. This lodging is located 15 minutes from downtown. For total privacy, Log Cabin on Cane River offers a spectacular view of the river and downtown. This 1934 cabin is filled with modern amenities.
Lloyd Hall in Cheneyville is a 640-acre working sugar cane plantation where visitors can take a tour of the home, spend the night in one of the cottages or hunt down ghosts that roam the property.
Dining
The food of Central Louisiana can consist of a home-cooked meal with fluffy biscuits or an alligator jambalaya, but the food that Cenla is known for is pie.
Louisiana meat pies are a meal in themselves. These pies consists of a crust folded in half, stuffed with spicy meat and then baked or fried until the crust is flaky and brown. Mmmm! Don't miss the Meat Pie Festival in September when this delicious concoction is celebrated. The festival is held in Natchitoches, the place Oprah Winfrey declared the "best little town in the whole USA!"
Ritzy
Bistro on the Bayou is located at Alexandria's PARC England Hotel. The bistro serves fresh gulf seafood, prime steaks and pasta, all with that special Louisiana touch. Bistro on the Bayou offers a swanky retro atmosphere in what was once the officer's club of the former England Air Force Base.
Red River Grill is located across from the Courthouse Square in Marksville. Its seafood and steak entrees can be topped with various offerings. The appetizers include duck tenders or a mixed grill of game sausage (venison, wild boar, buffalo). There are also daily specials, such as the spicy crawfish roll with red pepper chipotle sauce.
The Cypress Dining Room at Cypress Bend Golf Resort provides diners with an exceptional view of the golf course, which spills onto Toledo Bend Lake.
Down-Home
Lecompte is home to Lea's Lunchroom, which was once featured on The Tonight Show Starring Johnny Carson. This diner has served international and domestic visitors since 1928. Just a hop, skip and jump off of Interstate 49, Lecompte is a perfect pit stop for any road trip. Baked ham sandwiches started out as its specialty, but its melt-in-your-mouth pies with tall, fluffy meringues are a feast for the taste buds.
Cajun Landing on Macarthur Drive in Alexandria may seem like a run-down hotel from the outside, but don't let looks deceive you. Diners are flocking from all over to taste its seafood crepes and the wonderful French bread. This place, which used to be a secret for the locals, is getting known in the culinary world.
Lasyone's Meat Pies of Natchitoches is the place to get an authentic Cajun cuisine experience. This family-owned and -operated establishment, with the aroma of spices cooking in the back, will make you feel like a long-lost relative.
Slough Daddy's Restaurant in Vidalia serves up soft-shell crab poor boys while diners gaze over the Mississippi River. This laid-back facility is run by a farmer-turned-restaurateur who serves great dishes on a river deck.
The Crossroads area of Louisiana is just that: Crossroads among cultures, among classes, among people and among traditions. Whether you are looking for that down-home meal in a funky, laid-back setting or a luxurious place to lay your head, the wild azaleas and other natural wonders are waiting to be discovered.