Central Louisiana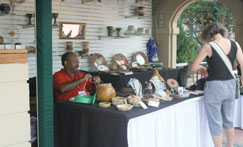 PROFILE
Tribute
In my family it was a standing joke each hurricane season that whatever location my mother wished to evacuate to for a storm always indicated its actual landfall in Louisiana. She wanted to go to Lafayette for Carmen and Baton Rouge for Andrew. We always went in the opposite direction of her wishes. Payback for teasing her was a long time in coming –– I evacuated to Horseshoe Lake in Bordelonville for Gustav. The first night the wind constantly hit my cousin Marilyn's cypress house like the gods were playing pop-the-whip in a curve of Horseshoe Lake. We awoke after what little sleep we had to find fallen trees, a carpet of downed branches, flooded porches and a gator in the front yard. The water moccasins, thank God, had the grace to stay away. My little car had actually been moved by the wind. The second night, as Gustav stalled over us, nonstop lightening flashed like strobe lights in a psychedelic disco and twisters touched down all around us. Power, of course, was nil. My cousins carted generators, sawed fallen trees off their houses and saw to the livestock and one another as rain refused to stop pouring. Cleco told Cenla they would be without power for three weeks; Gov. Jindal replied that that was unacceptable.
But no one complained. On radio call-in shows, gripers were in the minority, and other victims of Gustav called in to tell them to grow up and stop complaining. It was a wonderful testament to the spirit of Cenla.
CAUSE TO CELEBRATE
World-class
When the 13th annual Epcot International Food and Wine Festival was held at the Epcot Center of Walt Disney World in Orlando, Fla., this year, Louisiana was the only state invited to join the festivities. Each year, thousands of people with a penchant for anything cultural travel from all over the world to attend the festival.
According to the Alexandria Town Talk, the festival especially focused on Central and Northeast Louisiana food and cooking and also showcased Louisiana art, music and crafts. Like a good sprinkle of seasoning, cooking demonstrations given by Louisiana chefs were thrown in for an added measure of spice. As Louisiana tourism officials gave out brightly colored Mardi Gras beads, visitors ambled through the exhibition that boasted a French Market. Guests were also exposed to the work of artists Rick Blue and Wayne Horton from Pineville and Bastrop respectively. The two artists marveled at the amount of people both from across the world and the United States who strolled through the exhibit. Sherry Smith, executive director for the Alexandria/Pineville Convention and Visitors Bureau, shared their amazement at the size of the throng, noting happily how drawn the visitors were to the food and music. Smith believes the international exposure will attract new and returning visitors to the Bayou State.
"Just thousands of people coming through [the exhibit]," she said. "That's what it's all about. The economic impact that we believe it will bring will be tremendous, as well. So we're very, very excited and pleased about what's happened here."
Chuck Morse, Louisiana Office of Tourism assistant secretary, is thrilled with the result. Louisiana's representation at the festival clearly showed the whole spectrum of its culture to the world. Before the festival was over, 15,000 visitors had already signed the guestbook and left their e-mail addresses. To keep our new friends' fingers on the pulse of Louisiane, tourism officials will compile the e-mail addresses into a "Friends of Louisiana" list. Previews of coming attractions in the Bayou State will then be e-mailed regularly.
QUIRKY PLACES
Bowie-d up
It's one of the most rousing and tragic stories in history, but I have to admit that neither version of The Alamo ranks among my favorite movies. Accustomed to Fess Parker as Davy Crockett, I couldn't adjust to John Wayne in a coonskin cap. I couldn't keep a straight face watching Billy Bob Thornton with a really bad pageboy as Davy Crockett anymore than I enjoyed Jason Patric's bland interpretation of flamboyant Jim Bowie.
I did have a vague memory of a rousing old television show about a dashing Jim Bowie. A quick Google search found The Adventures of Jim Bowie, starring British actor Scott Forbes, which claimed to be set in the Louisiana territory. The promotion also said that Bowie's knife became legend when he killed a giant grizzly. That's Hollywood for you.
There is a Cenla connection with Bowie that reaches from Concordia to Avoyelles parishes. The town of Vidalia, on the banks of the Mississippi River across from Natchez, can dispute Hollywood's version of Bowie's claim to fame with good cause. One half of the "V" in "Vidalia," as it appears on the town's insignia, is a Bowie knife with a long wicked curve. You see, back in 1827, there was this sandbar in the river and a duel –– and The Knife.
It had been designed a few months before in Avoyelles Parish by Bowie's brother Rezin, who lived on Bayou Boeuf. The design of the knife was then crafted by Jesse Clift. According to the Antique Bowie Knife Association, Rezin Bowie wrote that the knife, intended for hunting use only, was made from an old file in his plantation blacksmith shop.
One September day in 1827, in what became known as The Vidalia Sandbar Duel, Jim Bowie slashed his mark on the world with his brother's knife. Bowie, at age 30, had lived in Bayou Boeuf for seven years. According to Noah Smithwick, who claimed to have known Bowie in Texas, a large crowd of Louisianians had gathered to witness a duel on the sandbar. Bowie served as a second. When the duelists settled their disagreement peacefully, the bloodthirsty spectators were disappointed and began to riot. Gen. Cuney challenged Col. Crain, who immediately fired both of his pistols at Cuney and Bowie. Cuney was killed outright, Bowie was wounded, and Crain hit the ground running. Bowie, brandishing his knife, attempted pursuit and fell. One of Bowie's enemies, Sheriff Norris Wright, made a stab at the fallen Bowie with his sword cane. Still on the ground, Bowie disemboweled him with one sweep of his knife. Bowie, who had still not risen, was covered with the entrails of his dead foe. To avenge the slain Wright, Alfred Blanchard attacked Bowie –– and also suffered at Bowie's blade. News of the melee spread, and Bowie and his knife became the stuff of which legends are made.
Like gunslingers, someone thereafter was always after Bowie, either killers or ladies. When he went to Texas in the 1830s, he became engaged to Ursula de Veramendi, daughter of a Mexican governor. Bowie converted to Catholicism and married her in 1831. While in Texas, three hired assassins proved no match for Bowie: One reportedly was nearly beheaded, another disemboweled and another's skull was split wide open.
Each year on the anniversary of the melee, the town of Vidalia holds a thrilling living history re-enactment of the Vidalia Sandbar Duel, sans the Hollywood spin.