Central Louisiana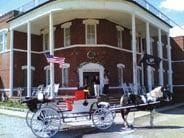 WORTH WATCHING
The old Bailey
The Bailey Hotel in Bunkie is a charmingly kept little secret of a hotel that has been on the same spot since 1907, when visitors once whiled away the easygoing turn-of-the-century hours with domino tournaments; bridge games; and sips of coffee, tea or mint juleps. Lovingly restored almost to its original state, this old red-brick building rises both with high porches and lofty ceilings. As you climb the gleaming wooden main staircase, you're greeted by an exquisite arched stained-glass window. At the top of the stairs, you will be ushered to rooms, some with hardwood floors and red-brick walls, in which antique carved wooden beds await your slumber and pedestal sinks assist your ablutions. For a modern touch, you'll also find whirlpool bathtubs.
Dining is on-site in the form of The Magnolia Room. Looking very much like Galatoire's in New Orleans, it offers a sumptuous breakfast of grits, cured ham, pancakes, homemade biscuits and eggs. Lunch and dinner are also served with menus featuring chicken, beef and pork. The menu changes from day to day but is always of an epicurean bent.
The Bailey features a dark, atmospheric lounge that, due largely to its brick walls and wooden mirrored bar, looks like it came from an old building in the French Quarter of New Orleans. The bar is fittingly named Zanga's after Professor Zanga, a soothsayer and clairvoyant who stayed in Room 39 circa 1925. New Orleans jazz as well as Avoyelles Parish music can be enjoyed in his namesake bar as you sip amid the moody shadows. The atmosphere at the Bailey Hotel conjures up visions of a time when both ragtime music and gramophones were new and corseted women in shirtwaists, hobble skirts and large brimmed hats danced with gentlemen wearing starched collars and striped shirts in parlors filled with lacy ferns.
If you sit a spell on some of the Victorian sofas found there, you will find you are under the Bailey's spell. Resting at the Bailey Hotel, you will be near both the treasure trove of antiques found in Bunkie and the excitement of the nearby Paragon Casino Resort, feeling welcomed beyond measure. Avoyelles Parish is beautiful in the spring, filled with winding purple wisteria, deep-green fields covered in golden wildflowers, blackberry brambles laden with fruit and clean fresh air. If nature is your true interest, the Bailey Hotel is a great departure point from which to explore.
Speaking of Bunkie, every time I hear the Avoyelles Parish town's name, the memory of what once happened to me there in the late '80s always makes me laugh out loud. I lived briefly in Marksville that summer and worked as a social services and marketing representative for the local Humana Hospital. The public relations director and I were given an assignment by the administrator: Redecorate two regular patient rooms into deluxe luxury suites for any VIPs with deep pockets who might pass through and get sick. We were both pretty young at the time and drove around looking for wallpaper, fabric swatches and the like. Artwork at the time in Marksville was not to be found, but my partner felt we might find a tolerable print at the Wal-Mart in Bunkie. (By the way, the Bunkie Wal-Mart no longer exists. It was eventually closed after a Super Wal-Mart opened in Marksville.) Necessity is the mother of invention, so we drove the 16 miles to the Bunkie Wal-Mart, armed with a Polaroid camera to take shots of any prints that caught our eye so that we could match them to our swatches and color scheme. Soon after we began snapping pictures, an irate woman in a Wal-Mart smock bearing the legend "MANAGER" appeared by our side. With eyes blazing, she demanded to know what we were doing. We explained. We showed our hospital ID badges. But the lady was already unhinged. "You're spies!" she screamed. "You want to sabotage Wal-Mart! Get out! Get out!" Of course we left, my partner indignant and enraged, but as soon as I got back into the car, I found myself laughing uncontrollably for almost all of the 16 miles back to the hospital. To this day, I frequently brag that I've been thrown out of the Wal-Mart in Bunkie for "industrial spying," giving new meaning to the phrase, "I've been thrown out of better places than this!"
Bailey Hotel, 200 W. Magnolia St., Bunkie, (866) 346-7111, stayatbaileyhotel.com
NEWS BRIEF
Spring cleaning
According to Pamela Hickman of the Beauregard Daily News, DeRidder's local public beautification program, Keep DeRidder Beautiful, has received the 2008 President's Circle Recognition Award given out by the program's national affiliate, Keep America Beautiful, or KAB. The local chapter in DeRidder has been highly involved in garnering community awareness and participation when it comes to eliminating litter and other things of an unsightly nature in their fair town. Lately, the group has been on a mission to get DeRidder in gear for the Cleanest City Contest that will be held this spring.
Although KAB recognizes that each community in its network has its own special needs and allows flexibility for this, the national affiliate nevertheless maintains the position that each local chapter must meet and maintain its uniform requirements. Local chapters must have an active board or advisory council and pay fees, and members must undergo six hours of training.
At the national conference held last December, it was announced that the DeRidder chapter had met all requirements and then some.
Becky Lyons, senior vice president of training and affiliate services for KAB, believes the local programs "are vital to the national program as a whole. The quality and integrity of the entire Keep America Beautiful network is based on community action and accountability, and DeRidder has shown this."
Through such programs as Adopt a Spot –– and even informing the public of the psychological reasons why people litter –– the Keep DeRidder Beautiful chapter will continue to promote its mission for the complete annihilation of litter, garbage and junk in general in their city by public education, awareness, education and a whole-scale awakening of complete cooperation by the community. For more information, contact Kerri Broussard, 200 S. Jefferson St., DeRidder, LA 70634, (337) 462-8900 or kbroussard@cityofderidder.org.