Central Louisiana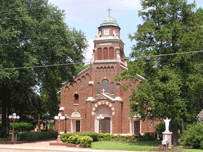 WORTH WATCHING
Sacre coeur
Whenever June arrived in New Orleans and we were unyoked from the daily mill of school, my brother and I, accompanied by my mother, would bolt for Bordelonville and the farm on which my mom was born. Here lived my great-aunt and her son, Russ, who was a year older than my brother, and their fat black-and-white Chihuahua, Queen Elizabeth, who answered to "Liz." My brother, Russ and I formed an irreverent triumvirate of sorts, and when I later read To Kill a Mockingbird, I could have sworn that Jem, Dill and Scout were the embodiment of us three. During one of these summer visits on a blistering day, my aunt and I drove along Bayou des Glaises to deliver a basket of fresh cucumbers (in Avoyelles, a neighbor is always delivering something to someone) to a lady who lived near Sacred Heart Church. This church always appeared to me like a cool oasis amid the hot flat prairie of Avoyelles. I wandered to the peaceful grounds filled with cool breezes sashaying through its many trees and felt myself draw a deep internal second wind. Twenty years later, visiting the church on another scorching hot summer day, I had the same experience. It seemed a blessed spot.
This stately old church is the fourth to stand in this place since 1858. Before then, Moreauville residents worshiped at Our Lady of Mount Carmel Church, founded in 1796 at Hydropolis. The committee to establish a church for Moreauville was led by one William Voorhies, and its efforts were greatly assisted by the donation of land from Aimee Joffrion Boyer. The new church, which would be part of the Mansura Church District, was dedicated to St. Hyacinthe. A native of Vierbo, Italy, this Franciscan was a former hellion who was forced into a monastery because of her scandalous behavior. It took 24 years of living in a monastery before this Technicolor lady calmed down enough to later be canonized in 1807. The first pastor was Rev. Thomas Rebours, and by the time the Civil War rolled around, St. Hyacinthe's was an independent parish and remains the second- oldest in Avoyelles.
The Moreauville area was devastated by the Civil War, and Reconstruction caused widespread poverty along Bayou des Glaises. St. Hyacinthe's Church was falling into disrepair. In 1882, a second church was rebuilt, and the parish was given the new name of Sacred Heart Church. Young men were schooled on the grounds at The Boys' College, and exquisite Gothic altars were added in 1888. On Easter Sunday 1897, the beautiful church burned; on Christmas Day 1908, its replacement suffered the same fate.
A year later, a fourth church was constructed and evolved in appearance over the years. Its 10th pastor, Rev. Henri Jacquemin, expelled from Mexico because of religious persecution, was also an artisan whose gifted hands filled the church with beautiful altars and created its exquisite façade. Sacred Heart Church was renovated in the 1960s, and the establishment of St. John's Retirement Village greatly assisted the elderly of the area
The church was renovated once more in 2003, and, just as in the days when the faithful attended services arriving on horseback and in carriages wearing wide skirts over petticoats or frock coats, Sacred Heart remains a vital part of the Moreauville community.
In addition to its strong community outreach, local radio station KLIL has broadcast weekly Masses from the old church for nearly 50 years.

CAUSE TO CELEBRATE
The merry month of May
May, in Louisiana, is beneficent, the last month of beautiful sunny weather and soft breezes before the onslaught of summer drives us indoors to air conditioning. Central Louisianians have been wise to realize this; in Leesville, for more than three decades, the Vernon Parish Arts Council has celebrated visual and performing arts and crafts in the form of its annual Mayfest. This year will mark the festival's 33rd birthday. Beginning the first weekend in May, the festival this year lasts from May 1-3 and exhibits a variety of media created by artists, artisans, dancers and musicians. The Arts Council cordially invites all to wander amid canvases gleaming with color in the spring sunshine and witness the handmade charm of the numerous crafts displayed. The cultural cuisine of Western Louisiana, wedged as it is between Texas and Cajun Country like spicy tortilla filling, will be on-hand to feed the masses. The music of local groups combined with that of Country Music Hall of Fame member Charlie Luvin, the blues guitar of Gregg Wright and Jo-El Sonnier's zydeco will provide the sound effects for some serious dancing and toe-tapping. Considered Leesville's premier festival, the celebration represents the expansion of an artistic corridor that has been occurring in Cenla from Alexandria, Natchitoches, Leesville and DeRidder. DeRidder is likewise in the staging phase of a major Main Street historical and artistic redevelopment.
For more information, e-mail vernontourism@bellsouth.net or call (337) 238-0783.

LOUISIANA-GROWN
Scarlet rose mallows
The summer I worked in Marksville, I occasionally walked down nearby country lanes on my lunch hours. I passed many wildflowers that grew out of ditches that fringed farms' fields, but what always caught my attention was a large, exotic, sassy-looking flower. It was at least half a foot across, colored either in an icy pink or a hue of white that bore just the faintest undertones of a rosy blush. Its color was perfectly augmented by a magenta center and a golden stamen as it bobbed in the dusty wind like a blowsy fan. Not knowing exactly what it was, I called it a cotton blossom. Then I decided it was a hibiscus. In a way, I was right on both counts.
Scarlet rose mallows are member of the mallow family, and cotton is one of its relatives. Common to Louisiana, this species of wild hibiscus possesses a calyx of five emerald sepals beneath its gorgeous petals and loves the marshy areas of the Bayou State in addition to its ditches. It can grow as high as 8 feet, and its sassy, exotic flower that unabashedly towers over its smaller wildflower counterparts makes it one of the largest of all of Louisiana's herbaceous wildflowers. Native to Europe, scarlet rose mallows have done a fine job of immigrating to North America and thrive in the hot Louisiana noonday sun.