Central Louisiana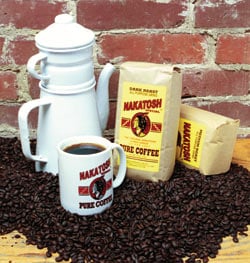 FORK IN THE ROAD
Indian in the pantry
If you travel through Avoyelles Parish these cold winter days, you'll pass farmhouses, festivals and church gatherings graced by the high-as-a-mountain, light-as-air, baked-from-scratch cakes the ladies of Bordelonville and Moreauville set forth at their tables. These cakes of lemon, coconut, chocolate, and the ultimate, primo caramel, are as divine as visits from Christmas angels. And there's nothing like a good cup of Louisiana coffee to match a Louisiana dessert.
The Natchitoches Coffee Company has re-introduced the Nakatosh Special Pure Coffee popular in Cenla and Northern Louisiana from the 1920s through the 1970s. This is vintage Louisiana coffee at its best. The bright gold bag with a Natchitoches Indian seen in profile, holds a blend that garnered gourmet raves from Coffee Review, the world's leading coffee-buying guide, giving it a score of 86 points. The Food Network's "The Best Of" series named it one of the "best of" coffees. As local as the Cane River itself, this coffee flows from coffeepots, exuding fragrant steam, with a subtle nut and fruit bite to its flavor. It also comes in Nakatosh Special Dark Roast, Medium Roast and Decaf. The online store sells Nicole's Homemade Biscotti and Monin syrups. Mugs, aprons and gift packages are available. Coffee this delicious will keep you from hitting the snooze button and will have you heading straight for the kitchen.
Natchitoches Coffee Co., 929 Keyser Ave., Suite P, Natchitoches. (877) 4-SHOPLA or www.nakatosh.com.
PROFILE
The content of their character
Non-Southerners who still equate life beneath the Mason-Dixon with the old South should look to the student body at Holy Savior Menard Central Catholic High School in Alexandria. The students recently elected Nicole Collins their first – to quote Collins herself – "black" homecoming queen. This outgoing cheerleader doesn't like to describe herself as African-American because she also has Indian, Creole and Irish blood. "There's so much more to me than my African heritage," she says. In a school of 550, Collins is one of 11 nonwhite students. The students who voted for her didn't consider her race, Collins says; friendliness, hard work, scholarly ability and positive spirit were the factors that got her elected.
The admiration, it seems, is mutual. Collins says she has never encountered racism at her school. "It's so open here," she explains. She adds that her love of the school and student body buoyed her into running for homecoming queen because,"I don't want it to be 'black people are taking over'; I just want to show you can come to Menard and be yourself, and you can make it." In addition to acting in school plays and belonging to the Menard Apostles for Christ ministry team, Collins hosts a radio talk show for teenagers.
"My favorite thing to talk about on the show is respect of self. With sex, with peer pressure – there is so much out there telling people who to be. You've got to get away from that. I think I know who I am." This homecoming queen will not be defined by anyone other than herself.
NEWSBRIEF
Life in "perfect"
Just in time for the holiday season, the red cursive logo of Walgreen's rises once more in Central Louisiana as a new store opens in Pineville. Walgreen's, the largest drugstore chain in the country, will open two stores in November. Two additional pharmacies are under construction in Pineville and Natchitoches, both scheduled to open in May 2005. Each site will hire 20 to 30 employees.
LOUISIANA GROWN
Soy good for you
Soybeans have sprouted from the furrowed fields of central Louisiana for decades. Not only have these little legumes bolstered Louisiana's agricultural economy, but they provide rich alternatives for living – especially with regard to arteries, women's health issues and candlemaking.
As early as 2800 B.C., soybeans were named one of the five sacred crops of China, and the Japanese consume significant quantities of soy as well.
High in fiber, soybeans contain natural chemical components that are a veritable army in repelling diseases. These phytochemicals protect the heart and throw biological wrenches into the formation of blood clots, while soybeans' isoflavones prevent certain types of cancers. These same isoflavones exhibit an estrogen-like hormonal influence on the body, naturally binding to estrogen receptors. Women especially benefit from adding soy to their diet. This hormonal influence poses no risk because soy is a natural heart protector. And osteoporosis is held at bay as well: Bodies secrete less calcium when soy replaces animal protein in the diet. Soy keeps bad cholesterol, LDL (low-density lipoproteins), from oxidating, preventing plaque buildup in the arteries. Soybeans also have anti-inflammatory benefits once they enter the body.
They come in three major types: edamame (green soybeans), mature and dried. Milk, tofu, flour, tempeh (similar to tofu) can contain soy protein; vegetarian hot dogs, burgers and sausages are tasty spinoffs of this power-packed bean.
And now about those candles. Candles produced from soybean oil emit neither soot nor formaldehyde when burned, which promotes good air quality in the home. Production of scented candles made of soy wax is fast becoming a profitable business in other areas of the country.
soybeans
WORTH WATCHING
Kids in the gallery
Recently, the Alexandria Museum of Art has displayed breathtaking exhibits such as the "Heart of Spain" collection and the enthralling "Southern Journeys" exhibit. Wisely realizing that the creators of masterpieces gracing its walls were once children themselves, the museum opened its "Gallery for Kids." This project was conceived to develop the burgeoning talent in children that might one day produce museum-quality pieces or to just serve as a healthy outlet of self-expression and self-esteem. Art teachers in central Louisiana are joining together with the museum to bring attention to the outstanding work their protegés have created. Every month, students from a different school will exhibit their work for public viewing.
The museum invites children to revel in art. Its education staff is present to guide children in viewing art while having fun. Discussion and honest opinions are encouraged – no comments will be viewed as coming from the "peanut" gallery. Alexandria Museum of Art, 933 Main St., Alexandria, (866) 456-7556
Alexandria Museum of Art "Gallery for Kids"