Chicken and Waffles
August 2022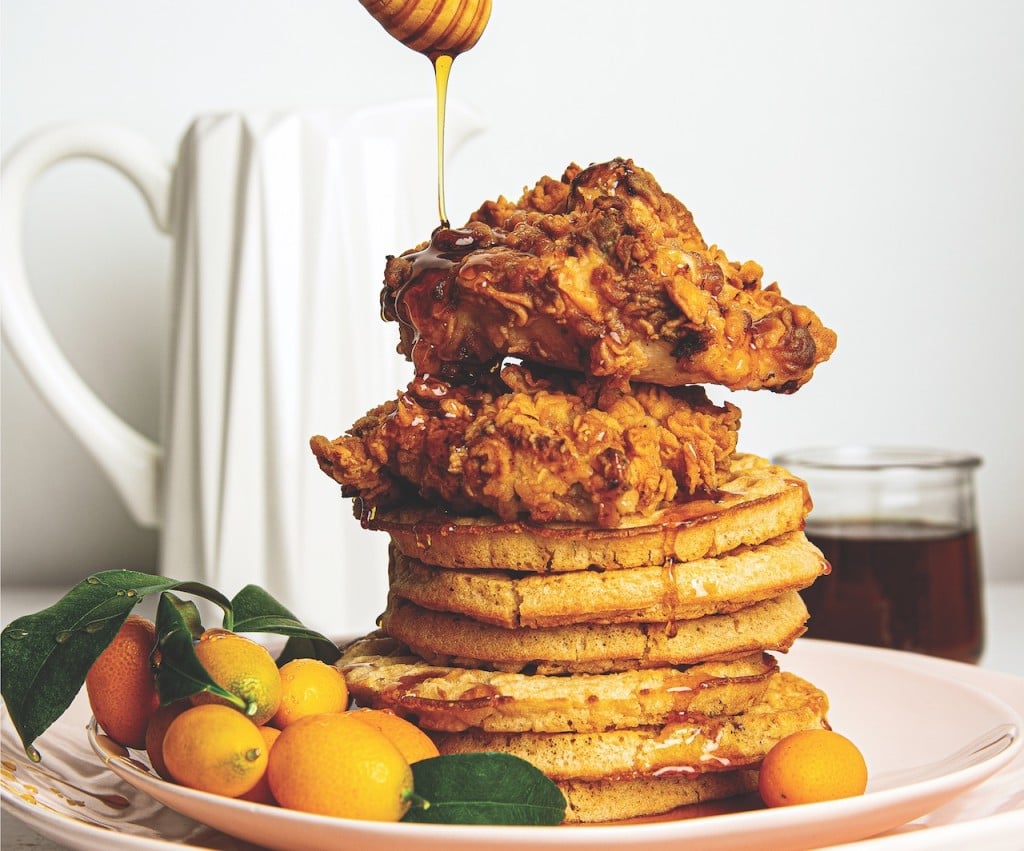 Makes 4 waffles
FOR THE CHICKEN
4 pieces of chicken
1/2 teaspoon coarse salt
1/2 teaspoon cayenne pepper
1/2 teaspoon black pepper
1 teaspoon hot sauce
1 cup all-purpose floor
cooking oil
FOR THE WAFFLES
1 cup all-purpose flour
1 teaspoon baking powder
1 teaspoon sugar
1/8 teaspoon salt
2 large eggs, separated
1 cup whole milk
2 tablespoons melted butter
COMBINE buttermilk, salt, peppers and hot sauce in a bowl. Add chicken, turn to coat and marinate for a few hours or overnight, turning chicken occasionally.
PREHEAT oil in deep fryer or pod to 375 F. Preheat over to 350 F. Remove chicken from marinate, dredge in flour, and fry until golden brown, about 5-8 minutes. Drain on paper towels, then place chicken on a rack set on a rimmed backing sheet. Bake until cooked through, about 25 minutes.
PREHEAT waffle iron. In a medium bowl, whisk to combine flour, baking powder, sugar and salt. Mix egg yolks with milk and stir into dry ingredients. Add melted butter and stir to combine. Beat egg whites until stiff. Fold half of whipped egg whites into batter, then fold in the remaining egg whites. Ladle a fourth of the batter onto hot waffle iron and bake until brown and crisp.