Chicken at Chester's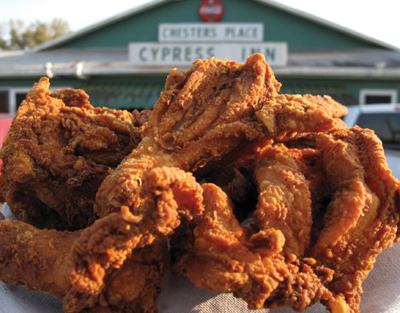 The approach to Morgan City takes travelers through some of Louisiana's deepest bayou country, a realm of swamps, cypress and alligators. But for me, a trip through this area always brings to mind chicken – specifically, fried chicken with a nice peppery crust.
Chalk that unlikely association up to Chester's Cypress Inn (1995 La. Hwy. 20, Donner, (985) 446-6821), a classic country restaurant with a history dating back to the 1930s, the look of a vintage roadhouse and a way with fried birds that has inspired many detours off the highway.
Chester's seems to appear out of nowhere, especially when you've been driving a while through the woodsy stretches of Terrebonne Parish. In fact, you have to be on the look-out to spot the restaurant's sign and roofline peeking out between the treetops along the old surface road that parallels Highway 90 here.
There's a gravel parking lot out front and an old weathered bar where several generations have tilted back icy beers against the Louisiana heat. A small sign above the bar reads, "If the colonel had our recipe, he'd be a general," a jab at Colonel Sanders and the KFC chain that sets the stage for what you'll find on the menu.
Of course, there is fried seafood – shrimp and catfish. But the real specialties here hew to the hen house. The curious thing about Chester's is that once you've chosen the chicken you still have decisions to make. There's regular or spicy, which adds more red pepper to the batter, but also the option to order your chicken "Frank," which has no batter at all. It's still fried, but more of a stripped down version. Fried chicken livers and fried frog legs round out the key items here.
It's easy to succumb to a time-warp sensation at Chester's. The dining area is a series of connected rooms, with a very homey décor of old wallpaper, framed prints of farm animals and a faded yellow trim. The last time I visited, the place was filled with an assortment of folks who looked like they had driven in for afternoon meals with the grandparents. But the immediacy of a good meal rivets you back to the present. When our chicken, shrimp and onion rings arrived on thick cardboard trays, it kept our hands busy and our mouths full.
Chester's keeps the sort of regular but limited hours that can frustrate a spur-of-the-moment visitor, but forewarned is forearmed. The restaurant opens at 5 p.m. for dinner Thursday, Friday and Saturday, and on Sunday it's open from 11 a.m. to 8 p.m. for lunch and early dinner.

SHREVEPORT: A Slice of Naples on the Red River
Pizza joints are common enough, but when a new Neapolitan pizza specialist opens – that is, one preparing pizza in the famous style of Naples, Italy – foodies tend to perk up. In Shreveport, the new place to try them out is Frank's Pizza Napoletana (6950 Fern Ave., Shreveport, (318) 230-7130; www.frankspizzanapoletana.com), where a traditional, dome-shaped, wood-burning oven imported from Italy blazes away in the kitchen. Following Neapolitan form, the crust balances soft with chewy and is pocked with char blisters from the super-hot oven. Frank's pizzas come in one size, and regarding toppings, less tends to be more with this style of pizza, so resist the urge to pile on. Frank's has a full bar and serves lunch and dinner Monday through Saturday.
LAFAYETTE: Viva La Waffle
As the food truck scene around Lafayette continues to rev up, one of the latest additions to the fleet is taking the breakfast waffle on a wild ride. Viva La Waffle uses crisp, Brussels-style waffles as the "bread" for a menu of reconfigured classic sandwiches (like the Monte Cristo or Reuben) and some original, sometimes outlandish lunch creations. There's a pizza waffle, for instance, with the option of adding Buffalo-style fried chicken, and another with smoked brisket, melted cheddar and fried pickles. This creative crew makes a corndog-style "waffle dog," and naturally the fries are the waffle-cut variety. The truck has been setting up shop at sites around Lafayette. Find them on Facebook or at www.twitter.com/vivalawaffle for the latest locations.