Christmas on Bayou St. John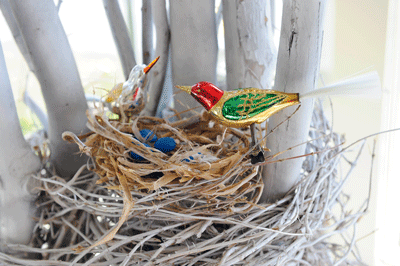 t's Christmas on Bayou St. John in New Orleans, and nothing is decked out in red and green. Instead, the landmark contemporary home on Moss Street takes on a modern 21st-century splendor of white twig "trees," dressed up in hand-blown blue and gold ornaments, gifts wrapped in colorful wallpaper and tied with large bows and a dining room table set with Lomonosov porcelain from St. Petersburg, Russia – straight from the opulent era of Russian czars.
This isn't your ordinary Christmas home. The beautiful home of Eric Hess, president and chief executive officer of Hess Marketing, and Frank Thaxton, a retired Shreveport judge, is sleek and grand as well as unusual and treasure-filled. There are cupcakes topped with blue, white and chocolate icing placed carefully on an antique silver tray that is filled with tiny blue gel balls, chocolate chip cookies surrounded with blue Christmas balls of various sizes and a dining room table adorned with a twig centerpiece draped with tiny blue vases filled with white flowers.
"Because our home is contemporary, our holiday decorations blend with the surroundings," Hess explains. "We definitely break away from the traditional Christmas tree, but at the same time we keep the idea of a tree alive with the unique branch interpretation that Roland Montealegre of Urban Earth [Design Studios] created. He sprayed the branches white and then added tiny blue lights to incorporate the base color we used as our holiday theme."
Interior designer Chet Pourciau was the guiding force that orchestrated the dramatic setting that pleases passersby though the large expanses of glass on both ends of the living room. "Once we developed the creative concept, we brought in Chet because he is known for contemporary and modern design," Hess says. "We knew he could take our concepts and make them a reality."
It was Pourciau's idea to use the blue lights to dress the branches of the "trees" that display hand-blown blue ornaments from artist Mitchell Gaudet. "We collect Mitchell's work, and while we did add other ornaments to the tree and on the twig centerpiece on the dining room table, it's his hand-blown Christmas ornaments that help to make the decorations unique."
Montealegre also developed the centerpiece for the dining room table. "We knew he would do something a bit over-the-top and unique," Hess says. "We placed blue gel balls in the champagne glasses to bring the eye to the centerpiece and then added a gift for each guest atop the place settings. Chet contributed the beautiful blue-wired ribbon to give that special final touch to the wrapped gifts."
"Celebrating Christmas for us means being with family," Thaxton says. "We trade off each year and switch celebrating Thanksgiving and Christmas at our homes in either New Orleans or Shreveport. The season involves dinners at home with friends and family and a seasonal party. Food is a big part of Christmas and especially sweets, so creating unique cakes and desserts is a part of the way we celebrate."
Christmas on Bayou St. John may not be red and green, but it couldn't be more festive at the home of Hess and Thaxton.