Chuck Broussard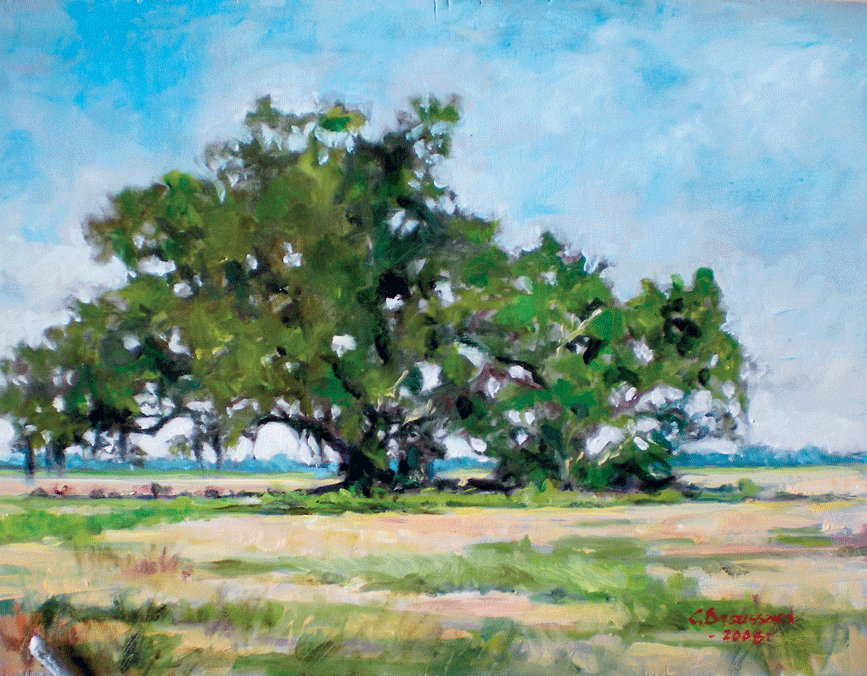 The strident rhythms of Danse de Mardi Gras, 'Tit Galop pour Mamou, Dewey Balfa and the Balfa Brothers move through Chuck Broussard's imagination as he sits on the side of the road with brushes and paint, scanning the Southwest Louisiana landscape for that right moment of light and imagery that connects him to his native Acadian prairie.
Broussard, who resides in Lafayette but grew up in nearby Scott and along Bayou Lacassine, is a talented and mostly self-taught artist who has the gift of teaching others how to see the ordinary world around them through his paintings. Over the years, he has explored rice fields and rivers and bayous, abandoned farms and Acadian prairies to capture in paint the land and endless skies that have been home to Broussard's Acadian clan since his paternal ancestor Joseph Broussard dit "Beausoleil," the hero of the Acadian resistance during Le Grand Dérangement, led a band of exiles to Southwest Louisiana in 1764. On his mother's side, he is a descendent of Louis Arceneaux, the forlorn figure upon whom Longfellow based his Gabriel in the epic poem Evangeline. Broussard's Acadian blood runs deep in Louisiana. His uncle Willie Broussard has written songs about Acadian life, including "Brasse dans Coush Coush" ("Stir the Coush Coush") in which the singer wails about going to Beaumont, Texas, to find a job.
Yet Broussard is not documenting a culture with his paintings but capturing fleeting impressions that move like specters through his genetic memory and senses. "When I paint, it tends to be about the prairie," he says. "That's where I grew up. It's where my roots are. When we were kids, a pastime for us was walking in someone's pasture with a .410 shotgun, shooting snakes or trapping turtles. My great-grandfather on my mother's side was Isaac Fontenot, the sheriff of Jeff Davis Parish. He had a ranch on Bayou Lacassine on Coteau Platte. We grew up with camps on those bayous."
He is drawn to those places and scenes that are iconic, to the smells in the fields and marsh mud. In the painting Rice Field Oak, for example, a large live oak stands out in the middle of a rice field. "It's one of the best I've ever done," he says. "It has elements of everything: the oak, the rice field. It's an old story. It is nostalgic for me. Everybody has a mental image of a place of serenity. To me, it's the South Louisiana coastal marshes and prairie.
It's the rice fields, the smells, the serenity. That area was always a territory of discovery as a child. I grew up on that coteau platte (flat ridge). There's something about the simplicity of it that attracts me. I see that same simplicity in the culture." As the Mississippi writer Eudora Welty once said, "All art is connected to place."
This is the same region that caught the imagination of the late Elemore Morgan Jr. of Maurice, whose highly expressionistic paintings of intense light and spontaneous brushstrokes influenced at least two generations of painters in South Louisiana. Broussard's light is muted but dramatic, and his colors are drawn from a more traditional palette. Yet the same landscape inspired both artists. "One of the nicest compliments I ever got was from Elemore Morgan," Broussard recalls. "Elemore was in the gallery and saw my paintings. He remarked to a friend, 'He [Broussard] is one of us.'" One of Broussard's sisters reminded him that when they were in the fourth grade, their mother took them to an art class in Lafayette. Elemore Morgan taught the class.
Broussard attributes his early interest in art to his mother. There were seven children in the family, and on rainy days, she pulled out crayons and large sheets of freezer paper and challenged the children to draw. Broussard recalls: "One day she would say, 'Paint me a farm scene.' Another day she might say, 'Paint me an underwater scene.'" After they finished their work, she pinned the paintings to a bamboo blind. "When Dad came home, he critiqued the art –– always positively," he adds.
Although mostly a self-taught artist, Broussard first took a watercolor class about a decade or so ago with artist Louise Guidry at the University of Louisiana at Lafayette. But his real interest is in painting with oils. The transition happened around 1995. He was in a drugstore, looking through Veranda magazine, when he saw a painting of a Carmelite nun. "It was the most beautiful portrait I had ever seen," he says. "The next day I was in the frame shop in Lafayette when, during the course of a conversation, a woman suggested I ought to try a class with Carl Groh in Lafayette. I said I didn't know him. She said he had a portrait of a Carmelite nun in Veranda magazine. I signed up. He really knows paints." Broussard painted with Groh for six years.
In the spring and summer of 2008, Broussard was one of 11 artists invited to participate in a special show at Appalachian State University's Turchin Center for the Visual Arts in Boone, N.C. The show's theme, "Capturing a Transient World: A Contemporary Look at Louisiana," explored through art Louisiana's coastal erosion and restoration. Instead of using canvas or panels, Broussard painted images, including one of the Virgin Mary in an oak tree, on the tips of decaying pirogues. "The rotting pirogues," he says, "were symbolic of the erosion of our culture. They were the icons we grew up with. Everybody had a Virgin Mary grotto in their yard (sometimes in a half-buried old bathtub). When I'm out driving, I'll often stop and take pictures of Mary in the bathtub. One time I was driving south of Jennings when I saw a black Mary. I used it in one of the grottos for the North Carolina show."
Like the black Mary grotto, Broussard's compositions are often inspired by places he comes upon in his travels. Some paintings are composites, images such as an oak tree, a bridge, a bayou or a rice field that he photographs or sketches and then uses back in his studio to build compositions. Others, such as Oak Trees with Red, rise purely from his imagination. Not all are landscapes. "Some paintings with figures are attempts to capture elements of our culture that are vanishing, like the courir de Mardi Gras paintings," he says. This is the Cajun Mardi Gras celebration in which masked revelers travel the countryside on horseback in search of chickens, sausage and other ingredients for the evening's Mardi Gras gumbo.
Broussard tries to paint once or twice a week when he is not at his full-time practice as an alcohol and drug therapist for the 15th Judicial District juvenile court. He also enjoys painting plein-air, or on location, where he does quick color studies for later refining back in the studio. Though he often waits for the slow-drying oil paints to dry between layers, sometimes he paints "wet-on-wet" –– that is, completing the painting before each layer dries and while the oil paints are still wet. "They are a lot looser," he says of the wet-on-wet method. "They have more emotional spontaneity than planned paintings. They feel more raw than cultivated. Knowing when to stop is my biggest problem."
The Balfa Brothers tune he's playing ends, there is a brief silence, and another begins. Broussard continues to paint.  "When I'm sitting on the side of the road, I put on some Cajun music like the Balfa Brothers," he says. " Dewey Balfa is really involved in the culture. His music sounds almost medieval. I'm drawn to those bluesy French songs that go deep into a person's soul. It helps bring out the soul in my paintings."
Broussard's work can be seen at the Jean Bragg Gallery in New Orleans, Taylor Clark Gallery in Baton Rouge and The Frame Shop and Gallery 912 in Lafayette.