Costal Travel: Exploring Mississippi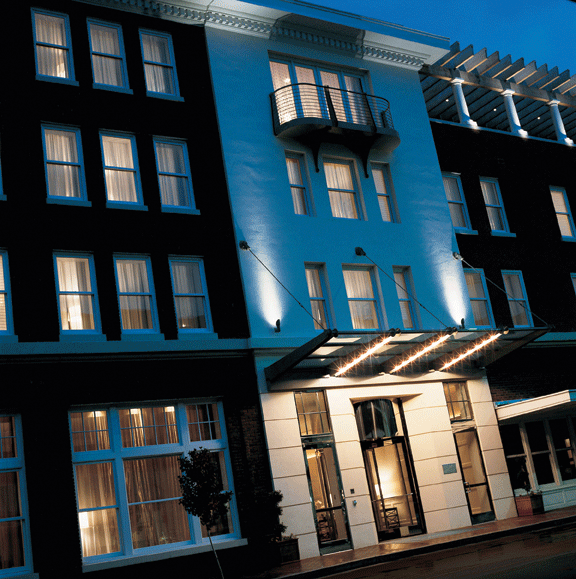 Mississippi's Delta is not known for opulence and luxury. Instead, the flat alluvial plain that flanks the northwestern region of the state is known as the birthplace of the blues – a place so low, so poor and so necessarily resourceful that there was nothing left to do but turn misery into song. Whether you're traveling up Highway 51 or anywhere else along Mississippi's Blues Highway, you can go for miles and miles through the fertile fields and take in what started the blues.
But one step inside the Alluvian Hotel and Spa in Greenwood, Miss., is all the distance it takes to confirm that this place is something different. Granted, going to Greenwood isn't like going to a city with a variety of standard attractions to keep you busy night and day. But if you're looking for a weekend to relax and to spend some quality time with someone you love, Greenwood's Alluvian could be just the ticket.
"What a treat!" says Jim Durham of Brandon, Miss., who has made two weekend trips to the hotel, spa and adjoining Viking Cooking School. "Out of the fertile fields of the Mississippi Delta is probably the finest hotel in the state."
Travel critics agree. The Alluvian is in high cotton when it comes to earning accolades. Conde Nast Traveler listed it among the Top 200 hotels in the world in 2011 and the Top 100 in the USA in 2010. National Geographic Traveler called the Alluvian the biggest surprise in Dixie – if not the country. And the tributes just keep a'coming.
The Alluvian is owned by the Viking Co. Yes, that Viking Co. — the one that makes high-end, commercial-quality ranges for the home. The story goes that the hotel came into existence because of a lack of appropriate accommodations for people traveling to Greenwood to do business with Viking. So, in the spirit of moving Muhammad to the mountain, the Viking executives decided to transform the old and rundown Irving Hotel into a smooth and shiny luxury inn right smack in the middle of Greenwood, population 15,205.
And they didn't stop at just building a nice hotel. The Alluvian can hold its own against almost any fancy hotel in a more distinguished locale.
The hotel's sleek lobby and modern furnishings are in perfect juxtaposition to Greenwood itself and the general perception of a grand hotel with true Southern roots. But the surprises don't end there.
"The staff is impeccable," Durham says. "From the time you make your reservation to the breakfast, the staff waits on you hand and foot. Everyone at the Alluvian is so friendly and professional in every way."
With only 45 rooms and five suites, the Alluvian makes up for in quality what it lacks in size. One hallmark is its famous breakfast buffet that usually features eggs, grits, meats, potatoes and a variety of fruits and pastries.
"If you're planning on dieting, just forget it," Durham says. "It's a true Southern breakfast served by a kind and generous staff. [It's] all you can eat, and, boy, was it good!"
Also on site is Giardina's, a fine restaurant and Delta landmark that's been around since 1936 and offers a few private dining rooms, even for parties of two, located inside the restaurant. Giardina's is famous for its steaks, seafood, homemade pastas and sauces and innovative Southern cuisine. Even still, for all its high-class frills and trimmings, the restaurant still serves down-home Delta fare.
It opened its doors in 1936 as a fish market but came into favor because of its private booths where Delta cotton kings enjoyed Prohibition-inspired bootleg booze in secrecy.
"The restaurant's private booths were unlike anything I had ever been to," says Joanna Wolf of Clinton, Miss., who visited the Alluvian with two daughters and a granddaughter.
"My granddaughter and I went to Giardina's while my daughters attended a cooking class," she says. "We went in, [and] they took us to our table and pulled the curtains. I was so surprised and started laughing and said to my granddaughter: 'Oh, Nicki, what a waste! You're sitting here in a private booth with your grandmother.' But that didn't stop us from enjoying our food. It was a great evening!"
Durham agrees. "The best surprise of the evening was the private dining," he says. "The shrimp and grits are to die for. Yes, it's a little pricey for dinner in a small town in the Delta, but it's worth every penny."
The Viking Cooking School
From beginning cooks to experts, The Viking Cooking School has an array of classes designed to please – including culinary weekends and shorter sessions. The Viking Cooking School offers classes in one-, two- or three-hour blocks with themes ranging from Spring Fling Cocktail Party to Vegas Steak Night to Mexican to Homemade Pizza and Pasta to Designer Cookies: Fun With Fondant. The staff even tailors classes for groups, including team-building exercises for groups of eight or more. Lots of couples attend the classes to celebrate anniversaries or special occasions.
The success of the cooking school in Greenwood has spurred a total of 17 of the schools – and counting – across the country, from Anchorage, Alaska, to Atlantic City, N.J., with one also located in Baton Rouge.
Although the schedules at each of the schools differs, the fun part of each class comes after the lesson. Students cook and learn and then eat the meal they've prepared, served with wine.
Tina Haney of Madison, Miss., has attended four of the Viking Cooking School courses.
"It's really fun, but you learn so much," Haney says. "I consider myself a really good cook, but I learn so much when I go to their classes. They are well-worth the money, not only because you learn so much but also then you get to eat what the class makes. It's a really good time."
Haney says she has gone to the classes on her own and with a friend. "With a friend, the camaraderie is great. And by yourself, you're focused more on what you're learning."
In fact, Haney can make her own pasta now – everything from tortellini and ravioli to fettuccine and spaghetti. She can make her own pizza, too, but says the pasta is a lot easier than the pizza.
The shorter classes range in price, dependent upon the subject matter, from $77 to $115.
The Viking Cooking School at its headquarters in Greenwood features culinary weekend packages, which can be one or two nights and feature guest chefs. Upcoming chefs include Ashley Christensen, June 22-24; New Orleans' Stephen Stryjewski, named 2011 Best Chef South by the James Beard Foundation, July 27-29; and Andrew Ticer and Michael Hudman, Oct. 12-14. Culinary weekends range in price from $375 to $855.
The Alluvian Spa
The Alluvian Spa is a first-class spa that touts itself as offering "the rejuvenating powers of the Mississippi Delta," specializing in its signature sweet tea spa specials, couple's side-by-side renewal massages and a variety of girlfriend packages.
The spa offers a full menu of innovative options with a decidedly Southern twist – from facials to a yoga studio. It also has a long list of Mississippi River therapeutic baths, which, we are assured, are better than they sound.
Durham says he would drive to Greenwood for the Alluvian Spa alone. Having tried a variety of massages around the world, he rates his hot stone massage there as one of the best anywhere.
Good Ideas
• Planning a visit to the Alluvian and want to take a drive through the Delta? Check out McCarty's Pottery in Merigold, Miss. (a little less than an hour away). Open from 10 a.m. to 4 p.m., Tuesdays through Saturdays.
The Gallery, a restaurant, is open for lunch from 11:30 a.m. until 1 p.m. and for special events. McCarty's is located at 101 St. Mary St. in Merigold, and can be reached at (662) 748-2293.
• Also a good idea: Lunch or dinner at the Crystal Grill, which is located at 423 Carrollton Ave. in Greenwood, Miss., and can be reached at (662) 453-6530. One look at the pie case is all it will take to convince you the drive to Greenwood was a good idea. We recommend the coconut or the chocolate meringue.
• Need an heirloom book or family keepsake Bible rebound? Greenwood is your place. Check out Norris Bookbinding Co. at 107 N. Stone Ave. or call (662) 453-7424.
• For more information about the Alluvian, the Alluvian Spa and the Viking Cooking School in Greenwood, go to www.thealluvian.com. To make reservations, call (662) 453-2114 or (866) 600-5201. Room rates start at $190 a night.
Coasting to a Recovery
Time was when folks from Louisiana talked about going to the coast, they meant Bay St. Louis, Gulfport or Biloxi. The emergence of quick access to the Alabama and Florida coasts via I-10 enhanced competition. Because of that, although Mississippi doesn't have the coveted sand-and-sea colors, it has what the other states do not have – casino gambling.
Hurricane Katrina hit the Mississippi coast hard – very hard – and the recovery is still in progress. Gambling, particularly at Beau Rivage in Biloxi, provided an economic engine. The complex reopened exactly a year to the day after Katrina hit. Say what you want about gambling, but it created jobs and drew visitors just when the coast needed it most.
Many of the Mississippi coast's treasured landmarks, including the grand homes on the Gulfport bluff and old town Bay St. Louis, were either compromised or totally destroyed by the storm with its wicked surges. Nevertheless, the coast is coming back, bit by bit. And if you're going to the casinos, you can bet on that. – E.L.