Crawfish Mirage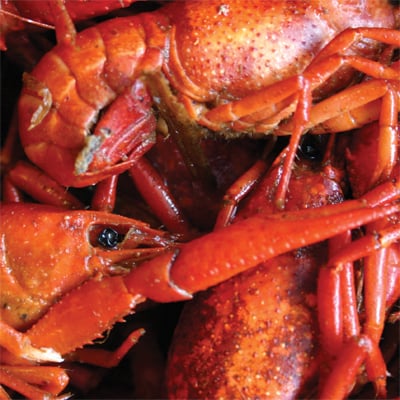 My husband Mark and I have a knack for happening upon crawfish boils. Every time, there's a little hint of magic in the moment, but never as much as one late afternoon in the spring of 2014.
We were walking in our Uptown New Orleans neighborhood — the sweet scent of jasmine, gardenias and magnolias mingled in the air, the streetcar clack, clack, clacked, grrred and clanged down St. Charles Avenue and the temperatures were mercifully mild. While we chatted about this house or that flowerbed, we each came to a sudden stop.
"Did you see that?" Mark said.
"I think so," I said.
We crept back toward a grand, two-story, gray house we'd passed countless times. The gate to the driveway, attached to a tall brick wall that obscured everything on the side and back of the house, was always closed. We peered through the now open gate and were spied by a 6-foot-ish young man holding a beer. He stood in the driveway over a long table piled about three-hands high with crawfish plus all of the fixins.
"Hello!" said the young man, who waved with his free hand.
"Looks like you guys are about to have a fun afternoon," Mark said.
The guy laughed and nodded, then to our astonishment, invited us to come in and join the party. Over the next two hours, we consumed spicy crustaceans and frosty beer and got to know our neighbor (a recent Tulane grad) and his parents (who are from South America). They were so warm and welcoming to us — complete strangers. This was deeply touching, because having moved to Louisiana from Texas that February, we had only lived in New Orleans for a few months and hadn't yet met many people. This would be one of countless times we made friends over food in our new state.
That's the thing about Louisiana. Eating is often a community affair, as evidenced by the sheer number of food festivals around the state. From New Orleans' relatively new Fried Chicken Festival and the Rayne Frog Festival, to the Scott Boudin Festival and the Grillin' for Grads barbecue cook off in Shreveport, there is something for everyone. We're also hard pressed to find a weekend throughout the year when someone isn't holding a gumbo party, oyster happy hour, catfish fry or, of course, a crawfish boil. Once at a Cajun boucherie we got acquainted with a fella named Tom Crosby, while he presided over an ancient cast iron pot of cracklin'. To this day Tom's is the best cracklin' I've ever tasted. He introduced himself as "brother of Big Foot, son of High Ness," and we were glued to our spots for a long time listening to him spin tales.
We've made new friends while breaking boudin in Lafayette, grubbing on gumbo in Baton Rouge and cracking tails all the way from New Orleans' Clesi's to Kim's Seafood in Shreveport. I've come to believe if you can't make friends in Louisiana, you're likely a member of that strange breed of people who views eating as a mere basic need, rather than an enjoyable hobby or sporting event.
Bless their hearts.
As crawfish season comes to a close, we'll mourn its passing until next year and celebrate the friends new and old we've met around the table. Interestingly, we haven't seen the gate to that big, old gray house in Uptown open since that day three years ago. To this day, we're not entirely sure the boil we happened upon really happened. Is there such a thing as a crawfish mirage?