Cultural Inspiration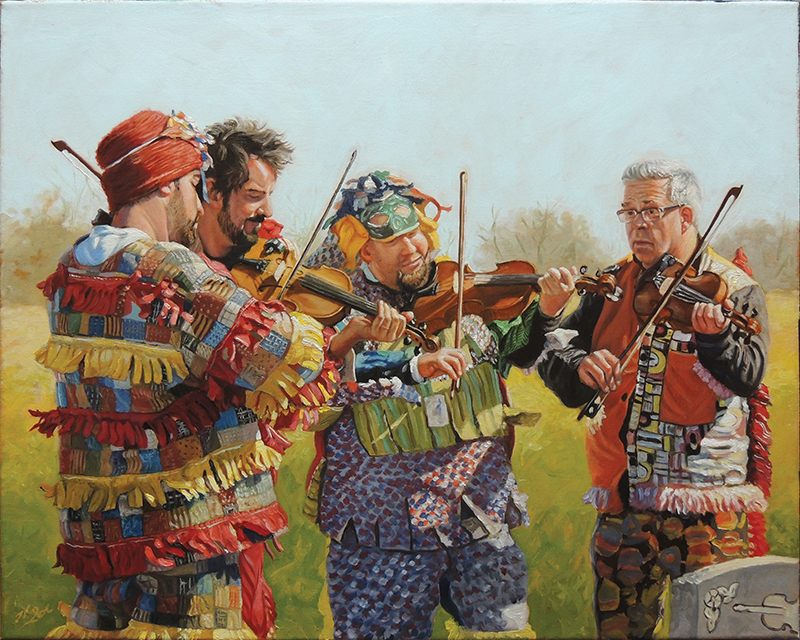 Mardi Gras 2018 is getting close. As the big day approaches on Feb. 13, carnival organizations across Louisiana are putting final touches on elaborate floats and agonizing over the devilish details of staging parades, soirees and balls.
What was once more or less a New Orleans spectacle, Mardi Gras festivities are now held in Alexandria, Baton Rouge, Lafayette, Lake Charles, Monroe, Shreveport and in numerous towns and cities in between. Almost all feature themed floats, throws, bands, marching clubs and krewes with ordained hometown royalties who come with expiration dates.
Most of these carnival organizations have roots in the traditional Mardi Gras tableau balls that date back to 19th century New Orleans. A few, however, are grassroots celebrations that spring from distinct folk cultures such as the Cajun "Courir de Mardi Gras," or Mardi Gras Run, in Southwest Louisiana and the African-American Carnival rituals of inner-city New Orleans that include the famed Mardi Gras Indians, Baby Dolls, and the Skull and Bones Gang of Tremé. Each reflects the spiritual rhythms of a people and place.
Over the years, both traditions have attracted scores of photographers who have captured dynamic images of elaborately costumed Cajuns riding horseback in pursuit of half-crazed chickens fleeing the cooking pot and Mardi Gras Indians strutting their magnificent feathered headdresses and robes.
Few painters, however, have taken on that same challenge. Two artists who have are Herb Roe of Lafayette, who has gained national acclaim for his paintings of reveling Cajuns, and Kristen Downing of Laplace, a New Orleans-born artist who understands the historic traditions of the Baby Dolls and Mardi Gras Indians. Both use their palettes, paints and imaginations to express their interpretations of these singularly unique cultural groups.
In their paintings, one can almost hear the ancient Gallic lyrics of "La Chanson de Mardi Gras," or Mardi Gras Song, sung by masked French-speaking Cajun revelers as they ride across the Acadian prairie near Eunice in Acadia and St. Landry parishes, or the pulsating Afro-Caribbean rhythms of "Iko iko anday, Jockomo feena andan day" chanted by Mardi Gras Indian tribes meandering through Tremé. Nothing is contrived. Their songs are raw emotion and spirit rising from deep in their DNA.
"It's a world turned upside down," says Roe, who rides in costume with the Cajuns and takes hundreds of photographs for later paintings in his studio. The popular Cajun "Courir de Mardi Gras" is an ancient carnival tradition dating back to medieval France.
"It's like walking into a painting by the 15th century Dutch artist Hieronymus Bosch," he says, describing his experiences with the French-speaking Cajun riders. "Everyone is masked and in costume, with fringing and high-pointed hats and patchworks of colorful cloth. Jokes and pranks are a 'de facto' part of the day. You see people spontaneously wrestling in the mud, climbing trees, stealing children's tricycles or attempting to make off with an extra un-gifted chicken for the gumbo. It can get very riotous at times…Over the course of the day we make a circuit through the area, going from farmhouse to farmhouse before ending up back at the original starting point for fresh chicken gumbo and for a dance that lasts late into the night. "
Roe is fascinated by the surreal swirl of colors, lights, cultural heritage and abandoned revelry. "It's a mix of the ordinary and the extraordinary," he says. "Between the exotic nature of the costumes and situations of the day and the variety of possible scenes, it's like a wonderful Rubik's cube of possibilities.
Over the years working with the subject matter I've done scenes of riders galloping on horseback, musicians and dancers, mud wrestling, and chicken chasing. I have done scenes lit by dramatic daylight in open fields and spooky scenes shrouded in rains or mists with Louisiana's iconic live oaks peaking through. It's only one day of the calendar, but it can be used to show so much more of Louisiana life."
The Cajun people and their cultural ways have fascinated Roe since he moved to Louisiana in the early 1990s to work with famed Lafayette mural artist Robert Dafford.
"I love it here," says Roe, who was born and reared in Western Kentucky and Southern Ohio. "I immediately felt at home the first time I came to the area.
In a way it is similar to where I grew up in Appalachia. Not the geography, but the people. The Cajuns are a historically isolated rural farming people with tight-knit communities, a hardy group descended from early European immigrants who love fiddle music, communal meals usually involving a pig, and a devotion to family and friends that has helped them survive the hardships of life. They are very much like the hillbilly stock of eastern Kentucky [who are] my ancestors and family. Any differences between the French Cajuns and Anglo-Scots Irish hillbillies seem to melt away when you pull out a fiddle and offer to share some pork."
While Roe rides the Cajun prairies, Kristen Downing captures the pageantry of the Baby Dolls, Mardi Gras Indians, and the Skull and Bone Gang. All three organizations, like the famed Zulu Parade, have deep roots in the city's predominantly African-American inner-city neighborhoods.
"The Baby Dolls, Indians and Bone Men are a very important part of New Orleans history," says Downing, a self-taught artist. "It's a part of my culture and who I am as a person and as an artist. Not many people around the world know of them, so I feel that it is my job as not only an artist but as a native of this great city to shed light on what makes New Orleans culture so unique and vibrant."
Downing describes the veil of cultural and blood connections that comes over her as she moves among marching groups with her camera ready for those right moments and costumes.
"It's indescribable really," she says. "Like this is home and it means so much to me I just want to show the world what New Orleans is all about. My emotions are mixed — love, happiness, excitement, joy and sometimes even a bit of nervousness. That's only because our culture is so unique and I want to be sure to capture it perfectly."
Downing pretty well sums up what Mardi Gras is all about whether you are on horseback chasing a chicken in Eunice, riding elaborately decorated floats, or strutting in the streets of Tremé.
"Culture, love, family, fun, diversity, energy, positivity, you name it," she says. "It's always good vibes during carnival celebrations. Families get together, they eat, drink, dance, laugh and overall have a good time."
For more information about Roe, visit chromesun.com and for Downing, kawdart.com
---
Exhibitions and Events
Through Jan. 7, 2018
New Orleans
New Orleans Museum of Art, "East of the Mississippi: 19th-Century American Landscape Photography." This landmark exhibition is the first to explore American landscape photography east of the Mississippi River, One Collins C. Diboll Circle, City Park, 504-658-4100, noma.org
Through Jan. 7, 2018
Shreveport
R.W. Norton Art Gallery, "From Alaska to Zimbabwe: Don Edwards Paints the Wild Side." The work of naturalist artist Don Edwards and his wildlife paintings from across North America to Kenya and South Africa, 4747 Creswell Ave., 318-865-4201, rwnaf.org
Through Jan. 20, 2018
Alexandria
Alexandria Museum of Art, "Refining & Defining a Nation: From Impressionism to Regionalism." Explore how late 19th and early 20th century American artists visually defined rural and urban America. 933 Second St., 318-443-3458, themuseum.org
Through Jan. 27, 2018
Lafayette
Paul and Lulu Hilliard University Art Museum, "Lin Emery: A Movement, 1957-2017." New Orleans-based sculptor Lin Emery gained international acclaim for her graceful kinetic sculpture inspired by the coastal breezes and currents of the Mississippi River, 710 East St. Mary Blvd., 337-482-0811, hilliardmuseum.org
Through Feb. 18, 2018
Baton Rouge
Louisiana Art & Science Museum, "Alyce Simon: Atomic Art." Explore New York artist Alyce Simon's radical artwork created with the use of the "atom smasher" particle accelerator, 100 River Road South, 225-344-5272, lasm.org
Through Feb. 11, 2018
Baton Rouge
LSU Museum of Art, "Broken Time: Sculpture by Martin Payton." Local artist Martin Payton's steel sculpture inspired by New Orleans jazz musicians and the influences of African musical traditions. Shaw Center for the Arts, 100 Lafayette St., 225-389-7200, lsumoa.org
Through Feb. 24, 2018
Monroe
Masur Museum of Art, "Selections from the Permanent Collection." Exhibit features the museum's artwork restored and acquired after the disastrous fire that almost destroyed the museum in April 2017. 1400 S. Grand St., 318-329-2237, masurmuseum.org
Through Feb. 25, 2018
New Orleans
Prospect New Orleans, "Prospect.4: The Lotus in Spite of the Swamp." Citywide art show billed as one the nation's largest triennial art exhibitions. Artwork by 73 local, national and international artists from 25 countries. Various locations, prospectneworleans.org
Through May 13, 2018
New Orleans
New Orleans Museum of Art, "New Forms, New Voices: Japanese Ceramics from the Gitter-Yelen Collection." For the first time in over two decades, the museum will feature an exhibition devoted to contemporary Japanese ceramics. One Collins C. Diboll Circle, City Park, 504-658-4100, noma.org
Through Nov. 11, 2018
Shreveport
R. W. Norton Art Gallery, "Enlist! Art Goes to War, 1914-1918." See what life was like in Shreveport and Caddo Parish during World War I and how artistic posters were used to urge men to enlist and women to become nurses and join the Red Cross. 4747 Creswell Ave., 318-865-4201, rwnaf.org