Cypress Furniture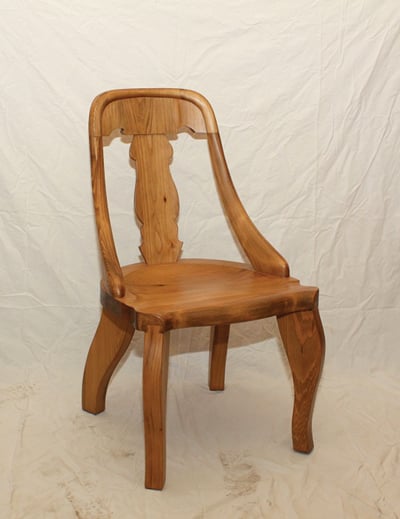 For the past 50 years, George Olivier has been creating wood furniture from cypress, the wood harvested from trees that grow with their roots submerged in Louisiana's swamps.
Although he's worked with other types of wood, Olivier's Natchitoches-based business, Olivier Woodworks, deals strictly with cypress.
"When I started using it, it was called 'trash wood' – wood that people would use to build barns or for other outside uses," Olivier said.
Cypress is considered the perfect wood for Louisiana's climate. It can withstand water, heat and humidity and is ideal for all seasons.
Oliver Woodworks' cypress wood pieces, almost all commissioned, include chests of drawers, pencil-post beds and gun cabinets. He also has a collection of deep oval cypress wood bowls in various sizes. All of his high-end pieces are presented in the wood's raw, original form.
"There's no gaudy baubles or complicated hardware," Olivier says. "It features a lot of clean lines." The cypress wood stands out on its own, according to Olivier, with knots and rings of the tree embedded in the design.
It's also an easy wood for busy lifestyles.
"With a mahogany table, you get a scratch on it and you're going to be upset," he says. "With cypress, you ding it, and it's just a character mark."
Olivier first got into woodwork as a boy in New Orleans, his hometown. He moved to Natchitoches in 1960 and got a start by renovating an old church in town.
"I started out refurnishing, and then I started with cabinet making and milled a few doors," he says. "I had a knack for making fixtures and cabinets. People started noticing me."
Olivier soon found a love for working with cypress and for making fine cypress furniture. He now stands out as the prominent maker of fine cypress furniture in the state, purchasing the Louisiana cypress from a local mill.
"Every board is different," Olivier says about the cypress planks. "You have to feel a board to see if it will cooperate; it's like having sensors in your hand."
He begins by smoothing out the boards to get them perfectly straight. He then begins the careful carving of the wood, turning it into a variety of items: chests, rocking chairs, desks, even a clover-leaf bed – a style that predates the Civil War.
Olivier has perfected the craft of creating beautiful and unique cypress furniture; he has even created his own custom machinery to carve and shape his signature one-of-a-kind pieces.
"Cypress is very durable, easy to look at, and easy to take care of," he says.
He continues to put his stamp on the style … literally. The shop has its own branding iron that can imprint the shop's logo and/or a customer's name on any piece.
Olivier says he hopes his cypress wood furniture designs will cause people think distinctly of Louisiana and its uniqueness.
"Out west, everything is rustic with cabins. There are styles called mountain furniture and Midwest furniture, and they all look different. If you look at mine, I think you (are aware) of the fact that it's a unique Louisiana style," he says. "No one does what I do."