Dawn DeDeaux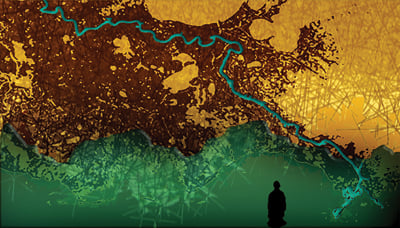 In recent years, many Louisiana artists have worked to document the alarming rate at which Louisiana is losing its environmentally-rich coastal wetlands. Galleries and museums across the state regularly show dramatic images of watery landscapes where marshlands once stood. Few artists however, have used their art as a call for public and political action.
In steps New Orleans artist Dawn DeDeaux, who has gained international acclaim for her monumental, synchronized, media-driven art installations with a conscience. Her work is complex, layered and unsettling with razor-sharp social consciousness that examines the human condition, inner-city violence, and, more recently, the destruction of Louisiana's wetlands. As an strident advocate for saving the environment, her conceptual artworks are more than simply art for art's sake, but art for social and environmental justice.
In her constantly evolving "MotherShip" project for instance, DeDeaux explores the sustainability of life on earth, beginning with ancient myths predicting the end of time, to contemporary social, economic and ecological signs that show those prophesies may be coming true. A later phase conjures images of humans escaping planet Earth and what earthly souvenirs they may take to a new utopian life on other planets.
"I have had a long-term interest in using public art as an educational, communicative tool that aims to connect citizenry across socio-race-class-political barriers," she says.
Her work has not gone unnoticed. DeDeaux, a co-founder of the New Orleans Contemporary Arts Center, has shown her art in major museums across the nation, including the prestigious Whitney Museum in New York. Her awards could fill a wall, and in 1996 the International Olympics Cultural Committee selected her as one of the eight most important Southern artists. The following year, the American Academy in Rome awarded her a Prix de Rome, and in late 2019 the New Orleans Museum of Art will stage a major retrospective of her work from 1975 to 2019.
DeDeaux's interest in art began early in life.
"As a child, I lost a brother and a sister to disease and observed its classic destruction of our family," she says. "Early grief and loss led me on a path aiming to reconcile love, suffering and spirit. I turned to art as a tool for investigation and as a refuge for the heart."
That refuge eventually led her to study art and theater at LSU, the University of Colorado and Newcomb/Tulane University. As her interest in conceptual public art expanded, she took courses in mass communication theory at Loyola University in New Orleans and advanced digital technology at the University of New Orleans.
With these tools in her palette box, DeDeaux's conceptual installations are like theatrical stage settings, complete with electronically-driven lighting, sound and narrative where each object is an actor playing a part in visual dramas before live audiences. To heighten that drama, she creates on a human scale so that viewers react with a visceral response to what they see.
Those installations first take form in her studio on the edge of the old Gentilly section of New Orleans. The main studio, housed in a long vacant early 20th century neighborhood corner grocery store, is one of four adjacent clapboard structures that she recently restored. All are filled with oversized artworks in progress or left over from previous shows. In the garden, large remnants of past art installations seem to grow organically from the dark soil among banana trees and thick bushes of lush flowering plants and vines.
This semitropical setting is a fitting place to create environmental art. Since Hurricane Katrina in 2005 and the 2010 BP oil spill, DeDeaux has worked to make people aware of impending ecological catastrophes facing Louisiana. The state, she says, is at the frontline of environmental issues, ranging from coastal erosion and water contaminants found in rivers and wetland marshes to expanding dead zones in the Gulf of Mexico.
"After Katrina, I turned to sculpture to reconstruct the landscape," she says. "Then came the oil spill. That is when I became so aware of the eroding coastline and how much damage the oil company canals have done to the wetlands. The BP spill has shaped my work by going out there and experiencing the loss. Prompted by the wake-up call of Katrina and oil industry accidents and interventions, environmental activism is no longer an extracurricular activity for the world's fastest eroding land mass."
To interpret that destruction, DeDeaux launched her "Lostscapes: The Killing Fields" and "Mutants" series. The latter work, still in a planning phase, will consist of large, handmade, translucent orbs set afloat in waterways. Each is filled with chemicals that change color and glow when they encounter water pollutants.
In "Lostscapes," DeDeaux illustrates the disastrous effects of saltwater intrusion on Louisiana's coastline, especially in Terrebonne and Plaquemines parishes where the land is disappearing rapidly. In these "apocalyptic landscapes," DeDeaux memorializes dead oak trees that now stand in thousands of watery graves along the coast. The oak, she says, is a metaphor for south Louisiana's culture, heritage and all that is being lost. Here she focused on conditions in Lake Hermitage south of New Orleans, a lake that was once filled with thousands of live trees.
"You see marsh turning into water," she says. "Thousands of oak trees and marsh grasses are dying. When you see these trees disappearing, it hits you hard. When I saw those dead oaks, I cried. It was horrid. This is the land our people live on. New Orleans is next."
DeDeaux is currently working with Tulane University and NASA to build a satellite geopositioning map of south Louisiana that will regularly update the amount of land loss and the changing shape of the state's coastline. Though still in its conceptual form, "Lostscape: Live Data Vanishing Coast Wall" will use constant incoming water-level data collected just offshore in the Gulf to update the coastal map. When completed, DeDeaux hopes to mount the 200-foot-long art installation at a public site on the riverfront in downtown New Orleans.
"Here, art iconography can translate and simplify the complexities of erosion to a larger audience and increase civic participation," she says.
DeDeaux believes artists have an important role in translating scientific data into works of art that can help educate people about ecological problems facing Louisiana and the world.
"We can convey more information in a small amount of space," she says. "It has however, been grueling with a lot of work and disappointments."
Fortunately, she continues.
For more information about DeDeaux and her work, visit dawndedeaux.net.
DeDeaux illustrates the disastrous effects caused by saltwater intrusion into Louisiana's coastal waterways especially in Terrebonne and Plaquemines parishes where dead oak trees stand in watery graves. The oak is a metaphor for South Louisiana's endangered culture and heritage. The human silhouette in each dramatizes the enormity of the problems facing Louisiana.

Dawn DeDeaux (above) is an internationally-acclaimed New Orleans artist who creates complex and layered monumental, synchronized, media-driven art installations to draw public awareness to Louisiana's vanishing coastal wetlands and rising world sea levels. Large conceptual artworks such as "The End with Ladders and Rings" (above) are DeDeaux's call for direct political and social action to head off impending environmental catastrophes.
---
Exhibitions and Events
Through Oct. 1
Baton Rouge
LSU Museum or Art, "Reflections: African American Life from the Myrna Colley-Lee Collection." Show features 50 artworks that present the lives, traditions and environments of African American in the 20th century, Shaw Center for the Arts, 100 Lafayette St., 225-389-7200, lsumoa.org
Through Oct. 15
New Orleans
Ogden Museum of Southern Art, "Louisiana Contemporary." Fifth annual statewide juried exhibition, featuring contemporary artists from across Louisiana. Also, "William Eggleston: Troubled Waters." Featuring renowned Southern photographer William Eggleston's images of rural life in the Mississippi Delta. 925 Camp St., 504-539-9650, ogdenmuseum.org
Through Oct. 22
Shreveport
Meadows Museum of Art, "Unraveled by Jim Arendt." South Carolina artist Jim Arendt explores shifting paradigms of labor and place and how transitions in economic structures affect individual lives. 2911 Centenary Blvd., 318-869-5011, centenary.edu/campus-community/meadows-museum
Through Dec. 2
Lake Charles
Historic City Hall Arts & Crafts Center, "Colorama from the George Eastman Kodak Museum: The Stories Behind the Pictures." Traveling show, featuring 36 large, nostalgic photographs of American families on vacation across the United States from the 1950s through the 1990s. These color images once hung in New York City's Grand Central Station, 1001 Ryan St., 337-491-9147, cityoflakecharles.com
Through Dec. 7
Lake Charles
McNeese State University, Shearman Fine Arts Center Annex's Grand Gallery, "Annual Faculty Show." Show features artwork by McNeese State University art faculty held in conjunction with communitywide gallery promenade. 4205 Ryan St., 337-475-5428, mcneese.edu/visualarts
Through Jan. 20, 2018
Alexandria
Alexandria Museum of Art, "Refining & Defining a Nation." Through historic paintings borrowed from museums across the nation, this exhibition explores how late 19th and early 20th century American artists visually defined rural and urban America. 933 Second St., 318-443-3458, themuseum.org
Through May 5, 2018
Lafayette
Paul and Lulu Hilliard University Art Museum, "Tina Freeman: Artist Spaces." Exhibition features Freeman's photographs of the studios and workspaces of contemporary artists based in New Orleans along with examples of their work. 710 East St. Mary Blvd., 337-482-0811, hilliardmuseum.org
---