Dining and Dancing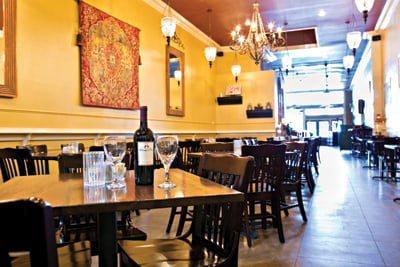 Cajun dancing is hungry work, though happily wherever people are doing a waltz or two-step, good food is usually nearby.
That's certainly the case on Saturday evenings in downtown Eunice, that farm town and hub of Acadian culture out on the Cajun prairie. Each week, people line up in front of the vintage Liberty Theatre for tickets to the Rendez-Vous des Cajuns. This long-running live show, broadcast on local radio and television, has musical guests; bilingual commentary from the evening's host; and a format following in the tradition of the Grand Ole Opry, the Louisiana Hayride and even A Prairie Home Companion.
After this early evening performance wraps up (around 7:30 p.m.), people start looking for dinner. These days, that leads many of them just two blocks up Second Street, the zigzagging main drag, past a pool hall, a coffee shop and some storefront offices, to Ruby's Restaurant and Courtyard.
Ruby's is a family-style Cajun restaurant where people tend to leave with leftovers and where it's hard to imagine anyone leaving less than stuffed. It's a place for appetizers the whole table needs to split, for straightforward steaks, for poor boys and for platters of local seafood with étouffée used as a sauce and cheese applied by the fistful.
This Ruby's was opened last summer by the owners of Ruby's Café, a diner just around the corner. The restaurant is new, but its address has quite a history. Until recently it was called Nick's on Second, and Nick's went back to 1937 when Nick Ferro and Blackie Guillory first opened it. Initially, this Nick's was a barroom where men would convene for games of dominoes and the Cajun card game bourré.
The courtyard referenced in the name is a mid-size events space attached to Ruby's main dining room, a long, narrow space with a sort of homey country store look. But it's what's on the plate that usually commands full attention.
There's a choice of gumbos (seafood or chicken-and- sausage), which are joined by an uncommon seafood chowder mixing oysters and shrimp in a white base as thick as a sauce. You won't be surprised by fried gator and catfish on this appetizer list, though the charbroiled oysters and barbecued shrimp are a little more New Orleans-style than we usually find on the prairie. But what really stand out are the almond shrimp, which are coated in a spicy-sweet Asian-style glaze and arrive on a platter of slaw strewn with slivered almonds. Fried mushrooms, stuffed
with seafood dressing until they're the size of golf balls, also make an appearance.
Fried shrimp and catfish platters, a few pastas and entrée salads and those steaks and poor boys make up a lot of the menu, while some of the specialties plumb the great contemporary Cajun zeal for mixing various kinds of seafood and capping it all with cheese and rich sauces. Both the seafood enchilada and the seafood crêpes emit a blend of plump shrimp and sweet crab bound up with enough creamy goodness to make these fillings resemble a seafood dip. Meanwhile, the Seafood Dot brings big fried shrimp curled over a casserole dish of molten, bubbling shrimp-and-crab au gratin. A slab of grilled red snapper gets the au gratin treatment, too.
This is not exactly delicate cuisine. Instead, Ruby's menu sits at the intersection of abundant seafood and an exuberant approach to dressing it up for hungry diners. That makes it one Cajun rendezvous you shouldn't miss.
Ed. Note: With this issue we introduce "State of the Plate," which will provide reviews and commentary on worthy restaurants throughout the state. Ian McNulty has written about food for several publications and also appears on television and radio. His books include Louisiana Rambles, a guidebook to the state.
---
Ruby's Restaurant and Courtyard
123 S. Second St., Eunice
(337) 550-7665
Lunch Monday-Friday, dinner Wednesday-Saturday