Dining Next Door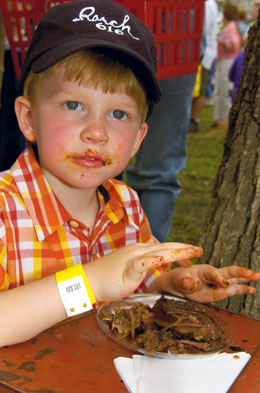 While Easterners were sitting down to meals seasoned with imported spices and served on fine china, Texas was still a frontier. Throughout much of its early history as part of Mexico, an independent republic and finally as a state, Texas remained a vast land sparsely populated by cowboys and hardy pioneers who learned to cook using the materials they had at hand. That meant finding a use for prickly pear pads and taming beef that was as tough as shoe leather. After the cowboy days, immigrants brought with them recipes from their homelands and modified them using available ingredients, creating a culinary diversity that still exists today.
Foodies now find plenty of reasons to travel to Texas, from fine dining in Houston and Dallas to small-town diners where you'll find reminders of that frontier ingenuity in such dishes as fajitas and chicken-fried steak, plus ethnic favorites such as German sausage, Tex-Mex tacos and Czech kolaches. Chicken-fried steak. Wherever your Texas travels take you, one dish is just about a sure bet on all but the most gourmet of menus: chicken-fried steak. This dish, like many Texas foods, traces its roots back to more difficult times. Those early cowboy cooks knew that not all beef was steak; some of it was tough and stringy. They used Western ingenuity to turn what could have been thrown away into dishes that award-winning restaurants are now proud to serve. Chicken-fried steak uses one of the toughest cuts of meat, the round steak; it's tenderized, dipped in an egg-and-milk batter, floured and fried to a golden crispiness. Some food historians believe the early German settlers brought the cooking technique with them, preparing the beef much like they would have made schnitzel back home.
The chicken-fried steak is the equivalent of white bread in Texas cuisine. Folks feel comfortable with chicken-fried steak. It's not spicy, so even those who can't handle the fiery heat of other local dishes love this one.
Chili. When you're ready for something spicier, order up the state dish of Texas: chili. More than a century ago, young girls known as "chili queens" sold chili con carne from kiosks in San Antonio's Market Square. When the dish went to the Chicago World's Fair in 1893, chili caught on.
Today chili is made in Texas homes as soon as the weather turns cold. You'll find chili on a few diner menus, or you can head to Austin's Texas Chili Parlor, located within walking distance of the Capitol. Try the fiery XXX chili if you're feeling especially brave.
True chili aficionados head to chili cookoffs. On the Interstate 10 corridor, Flatonia hosts Czhilispiel the fourth weekend of October with a chili cookoff. In November, thousands of chili-heads head to tiny Terlingua in Big Bend Country for not one but two chili cookoffs: the Original Terlingua International Championship Chili Cookoff and the Terlingua International Chili Championship.
Tex-Mex. Tex-Mex fare, which traces its roots to the Texas-Mexico border but has spread across the state, takes Mexican cooking traditions, adds a Texas-size dose of spice and creates a whole separate type of food that's a favorite across the Lone Star State (though many believe San Antonio has the tastiest). A familiar Tex-Mex favorite, known affectionately as Regular Plate No. 1, is an order of beef enchiladas, refried beans and Spanish rice. If you're lucky, leche quemada, a sugary pecan praline, will be brought out with your check.
Fajitas are a favorite "trash to treasure" Tex-Mex treat. Fajitas were a brainstorm of chuck wagon cooks who learned that marinating the tough skirt steak in lime juice broke the meat down to a chewable consistency. Sliced in narrow strips and grilled, it is now served with cheese, salsa and guacamole and rolled into a flour tortilla.
Tamales, both mild and spicy varieties, are also found on every Tex-Mex menu, but they're most popular during the Christmas season.
Old World fare. Although Texas cuisine borrows heavily from the Mexican culture, it also relies on other ethnic groups that settled this land. More than 30 nationalities, including Alsatians, Czechs and Poles, settled communities throughout Texas, bringing their own culinary styles and adjusting them to fit the food supply they found on the frontier.
The Germans, one of the largest immigrant groups, settled the area northwest of San Antonio and founded the towns of New Braunfels and Fredericksburg. A New Braunfels museum explains that when German farmers butchered a pig, they "used everything but the squeal." Some shoppers preferred not to see those parts looking back at them across a meat counter, so the German meat markets used whatever didn't sell to make sausage.
The Czechs, who settled much of the region east of San Antonio, brought with them a sweet reminder of the old country: the kolache. Anyone who tastes a freshly baked kolache can recognize that more than apricots, apples or cottage cheese is wrapped inside the sugar-topped bread roll –– the main ingredient of this pastry is a love for tradition. This wedding pastry was traditionally baked weeks before a local ceremony and then given as an invitation to the upcoming event. Today Texas destinations for kolaches are the towns of West; La Grange; Schulenburg; and Caldwell, the kolache capital of Texas. The biggest event in town takes place the second Saturday of every September when Caldwell celebrates its annual Kolache Festival.
Barbecue. One thing that's no secret is that the best barbecue joints ("restaurants" may be too fine a word) are the ones that usually look the worst. Walls streaked by smoke? Menu just a sign on the wall? Food served on butcher paper with a side order of cheap white bread or saltine crackers? Congratulations, you've found a real Texas barbecue pit. Roll up your shirt sleeves, and get to work.
Scott Ziskovsky, spokesman for The County Line, a Texas barbecue favorite, says: "While we do serve a lot of different meats, [West] Texas barbecue is all about the beef: big beef ribs and lean, tender brisket. Here, we're all about slow-smoking over green oak and servin' it up with more tomato-based sauces the way Texans expect it."
Beef rules throughout the state, though as you travel you'll find other items on the barbecue menu, as well. In East Texas, expect to see more pork on the menu while in West Texas' goat-ranching area, cabrito, or barbecued goat, rules the day. On Labor Day weekend, Brady, about two hours west of Austin, celebrates this dish with the World Championship Barbecue Goat Cookoff. Near the Mexican border, look for barbecued fare such as barbacoa, the head of a cow wrapped in cheesecloth and burlap and slow-smoked in an earthen pot.
For many travelers, the capital of the Texas 'cue scene is what's sometimes called the Barbecue Belt, a region extending from Llano to the west through Austin and then east to Taylor, Luling, Lockhart and Elgin. Each destination is home to several smoky hot spots (the best is the subject of endless debate) and plenty of opportunities to sample brisket as well as sausage. Elgin is considered the capital of the sausage world, producing link sausage that's sold at barbecue joints throughout the state.
Texas wines. "Texas is blessed with a wealth of tourism opportunities, and wineries greatly enhance the attractiveness of our state to visitors," says Todd Staples, Texas agriculture commissioner. "The impact is statewide. Wineries and tasting rooms are located in our rural regions, in small towns and in our most bustling cities, making access convenient for Texans and visitors alike."
Texas has a long and colorful wine history that began in the 17th century when Spanish missionaries started making wine near present-day El Paso. The state's oldest winery still in operation is Del Rio's Val Verde Winery. The establishment was founded in 1833 by immigrant Frank Qualia because the region reminded him of his Italian homeland. It survived Prohibition (producing sacramental and "medicinal" wines), and today the Val Verde Winery is still operated by family members.
Much of the Lone Star State's fast-growing wine industry is centered in the Hill Country north of San Antonio and west of Austin, a region shaped by an ancient earthquake that buckled limestone and granite into rugged hills and valleys. Travelers don't need to worry about getting lost in a tangle of vineyards, however; the Texas Wine Trail makes it easy, leading visitors through the region with an interactive map and links to area establishments. The wine trail hosts special events throughout the year including spring's Wine and Wildflowers Trail and summer's Harvest Wine Trail, but any time of the year makes a good time to follow this winding pathway.
But the wine country doesn't end with central Texas — some of the state's top wineries are located in the Lubbock area on the Panhandle Plains. With an elevation of 3,400 feet, a semiarid climate and an annual rainfall of about 18 inches, the area has proven to be ideal for this crop, producing grapes that are shipped to wineries throughout Texas. Lubbock's home product has won numerous international awards and been served at state dinners.
In the Dallas/ Fort Worth Metroplex, it's no surprise that the town of Grapevine is home to numerous wineries as well as the Southwest's largest wine festival. Can't make it for the September festival? Grapevine's wineries are easy to visit year-round. If you're making air connections in Grapevine's DFW International Airport, look for La Bodega Winery, the first airport winery in the world.