Double the Music and Double the Fall Festival Fun
The popular Festivals Acadiens et Créoles in Lafayette brings the fest to the people twice in one year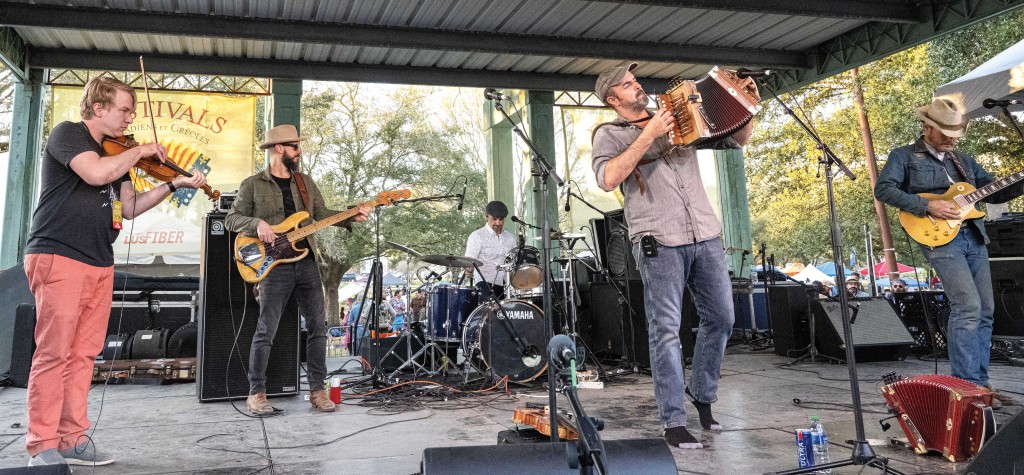 It's an Acadiana tradition about to hit its golden anniversary. And even though it hit a speedbump during the pandemic, Festivals Acadiens et Créoles has returned. Twofold.
The annual fall festival, which turns 50 in 2024, has been celebrating Cajun, Creole and Zydeco music and culture since 1974 when it began as "A Tribute to Cajun Music" in Lafayette's Blackham Coliseum. But the idea hails back even further, to 1964. When Cajun musician Dewey Balfa was invited to perform — the first Cajun musician to do so — at the Newport Folk Festival, his reception at the Rhode Island event was astounding. At the time back home in Louisiana, folks didn't appreciate Cajun and Zydeco in the same way, so Balfa was determined to ignite a passion for South Louisiana music.
The first concert was planned to coincide with a gathering of 150 French journalists in Lafayette in March 1974. No one knew how that first concert would be received, but Acadiana residents embraced the event. It attracted a larger audience every year and was later moved to the city's more spacious Girard Park. The name changed when it merged with other Lafayette festivals, such as the Louisiana Native Crafts Festival, later to become the Louisiana Native and Contemporary Crafts Festival, and the Bayou Food Festival. This combination of cultural festivals is why the name "Festivals Acadiens et Créoles" remains plural.
Today, the annual fall celebration includes a Dance Hall Tent, the Chef's Demo Stage called Culture Sur la Table, a sports tent where visitors may watch LSU, UL and Saints football and a revitalized children's area known as La Place des Petites. Five stages sport continuous music throughout each day of the festival.
This year, however, Festivals Acadiens et Créoles went double duty. The pandemic forced the festival to go vertical in 2020, then was cancelled in 2021 when omicron reared its ugly head. Festival Director Pat Mould decided to play catch up with fans by putting on the festival in March of this year, then again in its regular fall slot, Oct. 14-16 in Lafayette.
"The reason we did the March festival was to make up for 2021," Mould said. "But we went full festival. Everybody was so happy to be out."
Fest folks were a bit rusty after being out of the loop for so long, but it all came together, he said.
"The hardest part was cranking the machine back up," Mould explained. "It takes a lot of people to put on a festival."
Festivals Acadiens et Créoles is now one of the oldest and largest festivals in the state. There are 75 craft booths, three types of food vendors, five music stages and numerous committees working marketing, merchandise and scheduling, among others. More than 350 volunteers work the weekend of the festival, Mould said.
For more information on the October event, visit festivalsacadiens.com.
If You Go
Girard Park, festival central, is only a quick drive from downtown Lafayette, but not within walking distance. When the festival concludes at dusk, many downtown venues crank up, sometimes hosting festival musicians for additional opportunities for music and dancing.
To be close to the night action, the Juliet boutique hotel and Buchanan Lofts feature upscale accommodations downtown while the Blue Moon Saloon, which doubles as a live music venue, offers a more casual stay.
Whatever your plans for après-festival, don't miss out on the exciting dining options that downtown Lafayette has to offer. For instance, visitors may rest their dancing feet in the outdoor space of a converted gas station and enjoy Chef Jeremy Conner's award-winning cuisine and craft cocktails at Spoonbill Watering Hole & Restaurant. Or enjoy dishes from another acclaimed chef creating waves — Chef Ryan Trahan at Vestal Restaurant. For something casual, try the eclectic takes on old standards at Pop's Poboys and CENTRAL Pizza & Bar.
For a complete list of Lafayette hotels, restaurants and attractions, visit lafayettetravel.com.