Eagle Watch in the Pelican State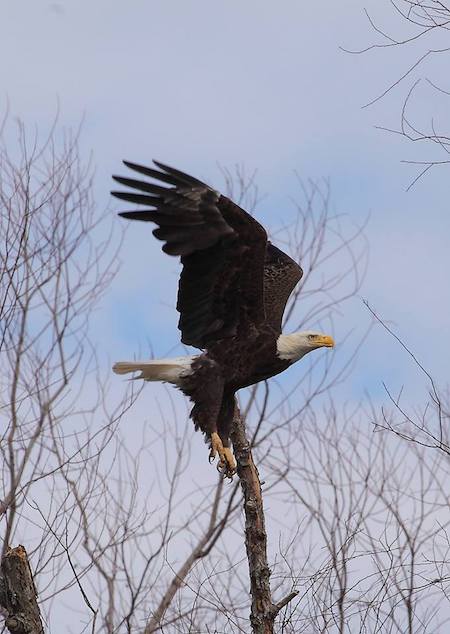 Admirers of the American bald eagle are flocking to the bayous and lakes in and around Morgan City to get an eyeful of this majestic bird in action This is the time of year the nation's emblem bird is busy nesting and tending to its eaglets, all as they're perched high atop the trees along the south Louisiana's waterways.
The tree-lined wetlands extending through St. Charles, St. Mary and Terrebonne parishes are providing a perfect habitat for hundreds of eagles, which were once on the endangered species list. While the raptor can be witnessed all over the state, these coastal parishes seem to be a hotbed for nesting, and by the growing number of breeding pairs witnessed today, there's no doubt south Louisiana is a crucial migratory home for the survival of the species.
The resurgence of the extraordinary bird has helped to create a new generation of both amateur and professional bird watchers, plus photographers. They're boarding tour boats and kayaks to watch the adult eagles hunt and nest amid this safe haven. While aboard one of these tour boats in Morgan City, you will hear the "oohs" and "ahs" from admirers witnessing these birds of prey in action. Out come the binoculars and zooming camera lenses to capture the unforgettable moment; it's an awe-inspiring adventure that has spearheaded another amazing tourist attraction for the Pelican state. (Fun Fact: An eagle's nest weighs several hundred pounds, and the raptor returns year after year using the same nest, which is refortified annually.)
While you can witness the eagles from your own boat or kayak, it can be a lot easier to board a vessel with a captain who knows exactly where to find the large raptors. And Morgan City has the perfect opportunity. Head to the 13th Annual Eagle Expo, which takes place Thursday, Feb. 22 through Saturday, Feb. 24. You are almost guaranteed to witness the American bald eagle perched in a tree, soaring overhead and tending their young on the boat tours. In addition to boat tours there are workshops, photography sessions, and walking tours taking place during the expo.
For more information and to register for one of several boat tours and more visit: www.cajuncoast.com/13th-annual-eagle-expo-more. If you are looking for the perfect place to stay while in the area and a great place to eat visit: www.cajuncoast.com.