Electric Art
Monroe artist Don Cincone's vibrant paintings are born of memories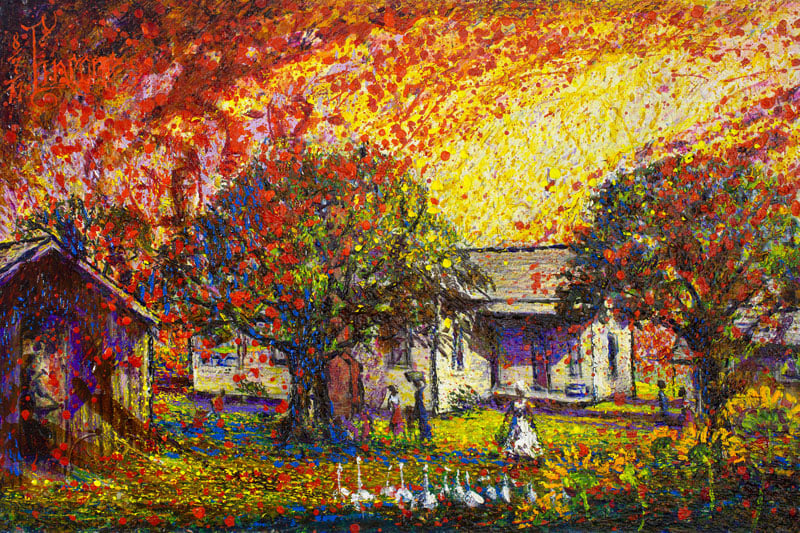 For over six decades, Monroe artist Don Cincone has been on a remarkable journey that has taken him from a sharecropper's cabin in Richland Parish to San Francisco, New York's fashion district, movie sets in Hollywood, down to Mexico and back to his native rural North Louisiana.
During that time, Cincone has developed a whimsical painting style that emerged from deep in his childhood memories of gospel spirituals, stories and the African-American experiences of his family living in a then-segregated rural North Louisiana. That background and admiration for early European art has given Cincone a unique vision and body of work.
Born in 1936 to sharecroppers on a plantation near Alto, the family moved in 1943 to nearby Monroe where he attended Monroe Colored High School and Carroll High. Fortunately, his principal loved art and formed an art club for his students. It was there Cincone learned drawing and painting techniques. Cincone hoped to continue his art studies at Southern University in Baton Rouge but left after a year. He felt his classes were designed more for art teachers than practicing artists. In 1956 he joined the Army and an exciting world of art opened to him.
"I was sent to Germany and that's when I was really exposed to world-class art," he says. "I traveled all the way from Denmark down to Italy, spending a lot of time visiting museums and castles. It was the 1950s and in those days you could walk up to any work, even in the Louvre. In fact, I remember smelling the paint. I was that close."
There he admired works by French and Italian Renaissance artists, Dutch masters, the Impressionists, Expressionists and other art forms. Those experiences helped create his self-described "eclectic" painting style. In his painting "Madonna With Baby," for instance, we see the typical Renaissance image of a mother caressing her child. The mother's elongated face with dark eye slits, however, is certainly not European Renaissance but more in the tradition of African sculpture and ceremonial masks. The setting is a Louisiana cotton field.
"I've gained from all of those," he says, "but I finally came to a style that came from the environment that I was born into and grew up in, and the storytelling with my mother and my grandparents and other people that I was around. Hearing those stories and the music sounds when we sang gospel and the music at the end of World War II, and on into rhythm and blues. All of that impacted me profoundly. That is what I felt and that's what I wanted my art to do."
In "Mama Sally's House, Summertime," his maternal grandmother, Mama Sally, stands in her front yard herding geese. In the background is her home, a small house in Richland Parish built by her parents 30 years after they were freed from slavery.
Discharged from the Army in 1959, Cincone went to Oakland, California. He attended the San Francisco School of Fashion Design and met his wife Katherine Royal from Napoleonville. In 1961, with contacts made by one of his professors, he and Katherine moved to New York where he worked briefly in the fashion industry. After a few months, they returned to California, this time to Los Angeles.
Back on the West Coast, Cincone signed up with the Harry Soicher Gallery, whose stable of 300-plus artists provided decorative paintings for hotel and commercial offices as well as for TV and movie sets. Cincone got a career-making break when his paintings were featured in the 1965 movie "The Art of Love," starring Dick Van Dyke, James Garner, Elke Sommer and Angie Dickinson.
Oh, by the way, Don Cincone is not his real name. His birth and legal name is Donald R. Wills. Soicher came up with the working name "Don Cincone" because he felt it sounded more European. At Soicher's urging, Wills signed his still life paintings "D.R. Wills" along with various made up names but reserved the Cincone name for his personal figurative work.
These days, Cincone, who still uses his "nome d'arte," promotes his own work with the help of family, especially his wife. As to recent work, his paintings feature Civil Rights heroes as well as somber issues in American life today. Yet, he remains optimistic and it shows in his paintings.
"Justice is still justice," he says. "There has always been more good will Americans living in this country than ill will Americans. And that's still true."
For more information, visit doncincone.com.
Exhibits
Cajun
Shawne Major: Schema
Abstract compositions as metaphors for culture, through Jan. 7. Paul and Lulu Hilliard University Art Museum, Lafayette. hilliardmuseum.org
Central
No Man's Land: Four Artists from the Neutral Strip
Features four Vernon Parish artists, commemorating 200th anniversary of Louisiana's western border with Spanish Texas, through Feb. 18. Alexandria Museum of Art. themuseum.org  
Plantation
Our Louisiana
Artworks from the museum's permanent collection, through Jan. 14. Louisiana Art & Science Museum, Baton Rouge. lasm.org
NOLA
Picture Man: Portraits by Polo Silk
Images by acclaimed New Orleans photographer Selwhyn Sthaddeus "Polo Silk" Terrell, through Jan. 8. New Orleans Museum of Art. noma.org
North
Christmas Favorites from the Norton Collection
Paintings of snowy scenes to St. Nicholas, Dec. 1 through Jan. 8. R. W. Norton Art Gallery, Shreveport, rwnaf.org