Erté-Bound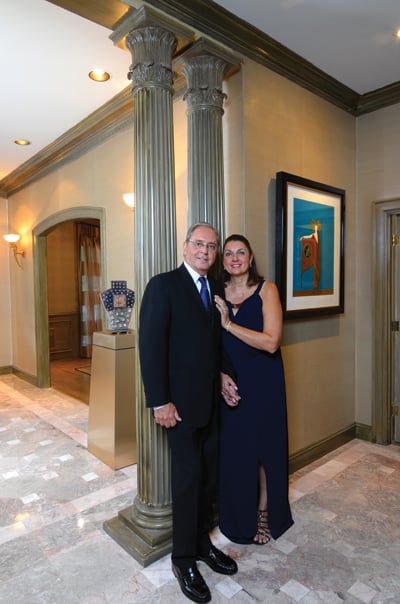 As young newlyweds, Linda and James "Jim" Vozzella fell in love with the art of Erté, whose long and illustrious career influenced a wide variety of media ranging from theater to film to fashion in the Art Deco movement.
More than 30 years have passed since they developed a mutual enchantment with the artist, and today their home is a virtual museum of Erté's work. Says Linda, a registered interior designer with Yarbrough Interior Designers in Shreveport for more than 30 years, "We have enjoyed our journey of collecting his art and learning more about the Art Deco movement."
They reside on a grand street in the Shreveport South Highlands neighborhood. You won't find one antique in this home. "We've created a comfortable home wrapped around our Erté art," continues Linda. "Each room was done with great care to make it stylish while still creating an oasis where comfort is the watchword."
No concern was taken that the front of the 60-plus year old, 5,120 square-foot home didn't resemble an Art Deco palace. "We like the surprise reaction we get from first-time visitors," Linda says. "Jim was very generous to allow me to undertake such a major renovation of the interiors five years ago." The home features some outstanding Art Deco furniture, but it is actually an eye-catching eclectic blend of what is pleasing to the talented interior designer's eye that makes the difference.
"The living room is my favorite room in the house," explains Jim, co-owner of Gemini Explorations, Inc., an oil and gas producer that also drills and completes wells, with its main leases on the historic Caddo Lake that includes the first off shore oil well drilled in North America. "This is where I can relax and be comfortable." Linda created what she calls a "a man cave" in part of the air-conditioned garage. It contains a large television and comfortable seating, along with a refrigerator filled with refreshments for Jim to enjoy while watching football games.
Linda loves the master bedroom with its white marble floor and the master bathroom. "We have a steam room and heated floors, and it makes me feel like I am away at a luxury spa," she says.
Are they still collecting Erte's art? "Do you ever stop collecting?" Linda answers. "We don't have space to display everything at one time. It's nice to be able to change the art in a room if we wish." She adds, "Maybe we will build a second home someday and have additional wall space for our collection."