Events and Highlights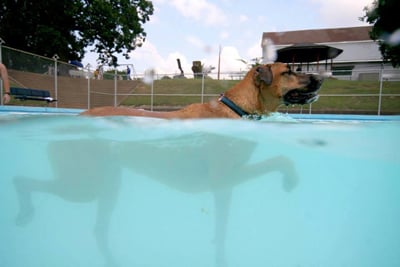 North
DOG DAYS OF SUMMER
Summer in Ruston is not only a great place to enjoy a great juicy peach, but it's also a perfect place for the hot and paw-worn to cool off when August weather is like a griddle is set on high.
The Ruston Parks and Recreation Department hosts dogs by sponsoring its annual K9 Pool Party. Each August, as the Municipal Pool on Georgia Street closes for the summer season, the pool is alive with canine belly flops, riotous splashing, yips of pleasure and furious dog paddling. Dog owners are optional, but nevertheless encouraged to join their beloved pets in the watery fun as the pool fills with pooches of every size and color once the hounds are released. All pooch personalities are welcome – save for the aggressive – and shots must be current.
The event is free for dogs, but owners are asked to donate either a can or bag of dog food, or a box of treats for Ruston animal shelter and other nonprofit shelters around the area. The event takes place August 1, from 9 a.m. – 1.p.m. and, August 2 from 1 p.m.-3p.m.

LINCOLN HISTORY IN RUSTON
In the beneficent time of childhood when summer didn't just mean sweltering and unfolded in a blissful sans-school-haze of barefoot days, swimming, baseball games, or idle time buried in a good book, there was one activity I always enjoyed the best, even if it was educational. I loved visiting museums, because they were deliciously cool and filled with items that told wonderful stories.
The Lincoln Parish Museum and Historical Society in Ruston has dedicated itself to "Educate, Inspire and Appreciate the Unique History of North Louisiana" and lives up to that credo in impressive celebration. Housed in the Kidd-Davis abode built in 1886, the museum is filled with colorful and interesting treasures that reflect past life in Lincoln Parish. One of the home's past owners was Robert Wesley Davis whose wife was Charlotte Arabella Long, a sister to two Louisiana fellows named Earl and Huey. This rambling old house is wedding cake-white with a deep, inviting front porch.
Step into the entry way and you're met by the beautiful sight called "The Walls That Talk" murals. Painted by Louisiana Tech art students in 1978, the murals depict vignettes from Lincoln Parish history. In 2009, local residents recorded the stories behind the pictures, thus providing an audio explanation of each mural as you pass.
The Caddo tribe is paid tribute by an exhibition of Native American pottery and arrowheads. As you wander over the glistening floors beneath a chandelier amid Victorian settees, the museum works its magic on you. Cases that glow with vintage antique gowns; a vintage dollhouse, half tester beds and art collections are interspersed throughout the gracious old place. Donated by Dr. James C. White are more than 70 of his original drawings of churches representing religious denominations found in Louisiana.
The DeCinter Carraway Farley collection shows charming memories of DeCinter Farley's happy childhood in Lincoln Parish captured on canvas in a style somewhat reminiscent of Clementine Hunter's. Farley received international recognition for her artwork at the 1984 World's Fair in New Orleans. For researchers, the museum offers numerous resources in the form of historical records, census data and maps.
Information, The Municipal Pool at Georgia Avenue, Ruston, (318) 255-5806, ruston.org/rpar. The Lincoln Parish Museum and Historical Society, 609 North Vienna St., Ruston, (318) 251-0018, lincolnparishmuseum.org.
---
Central

THE HORSE LECOMTE
Sometimes there are stories that need to be told over a cup of coffee and a slice of pie at Lea's Lunchroom.
It was in the town of Meeker (in the Lecompte area) that a family of gentry named Wells dwelled during in antebellum times. The scions of the Wells family were an interesting lot: The eldest son William Rudolph died with Jim Bowie at the Alamo and had been present at the Sandbar Fight in Concordia Parish with Bowie. The youngest, James Madison, darkly handsome, was governor of Louisiana from 1865 to 1867; Montfort Wells was a state senator and brigadier General in the Louisiana Militia. And then there was Thomas Jefferson Wells, who happened to own a horse named Lecomte.
Now Lecomte was no slacker. He was foaled out of the legendary 19th-century broodmare Reel and sired by Boston who was elected into the inaugural class of the Thoroughbred Racing Hall of Fame. Lecomte was a slight little equus, a beautiful chestnut with one white hind leg, excellent of temperament and kindly disposed to his riders by never throwing them or engaging in that pusillanimous pastime of being a runaway. Nimble and graceful, he had the speed of a sprinter combined with power to go to distance in equal measure. He was praised by many to be the fastest horse in all of North America and remained unbeaten in horse races. His racing star rose high, but alas, Lecompte also had a half-brother named Lexington, who shared the same sire and mighty horse ability as his sibling. In what might be considered a precursor of the Civil War, brother would face brother in a racing war; North would be pitted against South.
Lexington was owned by a Yankee named Ten Broeck who was anxious to challenge Wells and Lecomte in the Great Post Stakes at the racecourse in Metairie (now Metairie Cemetery). The track was sloppy and Lecomte lost, mud not being his preference. But the following Saturday, the half brothers met again for the Jockey Club Purse. In four-mile heats, the race was run. In an astonishing 7 minutes and 26 seconds, Lecomte won the first heat, establishing an American record for the distance by any horse.
The town of Lecompte is named for the mighty little horse. When the railroad painted a sign at the station a letter "P" was incorrectly added to the name, and thus the town of Lecompte is still known by its misspelled name.
Never forgetting the feisty little chestnut, each year the Fair Grounds in New Orleans holds the Grade III Lecomte Stakes as an initiation race for horses who have just turned 3.
CENLA RISING
Central Louisiana with its rich history, measured pace and family oriented esprit de corps has been garnering national recognition when it comes to quality of life. Forbes magazine selected Alexandria in Rapides Parish as one of the top three places in America to retire. The excellent air quality, warm climate, low tax burden and low cost of living helped the city win this honor. Added to the assets of life in Alexandria were the thriving arts culture that included River Oaks Arts Center; the Alexandria Museum of Art; local theater groups; the Rapides Parish Symphony Orchestra and the Coughlin-Saunders Performing Arts Center. The state-of-art Alexandria Zoological Park and T.R.E.E. House Museum for children only increased to the city's accolades.
In 2011, Bloomberg Businessweek named the Central Louisiana town of Ball the best place to raise children, citing low crime rates, fine city services, a senior citizen center and a green waste program. Additionally, the natural beauty of nearby Kisatchie National Forest, 600,000 acres dedicated to biking, hiking, bird watching and camping, along with Central Louisiana's succession of lakes, continue to contribute to this region's exquisite treasure trove of natural resources.
---
Cajun Country

BLUE AGAVE IN LAFAYETTE
Aptly named for the plant that renders tequila, the Blue Agave Restaurant fittingly offers a gallery of delicious and refreshing (on-a hot-summer's-day) tequila libations. Using tequila with the labels Patron Silver; Cabo Blanco; Patron Anejo; Don Julio Reposado, among others, this eatery concocts elixirs like the Blue Agave, a sweet and sour mix of Cabo Wabo Blanco, Cointreau and Grand Marnier, or the Mojito Margarita – Don Julio tequila, Cointreau, sweet and sour lime sugar, mint. Sipping one of these sweet-tart drinks with an appetizer of spicy Ceviche, made with shrimp, scallops and tilapia marinated in citrus juice, tossed with avocado and pico de gallo is an inspiration. The Shrimp Cocktail brimming with the marinated flavor of spicy tomato sauce, avocados and pico de gallo is another fine choice to begin your meal.
For your main course the Carne Asada arrives plated with an 8-ounce rib eye, replete with a cheese and chicken enchilada each, Mexican rice, charro beans, guacamole, pico de gallo and jalapeno relish.
The quesadillas resemble half of a pie on your plate. A grilled wheat tortilla seeping with melted cheese and loaded with either grilled chicken; marinated steak; sautéed shrimp or veggies forms a beautiful half moon of flavor while the other half of the plate is dotted with pale green guacamole, sour cream and jalapeno relish. The Mar y Terra is a surf and turf presentation of grilled rib eye served with three stuffed shrimp, chimichurri sauce and potato hash. This Mexican eatery offers such delicious and hearty fare, you can't help but think that, if it was possible, Emiliano Zapata and Pancho Villa might have eaten there.
PRAIRIE TRIBE FESTIVAL IN OPELOUSAS
Thousands of years before the Europeans ever waded through a Louisiana swamp or dodged an alligator, a Native American tribe called the Attakapas (pronounced UH-TOCK-A-PAH) by the Choctaw lived in Southwest Louisiana. Their own name for their tribe was "Ishak," meaning, "The People."
The junction of U.S. Highway 190 and Louisiana 111 is a portion of an ancient Attakapas trail that joined the bands dwelling in Southeastern Texas called the "Sunset People," with the Southwestern Louisiana bands, especially the Opelousas band, who were known as the "Sunrise People." It has been said that the Appalousa (Opelousas) Attakapas were also called the Heron Band because their mourning ceremonies included painting their lower legs and feet black like the long appendages of a heron. Dwelling between the swift current of the Atchafalaya River and the murky, turgid Sabine, they populated the area that is now Opelousas.
As a relatively new homage to this ancient heritage, the Annual Southwest Louisiana Attakapas Opelousas Prairie Tribe Festival turns two years old this July. It was begun as a fundraiser for the tribe with the goal of making enough capital to buy land in the Opelousas area to bring its descendants home again.
The festival, held July 25, is filled with activities that are educational. Storytelling and special guest speakers inform attendees about the Attakapas history and culture as they feast on jambalaya and red beans and rice. Traditional dancers, drummers and flutists will provide enchanting, hypnotic rhythms. Children will enjoy face painting and a talking stick contest while demonstrations and lessons on basket weaving, traditional dance and jewelry making will invite all to participate and have fun as they step back in time.
Information, 2nd Annual Southwest Louisiana Attakapas Opelousas Prairie Tribe Festival, Farmers Market Pavilion, 828 E. Landry St., Opelousas, (337) 246-0718. Blue Agave Restaurant, 3558 Pinhook Road, Lafayette, (337) 837-7720, blueagavela.com
---
Baton Rouge

RIVER ROAD ODYSSEY: A NIGHT AT HOUMAS HOUSE INN
I was fortunate enough to spend the night as a guest at the Inn at Houmas House Plantation and Gardens recently, amongst all the violet, fuchsia, red, white and yellow flowers that had come to life in this enchanting stretch of the River Road. The guest cottages are charming replicas of old structures once found on Uncle Sam Plantation downriver from Houmas House and lie beneath the shade and beauty of a venerable alley of old oak trees. Front porches with rocking chairs greet you as you enter. My cottage was close to a bend of the River Road, its interior hushed with ease, soft neutral colors, deep shadows, and a bed so comfortable to my back it must have been a chiropractor in a previous life. Personal, thoughtful touches abounded, including coffee and a white terry cloth robe. Exploring the marble bathroom I discovered a sumptuous tub and separate shower with luxurious L'Occitane items of verbena soap, shampoo, conditioner and lotion. After unpacking, I wandered the world-famous grounds beneath the oak trees and flowers – passing a bride posing for a portrait – and meandered to the cool, shady Turtle Bar (a converted pigeonniere). I was suddenly happy to place myself in the hands of two excellent young men tending bar. As I chatted with a couple from New York who had relocated to Louisiana, I enjoyed a French 75 while listening to the cool sounds of New Orleans jazz. As the evening progressed into night, I sat with my host Kevin Kelly and an entourage of his friends in the courtyard where a long, lowered arm of an oak tree stretched forth covered in tiny fern leaves looking like feathers. Kelly is an excellent host who kept everyone fortified with refills among much conversation, stories and laughter. I noticed the premises were filling with people enjoying the Turtle Bar, the incomparable ambience of the site and one of the several excellent restaurants offering delectable food. I dined at the Carriage House Restaurant on the delicious brown sugar brined pork tenderloin glazed with scuppernong, accompanied by a pumpkin and Yukon gold mash. A return to the Turtle Bar, now atmospherically dark and wonderful, once again placed me in the hands of the excellent barkeepers who provided me with the beautiful sight of my requested snifter of cognac warming over a candle flame glowing in the dim light. After a night of sleep in my comfortable bed, I brewed a cup of coffee, took my mug and a book to the rocking chair on the porch as the dawn broke and a fuchsia mist rose over the River Road. During my wanderings the evening before, I had noticed that items depicting dragonflies were interspersed throughout – a bed pillow, iron garden benches, to name a few. That morning over a breakfast of grillades and grits, Kelly told me that dragonflies had always been a kind of personal totem for him. When he was looking at Houmas House with intent to buy, knowing in his heart he would live there, his companion turned to him in sudden astonishment and pointed at his shoulder. A dragonfly had landed there.
As a guest, I had been treated so wonderfully amid such beauty that I reluctantly left there feeling utterly pampered for several days after.
Information, The Inn at Houmas House, Houmas House Plantation and Gardens, 40136 Highway 942, River Road, Darrow, (225) 473-9380
---
New Orleans

TREASURE ON BAYOU ST. JOHN
Tucked away on Moss Street at Bayou St. John, the Pitot House, with its wide galleries and graceful columns entices you like a beautiful book cover holding a wonderful tale to tell.
Author James Wade chronicles the story of the grand old manse in his book, The Pitot House: A Landmark on Bayou St. John. Built near the portage the Native Americans used between the Mississippi River and Lake Pontchartrain, this architectural gem is matched in worth by its history since first constructed in 1799. Wade tells an interwoven tale that touhes the geology of the area and its colonization. Included are stories of past inhabitants of the Pitot House from the first owner Antoine Rivard de Lavigne and the many merchants and politicians who lived within its walls as New Orleans and the surrounding area blossomed around it. In his chapter, The Cabrini Period, Wade writes:
In 1904, the Steckler Family sold the house on Moss Street to "some lady from New York." That lady was Mother Francis Xavier Cabrini…"
Named for its second owner, James Pitot, appointed mayor of New Orleans by Governor Claiborne after Etienne de Bore resigned, the house is now owned and maintained by the Louisiana Landmarks Society, which saved it from destruction in 1964.
Wade tells of a landmark's survival as one of the few homes built in Louisiana's Spanish colonial days to still exist. Through the book's pages, it becomes apparent this landmark was influenced by divergent cultures even as it imparted its own cultural evolution on the banks of Bayou St. John. Beautiful to look at, it's a perfect anthem for history lovers, preservationists and anyone else who loves a good story.
BUCKTOWN BASH
When my family moved from Uptown New Orleans to Metairie during my teen years, we lived not far from the 17th Street Canal levee that marked the line between Orleans and Jefferson parishes. I spent much time at that levee. We were a mile away from Lake Pontchartrain. In those days a walk or a bike ride on the levee path gave you an enchanting and unobstructed view of the water. The grassy banks were usually filled with buttercups, goldenrod, blue-eyed grass, or wild irises at different times of the year and you could see silver fish jumping straight out of the murky water. Orpheum Street ran alongside at the levee's base looking like a hidden lane in a small rural town. The quiet levee path led straight to Old Hammond Highway, the blue waters of Lake Pontchartrain and the rustic fishing piers of Bucktown.
Bucktown was born in the waning years of the 19th-century filled with wooden camps rising over the water on stilts with generous porches and tin roofs. The rustic fishing village boasted a school, jail, saloons, dancehalls and gaming houses. Rising there on Lake Pontchartrain and surrounded by undeveloped swamps and marshes, excellent restaurants were established that served seafood, wildfowl and game. It was a lively little place.
By the time Prohibition rolled around, Bucktown roiled with houses of prostitution, speakeasies, gambling (the latter being legal in what was called the "Free State of Jefferson") and jazz music. The settlement was allegedly named for the young bucks who partied there; others believe it was named after all the deer that wandered through the area.
At one point, Bucktown was home to more than 100 shrimp boats and somehow in the midst of all the raucous partying, the 4th of July sacred tradition of the Blessing of the Fleet was born.
The Bucktown Bash and Blessing of the Fleet, a "Shrimp and Jazz Extravaganza" carries on this tradition each July 4. The celebration starts with an outdoor Mass, followed by a noon blessing of the fleet. Live music, delicious seafood and arts and crafts spill throughout the old village as sunlight dances off the water like fireworks. Bucktown is filled with liveliness on a different scale. This year it takes place from 10 a.m.-8 p.m.
Information, The Pitot House: A Landmark on Bayou St. John, Pelican Publishing Company. The Bucktown Bash, Bucktown Harbor, Hammond Highway, Metairie.