Exploring Caroline Dormon's Legacy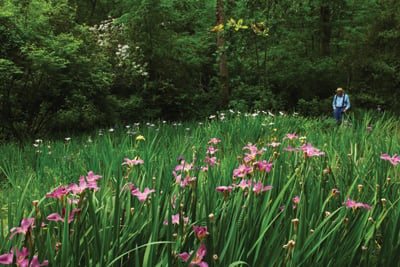 Remember scratch-and-sniffs, those little cards that could produce the smells of coffee, bacon, popcorn and apple pie? You thought that was something? Well, let me tell you about a magical place called Briarwood, where scratching a leaf or snapping a twig can summon stunning and exquisite fragrances you've never imagined, a place where rare trees and shrubs mingle with longleaf pines along ridges and creek banks and wildflowers blanket the entire forest.
At the northern tip of Natchitoches Parish, between Reidheimer and Saline on hilly Highway 9 (20 miles north of U.S. 71 and 35 miles south of Interstate 20), Briarwood, now officially known as the Caroline Dormon Nature Preserve, is a living record of what "Carrie" Dormon considered her life's work and crowning achievement: the collecting and nurturing of the native trees, shrubs and flowers of Louisiana and the Gulf Coastal Plain. It was a quest that occupied her here through the first three-quarters of the 20th century and continues to occupy two of her protégés.
That this artist/writer/forester/horticulturist could conceive and acquire for Louisiana our Kisatchie National Forest is remarkable, that her exquisite wildflower paintings grace the pages of her own books and others is awesome, that she helped design and create such treasures as Hodges Gardens in Sabine Parish and the State Arboretum in Evangeline is inspirational, but the center of her universe was Briarwood, and the driving force of her daily life there was the wildflowers.
Dormon was born 125 years ago in the Bienville Parish seat of Arcadia, and the influences of her family's gardens there, combined with the hills, plant life, birds and animals of their ancestral summer home in the Briarwood community, transformed her at a tender age into a confirmed child of nature.
In 1908, after receiving a fine arts degree from Judson College in Alabama with emphases on art and literature, Dormon began a decade of teaching in the primary schools of remote villages such as Kisatchie in southernmost Natchitoches Parish. There her interest in the wildflowers and Kichai branch of the Caddo Indians led to explorations of the local woodlands, where she acquired a love of Louisiana's quickly vanishing virgin pines, an enchantment that was enhanced by her woodland wagon rides from the train station in Provencal, 20 miles to the north. It was during her tenure at the Kisatchie School that the notion and name of Kisatchie National Forest were born, and today that 600,000-acre forest leapfrogs across seven parishes in Central and North Louisiana and owes its existence to two factors and two alone: the "CCC boys" of FDR's Civilian Conservation Corps, who manually reforested our cut-over timberlands, and, of course, Carrie Dormon.
Throughout her brief teaching career she returned to Briarwood at every opportunity, and in 1916, with the old summer house dilapidated, her older sister, Virginia, and she (known in the family as "Sis" and "Bad") oversaw construction of a new house, which (rebuilt in the 1980s around the 1916 stone fireplace) now serves as the visitor center of the nature preserve. As the '20s roared by, Carrie redoubled her efforts to identify the plant species of Briarwood and to transplant other "natives" of Louisiana and its southeastern neighbors, also allotting time to regional and national nature-preservation boards and committees, thereby (incidentally) developing a base of state and federal political contacts. That network became the launchpad of the one-woman lobbying effort that would lead in 1924 to the enabling act that empowered and funded the federal purchase of lands for the five sprawling ranger districts of Kisatchie National Forest.
Through the years, Sis and Carrie's close-knit association with the neighboring Johnson family blossomed into a sort of mutual adoption, and the Johnson boys, especially Richard, followed at Carrie's heels, absorbing her words, observing her actions and reading everything she read or wrote herself. In time he departed on a career path that would lead through a maze of skills and technologies, and upon his return, those experiences, combined with his encyclopedic knowledge of the forest and its flora, made him the perfect successor to Carrie as curator and guiding light of the legacy she had created here.
His fiancée, Jessie Fair, was from a local family and hit it right off with Carrie and Sis, both close friends of her aunts, but today his bride of 60 years disputes the term "local." The Fair home was "5 miles northwest," she says, "and in those days that was a trip!" After Richard's retirement and their return to Briarwood, Jessie became another disciple at Carrie's side, and with Richard or Jessie for a guide, today's visitors are assured a thorough introduction to the trails and treasures of the preserve.
Stretch a golf cart like an accordion, and you'll have the vehicle that carries pilgrims through Briarwood on a trail that's just wide enough for the little rig, just as it had been for the carts and wagons that traveled it in the early 19th century when it was known as the Sparta Road. Sunken like the original Natchez Trace and Louisiana's old Tunica Trace, but only 2 or 3 feet deep, it originated in prehistory as a Louisiana-Oklahoma buffalo trail for spring and fall migrations. This local segment, adopted by settlers as their trail between the communities of Atlanta and Sparta, ran right through Briarwood, mostly following the property's magical creek that never runs dry (even in the worst of droughts, when it is routinely pumped for watering the collections of mountain laurel and other delicate flora).
With Richard or Jessie at the helm, the little tram departs the visitor center and follows the sunken trace through the forested "wild garden" that Carrie envisioned and created. Much of the flora (100 species of trees, 100 of shrubs, 600 of wildflowers) are rare, some even endangered, but all thrive here in an environment that is purely natural except for an occasional stem wrapped in tinfoil or a larger plant subtly encircled by short wire fencing – reminders that forest critters love the flora too and can, in fact, love it to death. "Like the wild hogs," grumbles Richard. "They'll eat an acre of jack-in-the-pulpits in a night!"
Highlights along the trail are the Orchid Garden, where 10 species coexist amiably with azaleas; the reflecting pond that mirrors everything from Carrie's smallest ferns to the skyscraper pines; one entire hillside that the wild azaleas call their own; and the Bay Garden, which features many varieties of our beloved Louisiana irises. They weren't always beloved, you know. They weren't even known till the 1920s and '30s when Carrie and a handful of intrepid amateurs around the state began seeking them out in our swamps and bogs and then comparing and swapping the various species and trying their hands at rudimentary hybridizing. Soon enough, though, thanks to Carrie's contacts with the National Horticultural Society, National Council of Garden Clubs, U.S. Forest Service, American Iris Society and the nation's major gardens and arboreta, the name and eventual fame of the Louisiana iris spread quickly. Now upward of 200 species are listed and available to tenders of public and private gardens, and the names of Caroline Dormon and Richard Johnson appear prominently in the heavily illustrated story of that phenomenon, The Louisiana Iris, published by the Society for Louisiana Irises in 1988 and still in print.

Eventually the tram pulls up to a large log cabin whose porch columns are tree trunks that were personally selected by Caroline when the sisters built this, their final home, and occupied it in December of 1950. It was spacious enough for their comfort and to contain, then as now (in its current role as the nature preserve's museum), the botanical specimens, library, art and treasures of geology and archaeology that defined Carrie's areas of interest. One large room has become a museum within the museum, housing Richard's collection of tools important to the lives of those who worked our early-20th-century woods
and farmsteads.
Another favorite structure, a few curves away on the forest's primary trail, is a cabin named Three Pines but better known as the Writer's Cabin, built for Carrie in the 1920s to provide solitude as she wrote her six books and countless articles on plant life, birds, Southern Indian tribes and archaeology. Even so, solitude was sometimes a rare commodity, sought after as she was by amateur wildflower enthusiasts, not to mention, as her reputation spread, America's leading ornithologists, botanists, horticulturists and anthropologists. And because she was a regular at Cammie Henry's art colony at Melrose Plantation, celebrities, including Lyle Saxon (dean of Louisiana writers in those days), were also among her visitors at Briarwood, as were loyal alumnae from her days at Judson College, who have proved through the years to be staunch and generous supporters of Briarwood and its ambitious goals.
Back at the visitor center at the end of a tour, Richard and Jessie are always happy to continue discussing their memories of Carrie Dormon and their knowledge of the trees and wildflowers they nurture here, such as the medicinal values traditionally attributed to various herbs or the most favorable viewing season for this or that flower or blooming tree. It's the blooming, of course, that dictates the preserve's "regular" visiting seasons – March through May for azaleas and wildflowers, August for orchids and the rare plum-leafed azaleas and November for enjoying the witch hazel and blazing fall foliage – and regular hours during those five months are 9 a.m. to 5 p.m. on Saturdays and noon to 5 p.m. on Sundays. There's actually no day of the week or month of the year, however, when the preserve discourages visits, requesting only that you call for appointments on weekdays or off-seasons to assure that a guide is on hand to make your visit rewarding.
The Johnsons plan to retire this summer, but fear not: They've carefully scheduled that event to coincide with the return of their son Rick, a Marine who's retiring after an active duty career and stint as an ROTC instructor in Texas. He too grew up assisting and learning from Carrie at Briarwood, and Richard and Jessie will be staying on to provide refresher courses and to serve as volunteers at the preserve.
To arrange weekday or large-group tours, call the preserve at (318) 576-3379. For information on volunteering or contributions to the Foundation for the Preservation of the Caroline Dormon Nature Preserve, call the preserve or contact the foundation at P.O. Box 226, Natchitoches, LA 71457.
---
CAROLINE DORMON BIBLIOGRAPHY
Forest Trees of Louisiana and How To Know Them, 1928, Louisiana Department of Conservation, Bulletin 15
Wild Flowers of Louisiana, 1934, Doubleday (and 1942, Louisiana Department of Conservation)
Flowers Native to the Deep South, 1958, Claitor's Publishing
Natives Preferred, 1965, Claitor's Publishing
Southern Indian Boy, 1967, Claitor's Publishing
Bird Talk, 1969, Claitor's Publishing
Adventures in Wild Flowers (her published articles compiled), 2010, Catawba Publishing
Biography: The Gift of the Wild Things by Fran Holman Johnson, 1990, Center for Louisiana Studies, USL

Comments
comments