Exploring The State Arboretum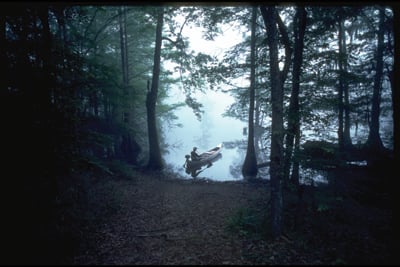 Five paths (apologies to Robert Frost) diverged in a wood, and I took all five, and that has made all the difference.
The "wood" in this case is the Louisiana State Arboretum, a 600-acre forest that occupies about a tenth of huge and hilly Chicot State Park just north of Ville Platte.
The paths are the arboretum's five trails, strategically routed through extremes of Louisiana topography and through areas representing every stage of forest maturity.
The "difference" is that neglecting a single path would have meant missing some samplings of Louisiana's varying landscapes and many of this "outdoor museum's" collection of indigenous plants – upwards of 100 species of trees and uncounted species of wildflowers.
Of course a walk in these woods, with its hills, creek bottoms and plunging bluffs, is its own reward, with or without botanical and arboreal lessons, but for those with interest or even idle curiosity about such things the experience will be doubly rewarding.
The numerous examples of our dramatically different land types and phases of forest maturity, all existing here in such convenient proximity (which also accounts for the great variety of plant, insect and wildlife species) made this sprawling swath of Evangeline Parish woodland the obvious choice for the State Parks and Recreation Commission when it undertook the search for and development of an arboretum site half a century ago. We've had a National Arboretum in Washington since 1927, but Louisiana's would be the nation's first created and operated by a state. Planning and design of its trails and facilities (with guidance and inspiration from Caroline Dormon of Kisatchie National Forest fame) began in 1961.
There is a nominal fee for entering the State Park (free for seniors and school groups) but no additional fee for the arboretum, just a sign-in procedure at the Nature Center which stands, a short drive beyond the park's entrance, near a major branch of Chicot Lake. The park is open 6 a.m. to 9 p.m. Sunday-Thursday and 6 a.m. to 10 p.m. Friday-Saturday. The arboretum's office building and the Nature Center are open 9 a.m. to 5 p.m. daily, but the trails themselves are accessible at any hour.
Bird and animal sounds echo through the Nature Center as visitors push the buttons of interactive displays, which, set upon cypress knees around the walls, share information and photos of the woodlands waiting just outside for exploration. Display cases made of native woods contain forest phenomena like lichens, various nuts and berries, odd growths called "galls" that appear on many plants, a bald eagle egg and one colorful section dedicated to leaf identification. An impressive replica of a giant, hollow, cypress provides a spacious chamber for multimedia explanations of forest-tree functions like growth, photosynthesis and decay.
Also to be found in the Nature Center, between her guided nature tours and special presentations for school groups and general audiences, is an LSU Wildlife Biology grad named Kim Hollier, curator of the Louisiana Arboretum, who can identify every leaf, bloom and birdcall, name every slug, bug and lizard, list every feathered and fuzzy creature of the woods, all while walking the steepest trails with no heavy breathing. Needless to say, she can recite and describe, without a cheat-sheet, every stage of a forest's "ecological succession," beginning with the pines and grasses of the "pioneer phase" of a forest, where insect activities, animal habitation, decaying logs and falling leaves begin creating an environment that the future oaks and hickories of the "intermediate phase" will find inviting.
Those trees, in turn, will cause higher humidity and increasing layers of decaying matter, thus richer soils, making possible the growth of new layers of understory plants and a wider spectrum of wildlife. All that, plus the "processing" of the forest floor by an ever-growing population of worms and insects, results in soil sufficiently enriched to sustain a community of plants and animals indicative of a "mature-stage" forest. At that point the "pioneer" species have been largely displaced by the likes of beech, oak, magnolias and tulip poplars, which eventually dominate the forest to a point of stability known as the "climax stage" – meaning naturally equipped to sustain itself indefinitely.
Even then, however, human intervention or natural trauma like fire and storms can create clearings where new communities of pioneer and then intermediate plant life can begin the progression again, here and there, in small sections within the climax forest.
And that, says Ranger Hollier, is how things stand today in the Louisiana Arboretum's "mature beech-magnolia forest," at a point near the climax stage but with numerous pioneer and intermediate pockets for study and exploration. So interwoven are these 600 acres with hills, wetlands and even small prairies, and so complete is the collection of native trees that have grown here naturally or from seedlings transplanted from around the state, that only our Gulf-coastal marshland is unrepresented.

Tiger Swallowtail on a Buttonbush

Vernal pool
North from the trees and Louisiana Irises surrounding the Nature Center, the Bald Cypress Trail (a short walk and the only arboretum trail that reaches the shore of Chicot Lake) leads along a paved walkway that morphs into a curvy earthen path as it traverses a patch of cypress-tupelo swamp where waterfowl and occasional alligators can be sighted.
West from the Nature Center the Walker Branch Trail not only leads through the hills of the arboretum's mature beech-magnolia forest but also drops dramatically to cross a thousand-foot boardwalk through a prime example of Louisiana's bottomland-hardwood forests. Along its 1.5-mile route Walker Branch intersects the 0.7-mile Wetland Trail and the Paw-Paw Loop Trail (1.25 hilly miles of beech-magnolia forest) before ending at what's now the State Parks District 2 office building. That structure, as old as the park, bears the name Caroline Dorman Lodge in honor of the author-artist-naturalist who fought for the creation of our Kisatchie Forest and created for us the beloved Dormon Nature Preserve called Briarwood near Reidheimer, not to mention writing and illustrating such works as Forest Trees of Louisiana and How To Know Them and Wildflowers of Louisiana.
One room of the building, in fact, serves as a small museum containing a collection of her books, artwork, photographs and mementoes.
The lodge is also accessible by road, making it an alternate trailhead for the Walker Branch Trail, whose westernmost stretch is paved to accommodate wheelchairs, leading to 25 marked trees and plants, one dramatic overlook and a kiosk describing the soil types of the arboretum.
Also departing the lodge, the Backbone Ridge Trail through the beech-magnolia forest offers a somewhat challenging 1.25-mile trek featuring one pavilion and an overlook. It's not a loop but, rather than backtrack, hikers can exit onto the 0.7-mile Wetland Trail, which leads via boardwalk and bridges to the lowest point in the arboretum – a "vernal pool," meaning a seasonal or otherwise temporary pool considered to be a distinctive type of wetland, inaccessible by fish and therefore safe haven for some amphibians, insects and even plants that fish routinely devour or destroy.
At 6,400 acres, Chicot is Louisiana's largest and one of its oldest State Parks, offering cabins, RV camping, picnic facilities and group meeting shelters surrounding Chicot Lake, the 2,400-acre reservoir created to be the park's centerpiece in 1936. The lake's three designated canoe trails total 9.4 miles, and a 22-mile hiking/mountain-biking trail encircles it, passing canoe and boat rentals, launches and primitive campsites along the way.
For schedules of weekly tours and programs, and of guided canoe tours (monthly, March-October), visit the arboretum blog at Louisianaarboretum.wordpress.com or Friends of the Arboretum at friendslaarb.org, or call (337) 363-6289. For cabin and campsite reservations call 877-226-7652 or visit crt.state.la.us/louisiana-state-parks.