Falling For Fall Festivals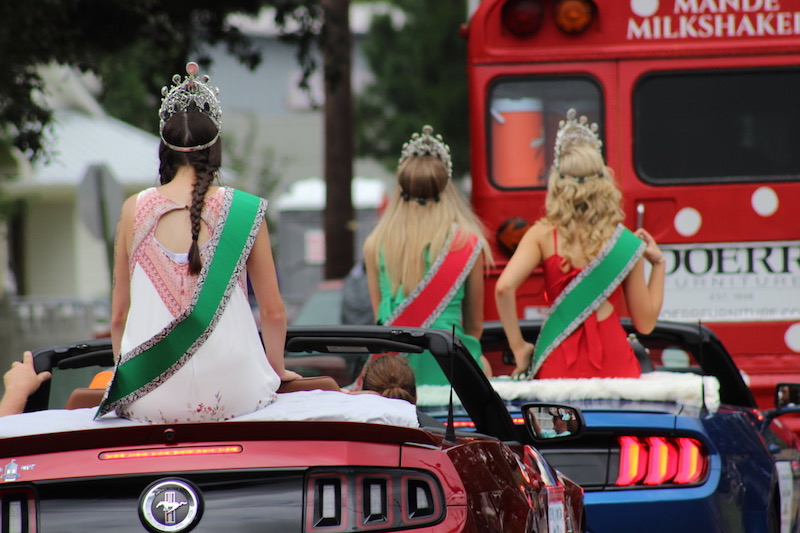 Forget falling temperatures. You know autumn has arrived in Louisiana when festival season kicks into gear.
This past weekend I attended the 78th Sugar Cane Festival in New Iberia, an annual celebration held by the historic town that's surrounded by miles and miles of sugarcane fields. I was photographing the Lagniappe Ladies of Lafayette walking club for a project so in a sense was part of Sunday's parade through town.
The fun began at the parade's beginnings, where groups, bands and floats carrying royalty (and lots of them) lined up on Charles Street. While the Lagniappe Ladies waited, occasionally rehearsing a dance number in their hot pink and green outfits, another female dance club arrived to introduce themselves. The "Berry Queens" then invited the Lagniappe Ladies over for a photo opp and the result was a blur of color, tutus and wigs.
As I mentioned, royalty was everywhere, some young women clearly uncomfortable in their formals and coifed hair sitting still on top of floats,trucks and farm tractors. When a festival queen receives her crown, she reigns over the festivities. After her festival concludes, however, she visits others throughout the state. At Sunday's Sugar Cane Festival, queens from all over Louisiana were in attendance, this time a blur of tiaras.
Naturally, since September has been one of the hottest on record, temperatures soared. But, then a light rain began to fall. Although everyone appreciated the relief in heat, it now meant we were all getting wet. The Lagniappe Ladies took it in stride, but their DJ rushed to cover the music equipment and mothers quickly brought out umbrellas and ponchos for their queens.
And then we were off. The parade rolled on to Main Street and the waiting — albeit wet — onlookers. Bands performed, their drums echoing off the downtown buildings. Trucks and SUVs carrying politicians threw candy in hopes of winning votes. Queens waved from their perches. And the Lagniappe Ladies danced and shook their tutus to the delight of everyone watching.
This scenario replays itself over and over through Christmas. In Louisiana, it doesn't take much for us to parade or throw a festival, which is why there are more than 400 each year.
Take the fourth annual Beignet Fest this Saturday at the Festival Grounds in New Orleans City Park. For a $5 admission fee, which benefits Tres Doux Foundation for children with autism, visitors will enjoy its sweet homage to a New Orleans dessert along with live music. Or pay extra for VIP tickets and receive complimentary Café du Monde beignets, Bulleit bourbon craft cocktails and Abita beer under a large, shaded tent next to the stage.
Saturday's musical line-up at Beignet Fest includes: Bounce & Beignets Fitness with April Dupre + Live DJ at 10:15 a.m.; The Imagination Movers at 11:15 a.m. (kids, don't miss these guys!); RumpleSTEELskin featuring Ed Williams of The Revivalists at 12:45 p.m.; the Honey Island Swamp Band at 2:05 p.m.; Hot 8 Brass Band at 3:35 p.m. and Big Sam's Funky Nation at 4:55 p.m.
The Sugar Cane Festival has been in existence for decades so it routinely draws the crowds, but how about the Beignet Fest in its fourth year, a newcomer to Louisiana's massive list of annual festivals?
"Last year's Beignet Fest drew an estimated crowd of 30,000 people," said Festival Founder and Event Producer Sherwood Collins.
For more information about Beignet Fest, visit www.beignetfest.com. For more information about the state's fall and holiday festivals, visit louisianatravel.com.