Farther Flung: Georgia On My Mind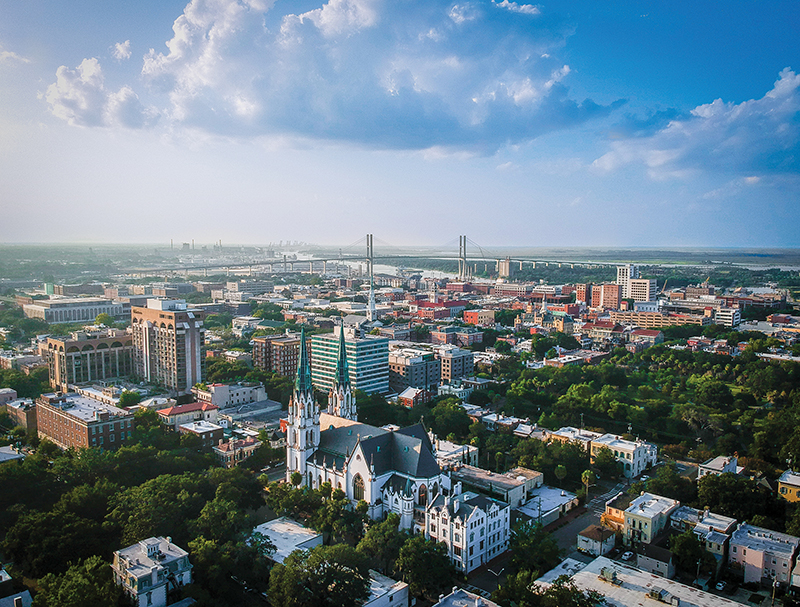 Some towns are cut from a different cloth than the state they inhabit. Obviously, New Orleans is different from other parts of Louisiana, Austin is still a bit different than the rest of Texas, and, within the borders of the state of Georgia, resides a one-of-a-kind gem known as the "Hostess City of the South" — Savannah.
Eat
Vacation is really just walking around until it's time to go to another restaurant or bar, and downtown Savannah has that covered. Get fancy at The Olde Pink House. From oysters and pork sliders to ribeyes and shrimp and grits, the menu delights in all things Southern. Call ahead to reserve the vault room downstairs in the tavern, now used as a wine cellar and for an intimate dining by candlelight affair.
The Grey, a restored Art Deco Greyhound bus station, opens into an elegant restaurant for dinner. By day, catch the retro lunch counter vibes of the Diner Bar. The menu changes throughout the year but you can rely on crushing a great sandwich. Be sure to grab a cocktail, too.
When it comes to pizza in Savannah, Vinnie Van GoGo's is the only place to go … go. Family friendly with an indie feel, Vinnie's has delicious slices bigger than your head. Plan for a packed house. Bonus: it stays open late for carousers in need a perfect slice.
Drink
Savannah is considered America's most haunted city and Moon River Brewing Company is considered by some to be its most haunted building. Drop in to enjoy quality pub grub and local craft beers. Those who don't like to share their wings however may find it haunting that the buffalo wings are billed as a shareable plate — you've been warned.
From Moon River, and with a go-cup in hand (yes, like New Orleans, it's OK to take your drink to the streets in the entertainment district), allow your taste buds to lead you to the west side of downtown and Service Brewing Co. As alluded to by the name, it has a military flair. The beers are quality and he a stage inside allows patrons to catch a band while quaffing the selection of IPAs. Yes, quaffing.
Shake off the tourists by heading to The Original Pinkie Masters, a dive bar recommended by the one and only author, Garden & Gun columnist and entertaining doyenne Julia Reed. Fun-fact: Before becoming president, Jimmy Carter stood atop the bar and paid homage to owner Luis Christopher Masterpolis.
Do
With 22 squares and parks, downtown Savannah, much like New Orleans, is built for a walkabout. The largest park, stretching over 30 acres, is Forsyth Park. A perfect spot for an afternoon picnic, the park is known for the impressive Forsyth Fountain.
You can't throw a fried green tomato in thiscity without hitting a building that is owned by the Savannah College of Art and Design. The school owns over 60 buildings with a majority located downtown. The SCAD Museum of Art is a must-see stop featuring work by SCAD students and world-famous artists alike.
If you're in the mood for some shopping take a trip down Broughton Street. The Paris Market feels more like a bazaar than a store and has treasures to match. While you're moseying around shopping or counting SCAD buildings, grab a cone at Leopold's Ice Cream, open since 1919.
Later in the summer, the Savannah Bananas baseball team opens its doors at Grayson Stadium to folks who love hardball and saying the words Savannah Bananas
---
Stay
It would be easy to spend an entire weekend in the new 50-room Drayton Hotel. The boutique hotel has a coffee bar and cocktail bar downstairs, plus a rooftop bar overlooking the Savannah River. If you're the type of person that picks living quarters by Instagram potential, head to the Thunderbird Inn. More motel than hotel, the Thunderbird is a laid-back charmer that keeps you downtown for a decent rate.On the other end of the spectrum, the Victorian Romanesque Mansion on Forsyth Park is a sight to behold. Across the park from the Mercer House of "Midnight In The Garden Of Good and Evil" fame, there is a spa and the Grand Bohemian Art Gallery, which is open to the public.
---