Farther Flung: Holiday in Lights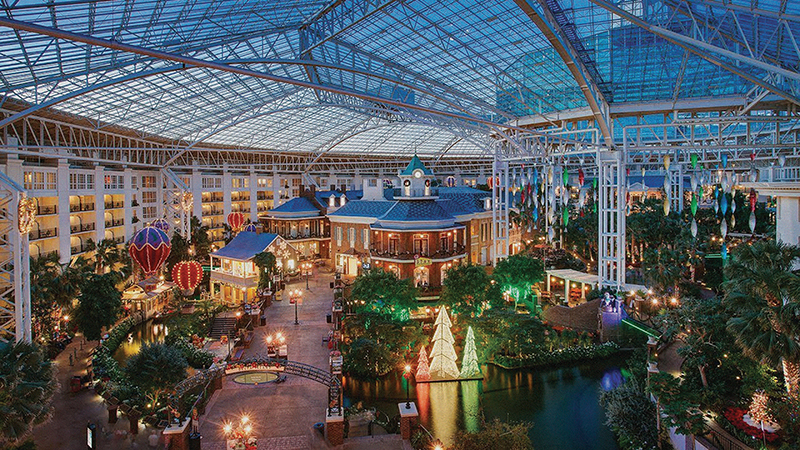 Music City is lit up any night of the year — which makes sense, considering it's the world epicenter of country music. During the holidays, however, Nashville glows.
More than four million lights will be installed at First Tennessee Park in downtown Nashville, creating a winter wonderland complete with the country's tallest Christmas trees, Santa's workshop, ice skating and more. Over at the elegant Cheekwood Estate, one million lights will transform the gardens while the mansion will be decorated for the season. Even the Nashville Zoo gets in on the act with its Zoolumination: Chinese Festival of Lights, 500 custom-made silk lanterns spread throughout the Zoo's 60 acres.
But there's still that hot music scene, and many of the city's top musicians will ride in the Nashville Christmas Parade on Dec. 7 and perform at the Grand Ole Opry or the Nashville Symphony.
And that's only part of the holiday fun in Nashville this season.
Gaylord Opryland
This massive resort — almost 3,000 hotel rooms and numerous dining options and attractions — goes all out for the holidays, hanging more than one million lights and miles of garland throughout the property. It's all part of the resort's "A Country Christmas" celebration, now its 36th year.
From Nov. 8 through New Year's, the resort will offer special attractions. Grand Ole Opry member Trace Adkins will perform a dinner show, "The Gift of Christmas with Trace Adkins and Friends," the play and film "A Christmas Story" will be told using two million pounds of ice transformed by master artisans from China, "Rudolph the Red-Nosed Reindeer" takes the stage at the Grand Ole Opry House and winter activities range from ice skating and tubing to gingerbread decorating.
For information on holiday events and accommodation packages, visit christmasatgaylordopryland.com.
Grand Ole Opry
Because special holidays events are happening at the Grand Ole Opry House next to Gaylord Opryland, the "Grand Ole Opry" radio show returns to its original home at downtown Nashville's Ryman Auditorium. Now's your chance to watch this historic country music show that began in 1925, by an insurance company looking to advertise its policies, inside the theater where it all began. The "Grand Ole Opry" is one of radio's longest and most popular shows — and later included TV — propelling many country stars to fame. It was performed within the Ryman Auditorium for nearly 31 years before relocating to a larger space at the Opryland Resort.
Sing Along
Catch Dave Barnes and special guests in his "Very Merry Christmas" performance Dec. 8 at the Nashville Symphony's Schermerhorn Symphony Center or Drew and Ellie Holcomb with their "Neighborly Christmas" special on Dec. 9. But if you want to join in the fun, head to the Schermerhorn on Dec. 7 for a Holiday Spectacular where folks can sing along. Or sing your faith with Keith and Kristyn Getty for their sixth annual tour of "Sing! An Irish Christmas" on Dec. 23.
History for the holidays
Early settlers named the town Fort Nashborough for Revolutionary War hero Gen. Francis Nash. The city later became Nashville, home to Andrew Jackson, hero of the Battle of New Orleans and later U.S. president. Jackson's estate The Hermitage, where 95 percent of the furnishings are original, dresses up for the holidays with period attire.
The Hermitage Hotel was named for Jackson's estate — no real connection — but Nashville's first million-dollar hotel built in 1910 is a wonderland in itself during the holidays, its lobby, grand staircase and dining rooms elegantly decorated. It's also conveniently located in the heart of downtown, making many city attractions within walking distance.
A taste of Nashville
We couldn't decide what we loved most, the modern take on Southern dishes or the ambiance at The Southern Steak & Oyster in downtown Nashville. Visit for the food, naturally, but take time to peruse the walls filled with Nashville artifacts. Even the bathrooms show videos of musicians appearing on "The Johnny Cash Show."
Speaking of Cash, new to town is Johnny Cash's Kitchen & Saloon, a meat and three venue serviced by Swett's, a Nashville establishment.
"Dad's favorite foods in the world are exactly what you will find on the menu," said John Carter Cash at the restaurant's opening. "I remember my father and mother bringing me to Swett's when I was but a small boy. Southern cooking was my father's very lifeblood and tradition, and I firmly believe it does not get any better than this."
The first floor recreates Johnny and June Cash's home with never-before-seen photos of the family. Visitors can also relax in the replica of the Cash Cabin front porch or listen to music backed by a mural of the Cash home that once stood on nearby Old Hickory Lake.​
Franklin
Just outside Nashville, 10,000 luminaries will be lit on Nov. 30 to represent the casualties of the Battle of Franklin. This free event takes place on Carnton Plantation, where 155 years ago the Civil War battle occurred.
In the historic town of Franklin, with its 15-block downtown designated a National Register Historic District, folks don merry holiday costumes from the 19th century for the 35th annual Dickens of a Christmas Dec. 14-15. The annual free street festival recreating the time of Charles Dickens includes horse-drawn carriage rides, live music, Victorian foods and a "Town Sing" around the Public Square Christmas tree.
There's so much more to enjoy in Nashville for the holidays, For a complete list, visit the Nashville Convention & Visitors Bureau at visitmusiccity.com.
---
DID YOU KNOW?
Nashville's Gaylord Opryland Resort, a massive complex of 3,000 guest rooms, restaurants and attractions, goes all out for the holidays. It's all part of the resort's "A Country Christmas" celebration, now its 36th year, that stretches from now through New Year's.
---