Farther Flung: Southern Hospitality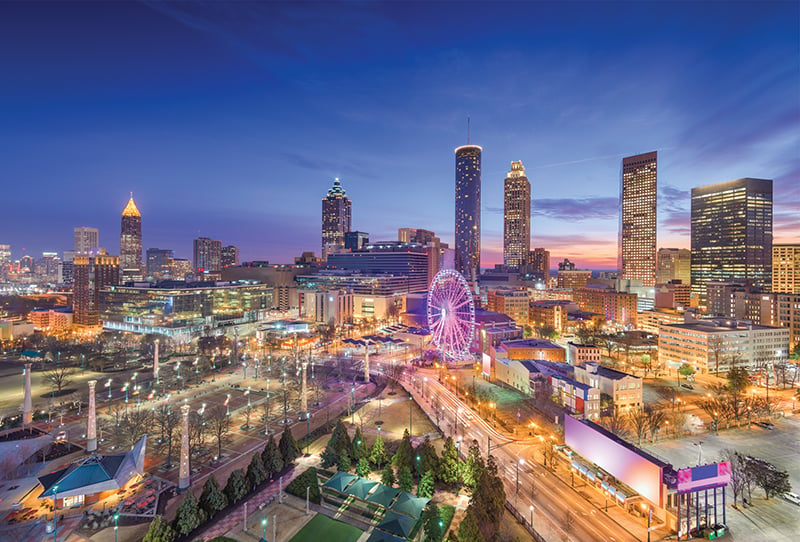 Atlanta may be the most-visited but rarely-seen city in America — its international airport calls itself the world's busiest in terms of passenger traffic. But if you're like many travelers and only visit Atlanta to change planes, it's time to pass security and check out one of the most fascinating cities in the South.
THINGS TO DO
The World of Coke
The attraction resembles what the name implies — Coca-Cola products, advertisements and artwork from around the world. Visitors will love watching — and singing along to — a world of Coke commercials, visiting an 1880s soda fountain and tasting nearly 70 different Coke products, some of which you may wish you hadn't. We recommend the Mexican Coke.
College Football Hall of Fame
You don't have to love college football to enjoy this attraction, with its interactive exhibits and an indoor football field to test your agility and skill. The Game Day Theater and other films relate the thrill of a college game day and the Hall of Fame spotlights some of the nation's finest, including Louisiana's own Monk Simons of Tulane.
Georgia Aquarium
More than 10 million gallons of water greet visitors at the Georgia Aquarium, along with thousands of sea animals. The aquarium is so large, visitors will be able to view sea lions, beluga whales and sharks within its wall.
THE SILVER SCREEN
Love the Marvel movies, "Hunger Games" or "Stranger Things" and long to stand on that overpass famous from "The Walking Dead?" Georgia, and specifically Atlanta, have become a second home for Hollywood and Atlanta Movie Tours takes visitors to those and many other sites made famous by film and television. They also offer tours of nearby Castleberry Hill and Senoia, towns known as filming locations. For more information, visit atlantamovietours.com.
WALK, BIKE, OR RUN IT OUT
One of the most exciting new city attractions is also good for your health. The 33-mile Atlanta BeltLine circles the city with multi-use trails for walking, biking and jogging. The main 22-mile corridor was laid on top of rail lines and links up to city parks, in-town neighborhoods and outlying trails. Plans are for the BeltLine to expand and include the entire metro area.
ATLANTA HISTORY
Civil Rights
Atlanta has been known as the unofficial headquarters of the Civil Rights Movement because Dr. Martin Luther King Jr., Ralph David Abernathy and other movement leaders used the city for organizing. Today, visitors may learn of this important social movement at various attractions, including many that are now part of the U.S. Civil Rights Trail. There are numerous sites connected to King and the Civil Rights Movement, but it's best to start at the National Historical Park on Auburn Avenue. Here, visitors will learn of the movement's beginnings and development and King's boyhood home and church where he preached are within walking distance.
Atlanta History Center
Learn about the city's varied history, from touring an 1860s plantation-style house and farm to an elegant 1928 mansion, fully furnished. The main museum includes artifacts from Native American settlements to the 1996 Olympics. The Margaret Mitchell House, owned by the Pulitzer Prize-winning author of "Gone With the Wind," is part of the complex but located in Midtown.
---
EAT
Paschal's Restaurant
Paschal's has long been the meeting place for politicians, entertainers and Civil Rights activists and its attraction — besides being the place to be seen — is its famous fried chicken, mac and cheese, collard greens and fried catfish, among other delectable dishes.
Sweet Auburn Curb Market
This charming open-air market dates to 1924 and today its vendors sell cuisine that varies from Southern to international and fresh meats and regionally grown produce. The name refers to segregation days when African Americans could only sell off the curb.
---
STAY
Atlanta may be a transportation hub but it's also known for horrific traffic. To bypass the freeways and related stress choose the four-diamond Omni Atlanta Hotel at CNN Center, located in the Centennial Park District in the heart of downtown Atlanta. The hotel is within walking distance to almost all downtown attractions — including the CNN Studio Tour next door — and rooms offer striking views of Centennial Olympic Park.
---