Flying Over Gators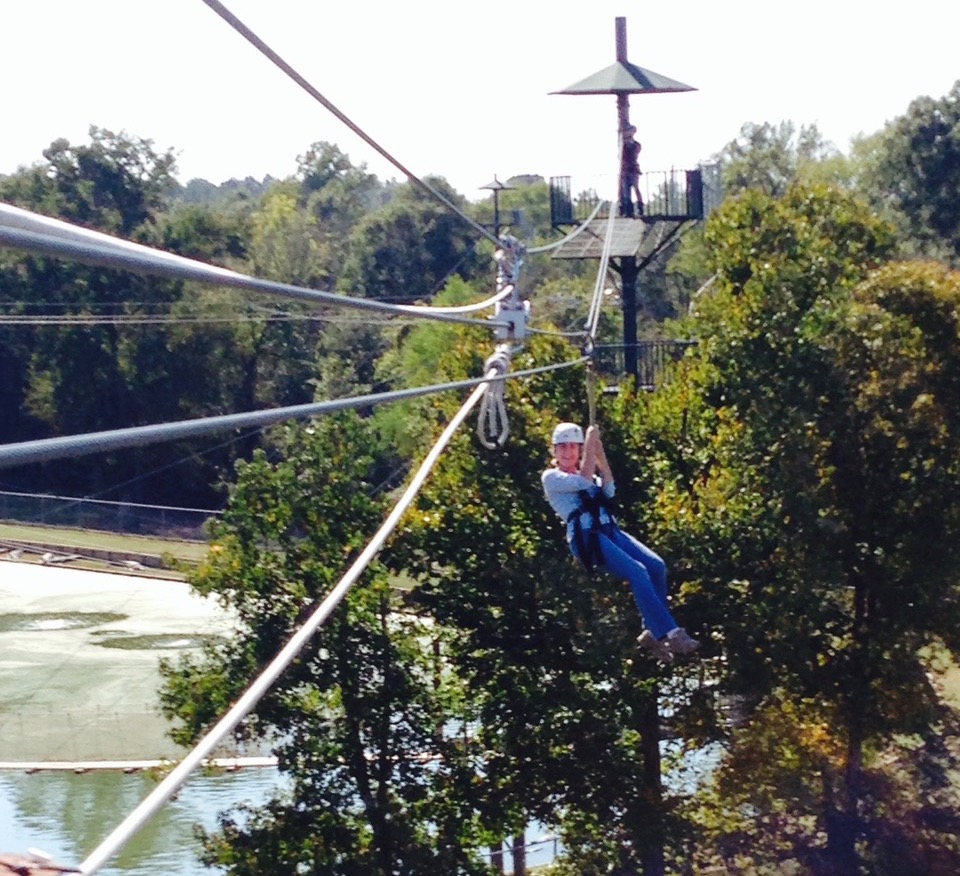 Last week I wrote about great places to view alligators, but for those more adventurous here's a spot where you can zip line over dozens of the scary reptiles.
There's so much to see and do at Gators and Friends in Greenwood, about 10 miles outside of Shreveport, including go-karts and ponies, a petting zoo and watching gators feed in a show that happens daily. But we must admit, the zip lining experience with a finale over a pond of giant gators takes the cake.
Staff at Gators & Friends explain how safe their zip lines are and when you study the double cables and related contraptions they attach to your bodies, it appears that nothing could go wrong. Visitors are well strapped in while walking up the stairs, standing on the platforms and, of course, sailing through the air.
But as you head toward the zip lines, you get a nice view of the massive gators who live at the park. Definitely makes you pause and wonder, "Am I nuts?"
After climbing a spiral staircase that rattled and vibrated as we headed toward the tree tops, and I started realizing how high we were ascending, I forgot about the gators. We received expert instruction and staff members were there to catch us at the other end so we really had nothing to worry about. Still, stepping off that platform for the first time takes a lot of nerve. You basically lean back into the flight and let gravity pull your forward — simple enough — but there's that first step in oblivion. And yet, I few through the north Louisiana woods and pastures, wind in my face, and loved every minute of it.
And just when I got the hang of things, the last run loomed. No worries, I thought, we were closer to the ground and the last stretch was the longest so I could rest on my harness and enjoy the ride. Trouble was, there were gators lying below!
Remember how I said I never doubted the safety of my cables? When you look at those massive gators resting below your feet, you suddenly wonder. And yet, while gazing down at the sleeping reptiles, looking so peaceful lying in the sun, I did the unthinkable. I let go and flew above them all.
Gators & Friends is great fun and if zip lining over gators isn't your thing, watch staff feed them or hold a baby gator (those won't bite). You can also view other exotic animals or let your kids pet tamer beasts such as miniature horses and deer.
Gators & Friends is open 10 a.m. to 6 p.m. Mondays through Sundays.