Following the Flora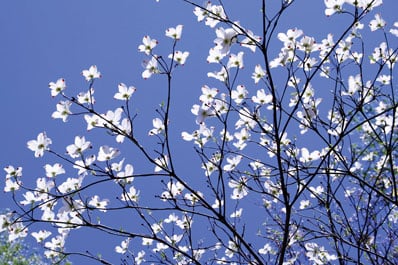 An annual tradition for many Louisiana families in earlier times was piling in the car for a weekend town tour or woodland road trip designed for enjoying the bloom du jour, with local chambers of commerce and garden clubs proudly distributing leaflets displaying maps of the floral "trails" and "drives" of their areas. Most of those great old tours have ceased to be actively promoted – who knows why? – but all of the ingredients for a great Sunday drive still remain: The roads and streets still lead this way and that, and the flowers are still punctual, wave upon wave of them arriving on their same old late-winter-through-early-summer schedule.
A year of Louisiana flower-watching begins when there's still a chill in the air, thanks to the camellias to be found in lawns and public gardens throughout the state. Then come the blooms of redbud trees and dogwoods in town and country, followed closely by the azaleas that cover simply everything. Other trails and events honor our beautiful and distinctive Louisiana irises, the peach orchards of Lincoln Parish and one whole community dedicated to sunflowers.
Even after the dazzlement of spring, we don't have to quit cold turkey, thanks to the crape myrtles lasting through the long days of summer and the roses lasting on through fall and sometimes even into the early days of winter.
And then it all begins again.
NEW YEAR'S RESOLUTES
One thing we can rely on: Camellias will never let us down, decorating the state in time for New Year's and holding firm with us as we face the onslaught of time. Although there is no special festival or trail dedicated to the noble camellias, they stand there dutifully – from the giant centenarians at Rosedown in St. Francisville to the bucket-size beginners on the lawns of newlyweds – cheering us in the somber days of winter and providing the spark of life that all of those camellia "shows" give our wintertime calendars of events: those endless rows of "perfect blossoms" posing patiently for judges, photographers, proud owners and passionate spectators.
Springtime in Louisiana officially begins in Sabine Parish when legions of tulips burst suddenly into bloom around the sandstone walkways and terraced hillsides of Hodges Gardens, and news of its arrival is quickly signaled through forests and city streets by the blossoming redbud and dogwood trees. Those two flowering trees, by the way, hold positions of great importance in Louisiana floral lore, sharing with the old Lafayette Azalea Trail the distinction of inspiring the very earliest of our old springtime sightseeing drives.
The ancient Redbud Trail that once led up from Shreveport and encircled Vivian is no longer marked or publicized, but that town's venerable Louisiana Redbud Festival survives as one of our oldest annual celebrations. Redbud Day is March 21 this year, but the festival's accompanying carnival rides swing into action on March 18, along with church-sponsored barbecues and fish-fry suppers. Northbound Highway 1 passes too many redbuds to count as it approaches Vivian, and after enjoying arts and crafts, singers and dancers, thrill rides and the big 2 o'clock Redbud Day Parade (and maybe even the 5K run/walk), there's still time to explore the area and enjoy the dogwoods as in days of old.
Betty Matthews at the Redbud Museum advises bloom-seekers to take Highway 1 just south and Highway 2 a mile or so west to see the dogwoods along the shore and in the park at Caddo Lake and then return to Vivian and follow eastbound Louisiana 2 to Hosston to take U.S. 71 south toward (for most Louisianians) home.
Dogwoods – some white, some pink – are as prolific as they are pretty, and although they cover the state, some roads and trails seem to provide especially spectacular shows. Hill country offers particularly dramatic views, as you stand in a valley with a white-splashed hillside rising about you or stand on a height and survey a sprawling valley with its dogwoods blazing through the taller layers of hardwoods and pines. If passing clouds darken such a scene, just wait a bit. When the sunshine breaks through suddenly, as it does, you will believe the dogwoods are electric and someone's plugged them in.
Settlement patterns and even roadways have changed somewhat since the era of the famous old Dogwood Drive up through Bossier Parish to Plain Dealing, but you'll still be amply rewarded with dogwoods and redbuds if you happen by. The Grant Parish town of Pollock now stakes its claim as "Dogwood Capital," with its Grant Dogwood Festival on the first Saturday and Sunday of April each year and its enviable location amid the woodland highways and back roads of the Kisatchie National Forest.
KISATCHIE IN COLOR
On festival day, "tilemeisters" converge on Pollock from miles around to try their luck and skills at the big Dogwood Domino Tournament, and some 20,000 other folks come to see the parade and head over to LaCroix Park for some of the region's famous mayhaw jelly and other goodies at the food and crafts booths (and perhaps to find a future family heirloom at the annual antiques market). It's been a full-fledged festival since 1967, but it evolved from the Dogwood Tour started by the Pollock Home Demonstration Club in 1960, and the star of the show is still those flowering trees.
Jim Caldwell of the Forest Service recommends a 30-mile dogwood tour from the festival grounds, circling through the southern reaches of Kisatchie's Catahoula Ranger District. The route departs U.S. 165 at Pollock and heads west on Forest Road 146 to U.S. 167; follows 167 north to Bentley; and then completes the big loop by zigzagging via Louisiana 8 east, Forest Road 145 north and finally Forest 110, which leads southeast back to Pollock.
Two great mile-and-a-half pedestrian jaunts for dogwood- hunters can be found at Toledo Bend State Park and at the Winn District of Kisatchie. The first of these, Dogwood Trail Nature Walk in Sabine Parish, traverses swamp, hardwood-bottom and pine-hill terrain with a spur trail that overlooks giant Toledo Bend Reservoir, and the second, the Dogwood Hiking Trail, circles through the pine hills of Winn Parish at the point just east of Clarence where U.S. 84 enters Kisatchie.
The five districts of Kisatchie cover much of seven Louisiana parishes, with maps and information available at fs.fed.us/r8/kisatchie or by calling (318) 473-7160. A springtime drive or hike through any district –– such as the incredible Natchitoches Parish drive called the Longleaf Trail Scenic Byway or Rapides Parish's famed 30-mile hike called the Wild Azalea Trail (replete with wild azaleas in every imaginable hue) –– become, regardless of your primary reason for being there, a memorable floral tour.
AZALEAS AND MORE
The Formosa and our other traditional favorite azaleas, domesticated in the Orient in ancient times and imported to America's Gulf Coast region two centuries ago, bloom in abundance everywhere in Louisiana. So why travel to see them? Only because driving about our state is fun for any reason and also because it would be a pleasure to see your favorite landmarks and landscapes – St. Charles Avenue in New Orleans, the State Capitol grounds, you name it – in their colorful spring attire.
Maps of the beloved old Lafayette Azalea Trail are virtually collectors' items these days, but you can request a scan of the map at stahlsp@bellsouth.net or call the city's welcome center at (800) 346-1958 for a regular city map and go exploring along beautiful Girard Park Drive; the Beverly Drive circle; a nearby loop drive off of West Bayou Parkway (via Kings Road, Stonehedge and Greenbriar); major downtown streets (University, Jefferson, Convent, St. John, Versailles and Azalea); and a north-south drive up Myrtle Place to Pauline and back down St. Mary to Pinhook Road (actually crossing Pinhook to end with the North Mall/South Mall loop).
Although Lafayette's old driving tour is no longer promoted, its neighboring city of New Iberia has taken the handoff and scored with its own Azalea Trail Tour. Featured prominently in Iberia Parish advertising and in colorful brochure-maps distributed via mail and welcome center information packets (call (888) 942-3742), the self-guided drives are suggested for use during the prime blooming season of March 1 to April 4.
Much of the recommended bloom-watching takes place along East Main Street and the little business district along Bayou Teche, recent winner of the top Louisiana Main Street Award for its restoration and re-use efforts. It's a good idea, therefore, to pair the azalea tour map with the current "too hot to pass up" Iberia attractions map, which will identify the landmarks you'll encounter while chasing the flowers: antebellum Shadows-on-the-Teche, an ancient statue of Roman Emperor Hadrian, the town's old steamboat landing, historic Epiphany Church and the like.
Roses will be blooming around the state by April, not coincidentally the month that the national garden of the American Rose Society, off of Interstate 20 near the town of Greenwood, comes out of winter hibernation. The 118-acre garden opens April 1, hosts its Full Bloom Festival April 10 and 11 and promises eight months or so of blooming to be enjoyed thereafter. Folks planning to visit in May should also call the local Louisiana Master Gardeners Association, a support organization of the Louisiana State University AgCenter, at (318) 698-0010 for information on the May 2 and 3 Tour des Jardins, featuring a gardening lecture series and entree to five major private gardens around the city.
May is also the month for taking a scenic and hilly drive around Ruston to see the peach orchards in bloom before the blossoms are stripped to enhance the development of the peaches. (Come again for the big Squire Creek Louisiana Peach Festival, June 26-28, to enjoy the fruits of those labors.)
The Louisiana iris, a "beardless" beauty that is grown and nurtured by gardeners in many states but native to our own, seems somehow most at home lining the bayous and fringing the swamps around the Jefferson Parish town of Jean Lafitte. Officials say the usual plant sales, guided tours and talks by iris experts at the mid-April Louisiana Iris Celebration might be canceled this year, as the town recuperates from Hurricane Gustav, but the last celebration's town-tour maps are still available at the welcome center (for more information, call (504) 689-2299). Stop by for a copy – and to see the great 12-stage continuous-motion puppet play on the adventures of buccaneer Jean Lafitte – and then take a drive along Bayou Barataria to such highlights as the town's 40-acre patch of swamp with its mile-long boardwalk maintained by the local Better Swamps and Gardens club.
Then comes June and, alas, the last floral festival and tour of the season, the delightful Sunflower Trail and Festival on June 7 in the North Caddo Parish town of Gilliam. Northbound drivers on little Louisiana 3049 above Shreveport won't have far to go before the giant yellow blooms begin appearing by the roadside, some courtesy of nature and some courtesy of the sunflower enthusiasts of Gilliam.
Stop at the old Sentell Cotton Gin, now a quaint/posh shop that on this day will be offering snacks, a petting zoo and antiques from several dealers in the region, and then follow the sunflowers around Sentell Road, which loops back to 3049. It's now a short drive up through Dixie and Belcher to the Sunflower Festival grounds in the heart of Gilliam, and visitors are welcome to clip a few sunflowers along the way.
Traditional entertainment by bluegrass groups, church choirs, cloggers and others will make browsing a pleasure in the nice cluster of arts and crafts booths, games, food booths (good barbecue) and the like, and don't forget those free sunflower blossoms to take home for drying. Instant bird feeders!