Food for the Soul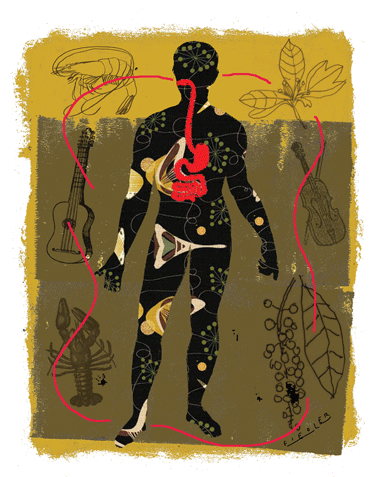 Louisiana loves food and music. That's no secret. In a state where cultural heritage is varied and oft-celebrated, it is easy to see how musicians can pull bits of their everyday lives into songs –– bits, for example, such as the delicious dishes for which Louisiana is known.
Such songs as "Poke Salad Annie" and "Jambalaya (on the Bayou)" highlight the strong ties that connect two different means of expressing, and celebrating, staples of cultural identity. Imagine that –– food for the soul and stomach! It's a match made in hog heaven.
"Poke Salad Annie," by Tony Joe White,1968
"If some of y'all never been down South too much
I'm gonna tell you a little bit about this
So that you'll understand what I'm talking about
Down there we have a plant that grows out in the woods
And in the fields looks somethin' like a turnip green
And everybody calls it poke salad, poke salad
Used to know a girl that lived down there
And she'd go out in the evenings and pick a mess of it
Carry it home and cook it for supper
'Cause that's about all they had to eat, but they did all right …"
Pokeweed, known to most Louisianians as "poke salad," grows abundantly in Arkansas, Louisiana and through to Mississippi.
Neil Kalberg, 2009 Annual Poke Salad Festival Association president, explains that the greens are called "poke salad" because "you pick it, and you poke it in a sack."
It might seem strange to eat a partially poisonous plant, but poke salad is still very much celebrated in the town of Blanchard. In fact, the 35th Annual Poke Salad Festival was just held May 7-9.
Kalberg says the festival started in 1975 to attract tourists to the area. As the story goes, a group of Blanchard Kiwanians met to plan a way to boost tourism. After a fruitless meeting, a member returned home and found inspiration –– from the plants growing in his cow patch.
Kalberg and Sharon Bryant, 2008 Annual Poke Salad Festival Association president, say there actually aren't any poke salad dishes to eat at the festival because canneries no longer package poke salad, which makes preparing dishes very difficult.
"If you don't cook it right," Bryant explains of the decline in poke salad popularity, "it can be poisonous, so nobody really wants to be the cook!"
Businesses in Blanchard decorate storefronts with festive salad-themed decorations, and there's a corresponding carnival, performances for the young people by Christian rockers, a pet parade, a beauty pageant, a poke salad treasure hunt (with a $1,500 prize!) and even a fish fry at the local First Baptist Church.
The theme for the 2009 festival was "One Shale of a Time," a nod to the new Haynesville Shale drilling operation in Northwest Louisiana, poised to produce 8 to 20 million cubic feet of natural gas per day –– "Enough natural gas to transition us off foreign oil," Bryant says. (For more information on the revolutionary drilling project, visit gohaynesvilleshale.com.)
Although preparing poke salad may be a dying practice –– and "not a lot of people are alive that know these things and a lot of it's not chronicled," Kalberg says –– the tradition lives on in Blanchard, one way or another. For more info on the fest, visit pokesaladfestival.com.
"Jambalaya (on the Bayou)," by Hank Williams Sr., 1952
"Goodbye Joe me gotta go me oh my oh
Me gotta go pole the pirogue down the bayou
My Yvonne the sweetest one me oh my oh
Son of a gun we'll have big fun on the bayou
Jambalaya and a crawfish pie and filé gumbo
Cause tonight I'm gonna see my ma cher amio
Pick guitar fill fruit jar and be gay-o
Son of a gun we'll have big fun on the bayou…"

This ditty is country legend Hank Williams' contribution to local music history. Built upon the old-timey Cajun song "Grand Texas," Williams calls attention to three Louisiana dishes, two of which have corresponding festivals.
The first dish, jambalaya, is a rice-based dish sort of based off of Spanish paella; one story behind the name is that jambalaya was named to include the Spanish word "jamon," meaning "ham." Jambalaya can contain anything but most often includes some kind of fowl, shellfish and/or another type of meat, all sautéed with onions, celery and bell peppers.
Gonzales has been the Jambalaya Capital of the World since former Gov. John McKeithen declared it so in 1968. Now, each Memorial Day weekend, Gonzales hosts a festival to celebrate the much-loved dish. There are rides; musicians; free admission; and, of course, lots of rice and meat.
Wally Taillon, Jambalaya Festival Association president for the past 10 years ("and I don't make a nickel!" he jokes), says the group "promotes civic and charitable organizations all year long," noting the group is involved in 50 functions or more a year.
Taillon says the festival's purpose is "spreading our heritage –– as far as jambalaya cooking –– and helping the community."
There was more of a spirit of competition than community during the cooking contest, however! The 2008 bout pitted 118 cooks, each armed with 10 pounds of rice and 30 pounds of hen meat, against one another in the first round; winners advanced to the semifinals with 40 pounds of meat and 15 pounds of rice. The best of the best made it to the finals armed with 20 pounds of rice and 60 pounds of poultry.
"You gotta be in pretty good shape, especially out in this weather," Taillon says of the heated annual battle. For more info on the Jambalaya Festival, visit jambalayafestival.org.
The other fest-ively historic dish in Williams' song is gumbo. To begin, filé (from the French "filer," meaning "to twist or spin") is a special kind of gumbo that includes powdered (or otherwise pulverized) sassafras leaves to thicken the roux.
Because Louisiana is just that kind of place, there are more than a few gumbo festivals, too. One example is the Bridge City Gumbo Festival, to be held October 9-11, 2009, in Bridge City, just outside of New Orleans.
"It brings us all together because we all love to cook gumbo –– and everybody thinks theirs is the best," says Elaine Boatright, Gumbo Festival secretary/rental coordinator for 2009.
She says at the fest, gumbo is cooked up in 100-gallon –– or even 400-gallon –– batches, and there is continuous live entertainment and "all the good food New Orleans is famous for!"
A sign of the not-so-changing times: Admission to this festival is $1. For more information, visit hgaparish.org/gumbofestival.htm.
"Shrimp Boats," by Paul Weston and Paul Mason Howard, 1951
"Shrimp boats is a-comin'
Their sails are in sight
Shrimp boats is a-comin'
There's dancin' tonight
Why don't-cha hurry, hurry, hurry home
Why don't-cha hurry, hurry, hurry home
Look here! The shrimp boats is a-comin'
There's dancin' tonight…"
"Shrimp Boats" was written by two men with stellar music careers: Paul Weston (born Paul Wetstein) was a founding member of the National Academy of Recording Arts and Sciences; co-writer Paul Mason Howard went on to compose for Disney. Weston's wife, Jo Stafford, made the song a hit in 1951.
In addition to being a popular, catchy song in its day, "Shrimp Boats" touches on one of Louisiana's most active industries –– fishing.
Shrimp also have a starring role in one of Louisiana's most unique combo-fests, the Louisiana Shrimp & Petroleum Festival. The 74th annual fest will be held September 3-7, 2009 (Labor Day weekend), smack-dab in the middle of Cajun Country. Morgan City hosts this annual affair, which boasts the title of Louisiana's oldest chartered harvest festival.
Lee Delaune, Shrimp & Petroleum Festival Association executive director, has been with the association (as a volunteer and an employee) for 40 years. He explains that the festival began with Catholic shrimp boat blessings on the Atchafalaya River –– still part of the annual tradition –– and grew into a celebration of a thriving local industry. By 1960, oil, too, had become a massive source of revenue.
"The festival represents the two largest industries in the area," Delaune says.
Morgan City ordinarily has a population of about 12,500, but Delaune says that according to a 2004 college study, an estimated 150,000 people flooded the fest over the course of just four days. "We're the largest thing in St. Mary's Parish," Delaune says of the festival. For more information
on this unique occasion, visit shrimp-petrofest.org.