fore score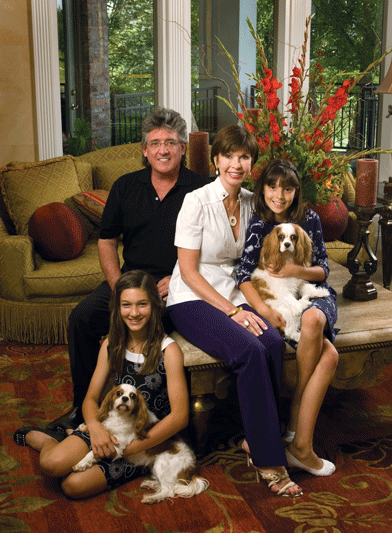 The great room of Linda and Richard Biernacki's home in the Southern Trace area of Shreveport overlooks a picturesque lake and the 17th green of the adjoining golf course. The volume of the space that includes 24-foot-high ceilings seems to announce to all who enter that this home makes a statement. "We wanted a dramatic home to take in the view from most rooms," explains Linda, the owner of Fire Tech Systems. "This is our dream home, and we waited nine years for this particular section of Southern Trace to be developed so we could have this lot."
Once the lot was acquired, Linda immediately began gathering architectural and design books, as well as every home magazine she could find. She searched for just the right house for their family of four, which includes daughters Emily, 13, and Nikki, 10. Linda owns a fire sprinkler design and installation service, so she has a strong background in building design. "Once we found a plan we liked," Linda says, "we had Carlos Gibson, a local draftsman, assist us with the final specs and drawings for Steve Simon, our builder."
The home took 18 months to complete, but the couple knew they were getting a special house and patiently waited for it to be finished. Richard spent many hours at the job site and made changes from time to time to be sure they got exactly what they wanted. "The foundation consists of 500 yards of concrete," he says with pride. "The house is heated and cooled with a geothermal underground loop that has proved to be very economical and efficient."
Interior designer Camille Millen was called in to assist the couple with the interiors. "She did a great job executing our wishes," Linda says. "We like every room in the house, but I feel the sunken octagonal dining room is extra special. Here, we added two large neoclassical glass-front armoires that are perfect for displaying our collection of Baccarat and Waterford crystal."
A focal point of the large kitchen is the hammered-nickel vegetable sink. "The dishwasher is a stacked two-drawer Fisher & Paykel model that stays busy since we love to entertain," she says. The adjoining family and breakfast rooms have 14-foot ceilings and overlook the golf course and lake with its center fountain that reaches 30 feet high.
An office for Richard, a regional service manager for a food service company, is also located on the first level.
The large master suite has two exits, one to the back patio and the other to a private patio that features water fountains and lots of blooming plants. The brick patio that fronts the home has a bronze statue the couple purchased from Fischer-Gambino on Royal Street in the French Quarter of New Orleans. It features two boys, each wearing a fireman's hat and boots, climbing a ladder. It was Linda's instant favorite because of her fire protection business.
Upstairs there is a game room where Richard keeps his extensive collection of sports memorabilia, a wine room, additional bedrooms and Linda's office. Four-and-a-half bathrooms service the large home.
A special feature of the Biernackis' home is a storm shelter and safe room that is also the laundry room. It features steel beams, steel panels and solid steel commercial doors with triple deadbolt locks. "The two doors are unique," Richard says. "One swings out, and the other swings in, so entrapment will never occur." A 20-kilowatt natural gas generator automatically kicks on if power is lost. In addition to powering the storm shelter, it also takes care of all refrigeration, the master suite, kitchen, wine room and Richard's office.
"We absolutely love our home, with its comfortable feeling," Linda says.
"I'm the one who never tires of talking about the unique structural features of the house," Richard adds, "and we are glad we waited for just the right lot and floor plan. Yes, this is our dream home."