French Heritage Festival at Kent House Plantation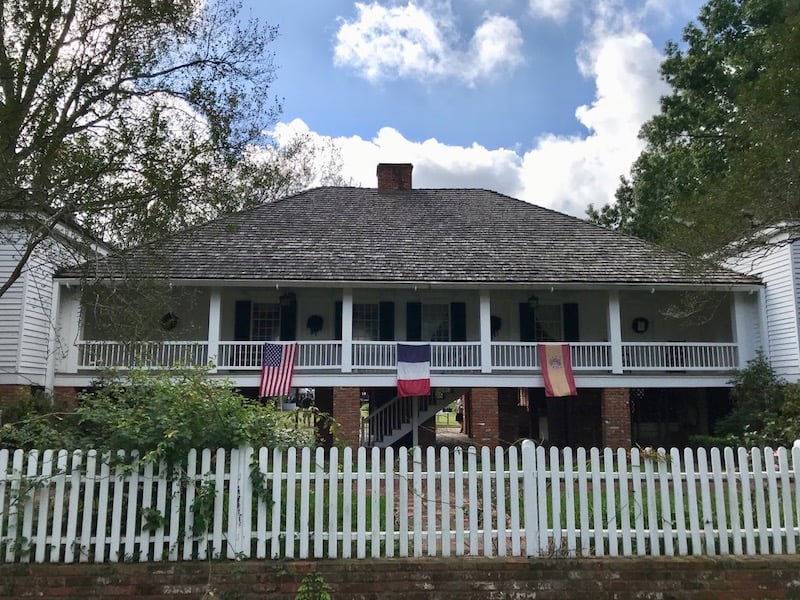 Settled by the French in the 1700s, Natchitoches Poste became the oldest town in Louisiana. It was here that Pierre Baillio served as an officer at Fort St. Jean Baptiste, marrying Marie Catherine Poissot and raising a family.
His eldest son, Pierre Baillio, received a 500-arpent land grant from King Charles IV of Spain, who ruled Louisiana at the time, near the Poste des Rapides (present-day Alexandria) and built a home beginning in 1796 for his wife Magdelaine Emelie LaCour and their 11 children.
Today, Kent Plantation House, typical of a Louisiana Creole colonial working plantation home, is one of the oldest standing structures in the state.
The original home, completed in 1800, contains six rooms and is raised off the ground to avoid flooding from Bayou Rapides. Robert C. Hynson of Maryland purchased the home in 1842 from the Baillio heirs, added two wings to the front gallery and gave the architecture a Greek Revival style.
The house was named for Hynson's home in Kent County, Maryland, and is now listed in the National Register of Historic Places.
Because three nationalities were involved in development of Kent Plantation House, staff and docents give tours to the public and discuss all three, mainly Central Louisiana culture — which includes being under French, Spanish and American rule — between 1795 and 1855.
This weekend the plantation and the Rapides Parish Friends of the Library are hosting the French Heritage Festival from 10 a.m. to 3 p.m. Saturday, May 18, on the plantation grounds, offering music, dance lessons, candlemaking, crafts and traiteur (faith healing) remedies. Demonstrations include Oma's Favorite Soap Cottage soap making from 11 a.m. to 1 p.m. and bourée lessons from noon to 2 p.m. A children's program with percussionist Elizabeth Vidos is also planned.
Local Cajun food vendors include Guillory's Specialty Meats, Po-Boy Express-Alexandria, Something Borrowed, A Rental Company and LLC Simply Carmelicious Authentic Pralines. Look for jambalaya, red beans and rice, boudin, poboys and snowballs, to name a few.
Local authors will be present, including Viola Fontenot, author of "A Cajun Girls Sharecropping Years," which won the Humanitarian Book of the Year by the Louisiana Endowment for the Humanities, and Earlene Broussard, former director of the Council for the Development of French in Louisiana and recent winner of the Trailblazer Award by Acadiana Profile magazine. Yours truly will also be on hand selling copies of my Cajun romances and Louisiana-based mysteries.
For more information on Kent House Plantation, visit kenthouse.org. To learn more about the French Heritage Festival, visit www.facebook.com/events.