Fresh and Bold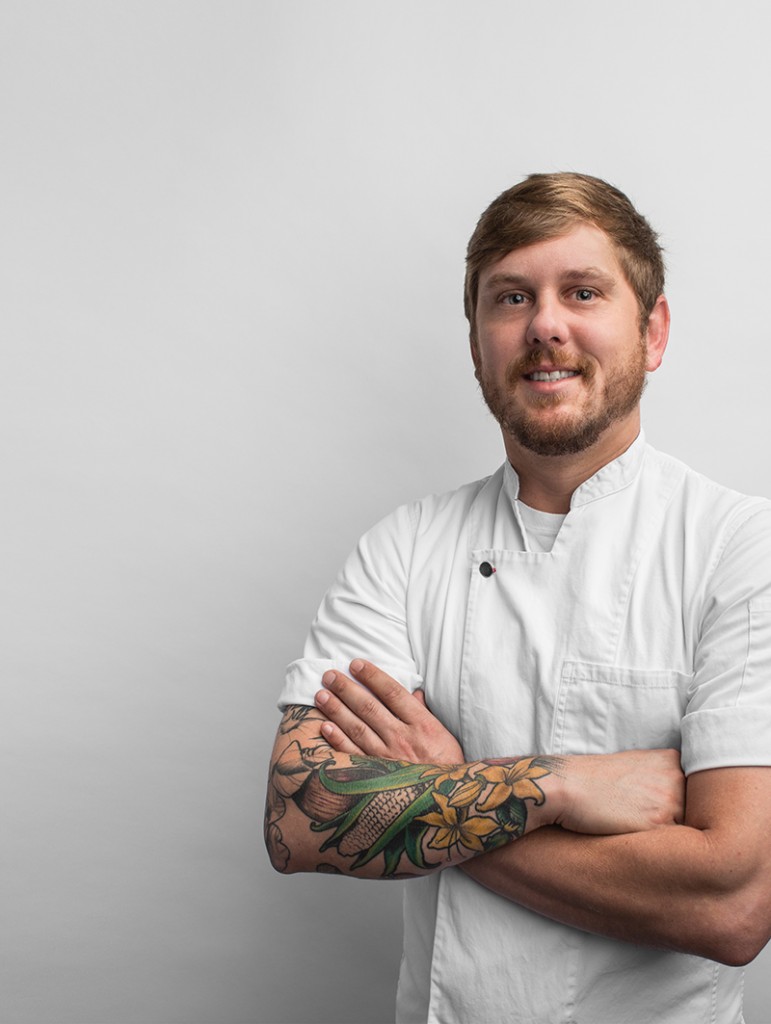 "I was raised in the rice capital so I'm definitely a gravy man, but most recently I've been enjoying cooking anything on an open fire. I love how the fire makes you constantly adapt and teaches the chef how to constantly control it. This simplicity and adaptability inspires creativity and for me that's what puts me in my comfort zone."
---
Chef Ryan Trahan, who was just crowned "King of Louisiana Seafood" at the Louisiana Seafood Promotion & Marketing Board's annual Seafood Cookoff in June and "King of American Seafood" in New Orleans in August, sticks close to his Cajun roots in the kitchen and at work.
"I was raised in a Cajun household right here in Acadiana," he said, "so it has a great deal of influence on my cooking. Throughout my career, I have placed a lot of emphasis on fresh product and I like to showcase a lot of bold flavors."
Growing up in a professional kitchen (Trahan's family owns a diner in his hometown of Crowley) and soaking up the advice of mentors in the industry also shaped Trahan's passion and gave him the unique work ethic that he still uses today.
"As a child I worked with my father in the restaurant," he said. "I started out working in the front taking orders and then at about the age of 12 started cooking orders in the back. Within a few months my father had taught me the ins and outs of each station and house to properly cook and fill orders. [Later,] during my first years as a restaurant owner and chef, I met Kernis 'Big Lou' Louviere. Big Lou taught me not only how to cook, but how to cook perfectly and make people happy while doing it. He sparked my drive, which led to 'How can I elevate my cuisine and make it the best it can be.'"
While Trahan's Lafayette restaurant Dark Roux (which closed at the end of 2017) racked up critical acclaim and local popularity, he is excited to become part of the kitchen legacy at Blue Dog Café, whose kitchen helm he took over this past spring.
"I am very happy in my new home here at Blue Dog Cafe," he said. "When you spend years working for yourself, [you] don't think … that you would enjoy working under someone else. But I have become very close with the Rodrigues and I am honored to be able to work and share this journey with them. We have big plans for our future that involve our vision for the restaurant transformation as well as installing some unique fun ideas for events that I think the public is really going to enjoy."
---
Sous Vide Pork Belly, Shaved Brussels Sprouts, Spring Berry, & Crispy Quinoa Salad
---
"I love promoting our state, our community, and our culture, so this honor is one that I cherish and am looking forward to help the Seafood Board shed a lot of light on the great seafood that our state has to offer."
---
Sous Vide Pork
Belly:
Preheat a sous-vide style water bath to 170 F.
Place 2 pounds diced pork belly, 6 tablespoons butter (unsalted), 2 tablespoons salt, 6 sprigs thyme, 2 bay leaves and 8 black peppercorns in a food-saver style vacuum bag and seal.
Alternatively, transfer to a heavy-duty gallon-sized freezer bag and slowly submerge into a pot full of water, sealing the top just before it goes underwater to remove all air.
Transfer to sous vide cooker and cook until completely tender, about 10 hours.
Remove bag from cooker and chill thoroughly. When ready to serve, heat in the water bath just long enough to melt solidified fat, open bag and remove pork belly into a fine mesh strainer to remove rendered fat.
Place fat in a tall container (lard will rise to the top and liquid will settle on the bottom).
Discard herbs and peppercorns.
Remove belly from strainer and pat completely dry.
Heat a 12-inch skillet over medium high heat with 3 tablespoons of lard.
Once lard is hot add pork belly to skillet and sauté until nice and crispy, about 4 to 6 minutes.
Remove to papertowel-lined pan to soak up remaining grease and keep warm until ready to serve.
Crispy Quinoa:
Heat 4 cups of vegetable oil to 350 F in a 2 quart sauce pot.
Once hot, fry 1 cup red quinoa (cooked to instructions on bag and strained of water) until crispy, about 3 minutes.
Remove quinoa from the oil, place on a platter lined with paper towels to drain.
Salt to taste and set aside until ready to serve.
Strawberry & Sherry Vinaigrette:
Place 1 medium shallot (diced), 6 tablespoons sherry vinegar, 6 strawberries (stemmed and halved), 2 cloves garlic, 1 tablespoon Dijon mustard, 1 teaspoons salt and 1 teaspoon black pepper in a blender.
Turn blender on medium and blend for 30 seconds.
Slowly add 8 ounces grapeseed oil over 30 more seconds and shut off blender.
Dressing should be thick and emulsified.
Store in the refrigerator until ready for use.
To Serve:
Add 2 pounds of Brussels sprouts (shaved very thin with mandolin), ½ pint of strawberries (sliced), ½ pint of blueberries and ½ pint of blackberries into a large stainless steel mixing bowl and mix thoroughly.
Place bowl in the refrigerator and allow to stand and marinate for 30 to 40 minutes.
Ten minutes before you are ready to serve, sear pork belly according to directions above.
Remove salad from the fridge and add pork belly and 6 tablespoons of cooking fat to salad and mix thoroughly.
Divide salad evenly between 8 salad bowls.
Top each salad with crispy quinoa.
Serve immediately.
Serves 8
---