Frogmore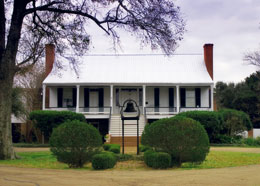 For this first installation of "Quirky Places," a department that will explore Louisiana's small-town wonders, we look into the two tiny pieces of Louisiana called "Frogmore," which share a state but not much else.
The better-known of the Frogmores is the 19th-century cotton plantation in Concordia Parish operated by George, nicknamed "Buddy," and Lynette Tanner. Buddy has been in the cotton business for almost 50 years and works with several organizations, including the National Cotton Council and the Mid-South Cotton Foundation. Lynette, the daughter of a cotton farmer, leads Frogmore's tourism operation.
Although the name "Frogmore" cannot be traced to an exact date, the earliest reference to an area called Frogmore in Louisiana, Lynette says, appears on a map from 1815. Frogmore Plantation was built by Daniel Morris, an Englishman, who Tanner suspects named the plantation after Windsor Castle's Frogmore, a residence so loved by the British royals that Queen Victoria and Prince Albert chose to be interred there.
The historic side of Frogmore Plantation comprises 19 antebellum buildings and a fine collection of 19th-century antiques. Amongst significant pieces, Frogmore houses a rare steam gin from 1884 as well as other artifacts representative of technology developed by Robert Samuel Munger, the inventor of the continuous ginning system. Visitors can choose to see a re-enactment of a slave wedding, including the "jumping the broom" and "cakewalk" ceremonies, on a tour narrated by a guide.
There is also a cooking cabin once used by slaves. At certain times, a descendent of the plantation demonstrates early cooking techniques.
Frogmore's modern side includes a working farm and gin ("The only completely computerized cotton gin in the nation," Lynette says) with a capacity of 900 bales per day.
Frogmore has remained a productive farm thanks in large part to floodwaters from the Mississippi, Tensas, Ouachita and Black rivers regularly depositing topsoil on the grounds, keeping the soil fertile.
That's why visitors today can still watch the cotton life cycle in action, from seed planting late in April to the harvest, September through mid-November. From July through mid-April, the Tanners welcome visitors to try their hands at picking cotton; visitors should note, however, that Frogmore is open for group tours only (meaning no walk-ins) from Nov. 15 to March 7.
Incidentally, the less famous Frogmore is in Pointe Coupee Parish, near Livonia and Fordoche. A woman at the Pointe Coupee Parish Office of Tourism relayed unconfirmed history that their Frogmore also got its name from a plantation, but one that burnt down years ago. ("Either before or after the Civil War," she says.)