From the Editor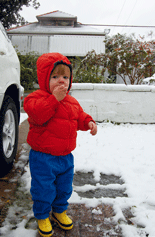 I was awakened that morning last year with words I had never been awakened with before: "It is snowing! It is snowing!" Disbelieving (but then why would someone lie about that?), I looked out the window, and sure enough – the neighborhood's color had lost its usual hues and been replaced by a crystal coating.
For folks in North Louisiana, snow is not that unusual (after all, Shreveport is 213 miles closer to the North Pole than Lafayette), but when the flakes fall in South Louisiana, that is an event. What was especially unusual last year was the date, Dec. 11, the earliest-ever recorded arrival for any snowfall in the bottom half of the state. The cold front plowed across parts of the Gulf South, spraying flurries from Lake Charles to Alabama.
Folks in the lower half of the state are not used to driving in snow, nor are they, as I discovered, used to starting their automobiles when ice is piled on the hood and the windshield. The wiper blades faced a different challenge, moving sheets of ice rather than just rainwater.
Prior to that day, the last time snow had been experienced was a joyous moment that months later turned bittersweet. On Christmas Day 2004, snow fell over much of the state. In New Orleans, the first flakes arrived exactly at noon. People pushed away from dinner tables to rush to the window where they could witness a rare White Christmas in New Orleans. No one knew it, but many revelers were relishing the moment for what would be the last Christmas in their homes. Within the next 10 months the flooding triggered by hurricanes Katrina and Rita would change the landscape. Eventually there would be suspicious whispering that a White Christmas had been a harbinger of a disastrous hurricane season.
When snow had last affected Christmas, it was in 1989. A frigid front that blasted in from Texas coated coastal Louisiana. By Dec. 22, streets were slippery with ice. Pipes in many houses were frozen. The thawing began on Christmas Day as homeowners discovered the sprinkle from their newly cracked pipes. The most popular person in town that day was not Santa but the plumber.
Last year's snow presented fewer problems. In many ways it was the perfect snowfall, substantial enough to allow a morning of frolicking, picture-taking and snowman-construction yet limited in duration so that by late afternoon the landscape looked much the way it does after a spring rain.
We all need a little snowfall in our lives, especially in the Louisiana where the seasons tend to look alike. In other places, snow is an annual drudgery that requires plows and shovels to take away the slush. Down here snow is an angel's carpet unfurled for the moment to assure us that life can have happy surprises.
If there is a superstition that a hurricane-free tropical season is a harbinger of a snowy December, I'm counting on it.