Garden District Splendor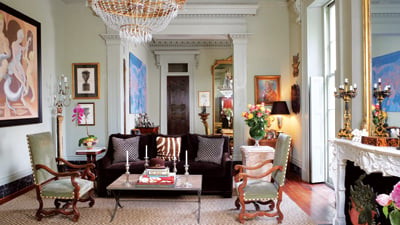 The 1857 mansion overlooking Coliseum Square in the Lower Garden District is a New Orleans historic treasure. Step inside and marvel at the beauty of each of the 14 rooms that have been exquisitely fashioned by its owners Bryan Francher, Daniel "Dan" Brockhoeft and Adrian "Kati" Killam, with the help of talented decorative artist Joel Dyer. "It's all a wonderful storybook tale of always dreaming of owning this house," says Francher, a partner in the Francher Perrin Group with Gardner Realtors. "It's the seventh house Dan and I have owned since we became partners 23 years ago, and it truly seemed like wishing on a star to walk through the house in December 2013 with the thought of 'maybe we can buy this.' Kati, our good friend from Austin, was touring the house with us and at some point she said, 'Why don't we buy it together? "
Today, the mansion showcases the grandeur of the past, with 16-foot ceilings, Greek key moldings in each of the main rooms downstairs, and grand Neo-classical chandeliers lighting what was once a double parlor, but is now used as a single parlor and one of two dining rooms. "We enjoy entertaining, so having two dining rooms is perfect for us," says Dan Brockhoeft, sales manager of the Omni Royal Orleans Hotel.

---

CLOCKWISE: A handsome Neo-classical chandelier illuminates the parlor. The large painting on the wall is the last major work completed by noted New Orleans artist George Dureau before his death. Joel Dyer, a decorative artist, is credited with guiding the interior design of the home. The marble fireplace is original to the house. The 13-by-22 foot modern kitchen provides corner banquet seating as well as stools at the marble-topped counter. The present dining room joining the parlor was originally used as a second parlor. It features a marble-topped table and Empire chairs covered in green velvet.
---
Since Brockhoeft is a trained chef with a diploma from the Culinary Institute of America at Hyde Park, New York, with an internship at Commander's Palace, he especially loves the large professional kitchen. "I know it is ironic that when I applied for my first job at the Omni Royal Orleans Hotel in the French Quarter, there was an opening for a banquet manager and that is what they hired me to do. I have been in management ever since instead of cooking in a kitchen." Francher points out that Brockhoeft is a talented chef who who cooks at home and loves to entertain guests.
Like Francher and Killam, Brockhoeft says, "This is my dream house. I sometimes have to pinch myself to be sure I'm not just dreaming that I am an owner."
Kati has close ties to New Orleans, having invested in four historic townhouses on Julia Street that she is currently renovating. "I love New Orleans, and although I have visited the city for many years, the wonderful mansion on Camp Street is also somewhat of a dream house to me," she says.
The rich history of the house includes a period when it was known as the Catherine Club, similar to the Barbizon in New York City where proper ladies were provided chaperoned housing so they could live and work in the city. It is thought to have been designed by the well-known architect Thomas Wharton, who also designed the historic U.S. Custom House on Canal Street. It was built for E.T. Robinson, a wealthy banker.

---

CLOCKWISE: Bryan Francher and Daniel Brockhoeft on the front porch of their historic Coliseum Square mansion they own with Adrian "Kati" Killam of Austin, Texas. They purchased the showplace home in the Lower Garden District of New Orleans after they all decided it was their dream house. The bird's-eye mirror in the original dining room of the home provides an interesting reflection of the entire room, including the unique tromp l'oeil walls that are original to the house. The Italianate-style, 14-room home has been fully restored to its original grandeur and today it is one of the grandest historic homes in New Orleans. The master bedroom overlooks Coliseum Square through large walk-out windows that open onto a balcony.
---
The mansion had been vacant and neglected for over three decades when it was acquired by the Preservation Resource Center of New Orleans in 1995 in an effort to save it. Later it was purchased by a Dr. James and Sarah Fulton, residents of California. It was Sarah who worked for years to bring the house back from ruin, with archival artist Jim Blanchard coordinating the massive project.
"We have been bringing life back to the house," Brockhoeft says. "I think it is happy to be back to its original purpose. I had a strong sense of this when we had our spectacular New Year's Eve party last year for a couple hundred of our family and friends. I made vats of gumbo and bread pudding, there was incredible live music, and Joel did his usual extravagant decoration in silver, copper and gold. It was dazzling – and not one person left without saying that it was the most incredible New Year's Eve party they have ever attended."