Get Lost In A Corn Maze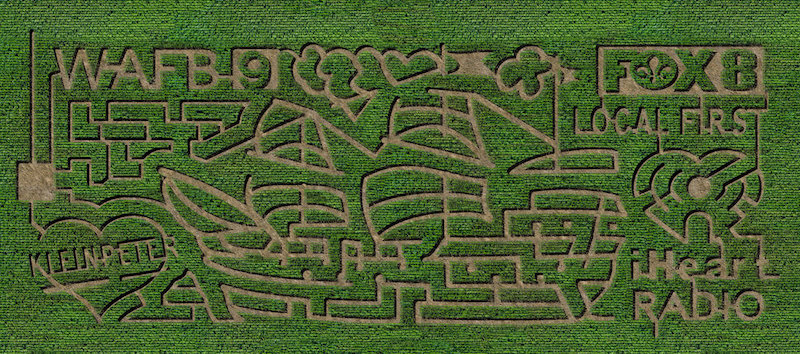 Fall comes slowly to Louisiana, with temperatures taking their sweet time to drop and trees turning colors closer to Thanksgiving than Halloween. If you're eager for something that smells and tastes like autumn, besides the pumpkin spice lattes at Starbucks, a corn maze is a great way to get your fill. Here are several corn mazes to enjoy in Louisiana, and all come with affiliated attractions such as pumpkin patches, haunted sites, animal races, tractor fun and much more. Best of all, they're located throughout the state.
Cajun Country Corn – Pine Grove, Louisiana
Cajun Country Corn started its corn maze in 2000, with giant images stretching out over their seven and a half acres of land that takes an hour and a half to get through. Past themes have included "All Aboard Riverboat," "Mr. Troy Landry of Swamp People" and "Girl Scouts." This year, Cajun Country Corn heads to the high seas with "Pirate Ship." But there's more. Visitors may enjoy zombie paintball, the pumpkin blaster, tractor and hay rides and the haunted trail, a dark forest filled with spooks, among many other fun things to do. Visitors can even shoot ears of corn 200 yards out of a cannon or jump on a giant inflatable pillow.
The corn maze is open 5 p.m. to 11 p.m. Fridays, 9 a.m. to 11 p.m. Saturdays and 11 a.m. to 6 p.m. Sundays from Sept. 29 to Nov. 25. Every Friday and Saturday night in October they offer the haunted trail, haunted pallet maze, haunted maze and zombie shoot beginning at dusk.
The farm is located on Hwy. 16, 1 mile east of 42360 (Napa Auto) in Pine Grove, and five miles west of 35999 (Bear Creek Western Store) in Montpelier. For more information call (877) 843-9421, (225) 357-4924 or email louisianamaze@hotmail.com.
CM Farms LLC – Dry Creek, Louisiana
There's more than 40 attractions at CM Farms, about 48 miles north of Lake Charles. In addition to the 12-acre corn maze, visitors can expect rubber duck races, a pumpkin patch, live cow milking, nerf gun wars, wagon rides, farm animals, gemstone mining and much more.
The farm is open Fridays through Sundays from Sept. 29 to Oct. 31 and Saturdays and Sundays Nov. 3-25. The farm is located at 252 CM Farms Road outside Dry Creek. From Lake Charles, head north on Hwy. 171, then east on Hwy. 190. At Reeves, head north on Hwy. 113 through Dry Creek, then east on Hwy. 1147 and north on to CM Farms Road. For more information, visit (337) 328-8916.
Curry Farms – Start, Louisiana
Curry Farm nears Monroe alternates between a fall corn maze and pumpkin patch and holiday tree sales. For the fall activities, which begins Sept. 30, there's a corn maze, giant bounce pillow and swing, duck races, tractor rides, pedal carts and more.
Wanna see the Curry Farms' maze from the air. Check out their YouTube video here.
The corn maze and pumpkin patch is open 10 a.m. to 6 p.m. Thursdays through Saturdays and 1 p.m. to 6 p.m. Sundays Sept. 29-Nov. 4. The farm's located at 548 Robinson Drive, 2 miles south of Start. Exit Interstate 20 at La. Hwy. 133. Drive south and turn on to Robinson Drive. For more information, visit (318) 728-6203.
Dixie Maze Farms – Shreveport, Louisiana
Dixie Maze Farms opened its 19th Fall Festival on Saturday, Sept. 22, and will open its haunted attractions on Friday, Sept. 28, both offering loads of fall fun on the farm's eight acres, which includes a massive corn maze. There's a pumpkin patch, corn cannon, duck races, obstacle course and outdoor movies every Saturday night (except Oct. 24).
The farm's located at 9596 Sentell Road, Exit 223 off Interstate 49, about 13 miles north of Shreveport. For more information, call (318) 703-2870.
Steele's Pumpkin Patch – Angie, Louisiana
Steele's won't have a corn maze this year but the Washington Parish farm will serve up many other attractions in its Fall Festival that opens Oct. 6. There will be a pumpkin patch, pumpkin bowling, petting zoo, tractor-drawn hay rides, Tarzan ropes, duck races, hay barn and more.
The Fall Festival dates are Oct. 6-7, 13-14, 20-21 and 27-28. The farm's located at 56459 Dollar Road in Angie, about 85 miles north of New Orleans.