Get Off The Beaten Path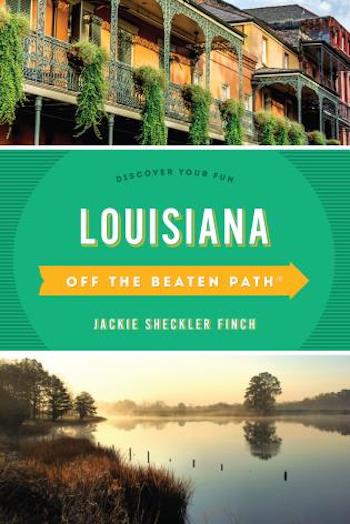 As one of the oldest states in the union, founded in 1699 by French colonists and attracting numerous nationalities over its 300-plus history, not to mention an exemplary Native American heritage, Louisiana offers countless unique places to visit.
It's a large state, though, and may seem overwhelming as to where to look first.
Award-winning journalist and photographer Jackie Sheckler Finch has been searching Louisiana for its treasures for her travel guidebook, "Louisiana: Off the Beaten Path" (Globe Pequot). Recently updated, this handy book showcases all the best Louisiana has to offer, including museums, festivals, parks — even unique recipes and an explanation of catching beads at Carnival.
Finch takes us from the northwest corner with Arkansas and Texas to Grand Isle barrier island, from Poverty Point near Vicksburg to the Gulf of Mexico skirting Cameron Parish. Of course, New Orleans and all its unique attributes and eccentricities are included as well.
Here are a few places Finch spotlights in her book:
About 25 miles southwest of Shreveport lies the quaint town of Keachi (pronounced key-chi), home to Greek Revival homes and buildings from the 1840s and 1850s and a Confederate cemetery related to the Battle of Mansfield. This small hamlet (about 300 population) has 11 structures listed on the National Register of Historic Places, including the only surviving temple-style commissary in the state.
The Chitimacha Tribal Museum in Charenton details the Native Americans who lived along Bayou Teche and throughout much of South Louisiana. On display are native clothes, a dugout canoe made from a cypress tree, tools, pottery and more.
In the upper northeast corner of Louisiana lies several unique attractions, including the town of Transylvania, beautiful Lake Providence, the Louisiana State Cotton Museum and the Panola Pepper Company, where visitors can tour a hot sauce factory and buy a few bottles in the company store to take home.
Did you know that it was rumored that outlaws Jesse and Frank James frequented the town of Oak Grove? According to Finch, the brothers helped local children with their homework.
Remember those recipes? There's panna cotta with strawberry-vin santo sauce by the pastry chef of the LSU Union, Tujague's boiled brisket of beef and chicken and dumplings from Lea's Lunchroom in Lecompte, to name three.
That's just a taste of what you'll find in this comprehensive and easy-to-read book. There's also links for places to stay, tourist commissions and restaurants. For more information.