Getting Carded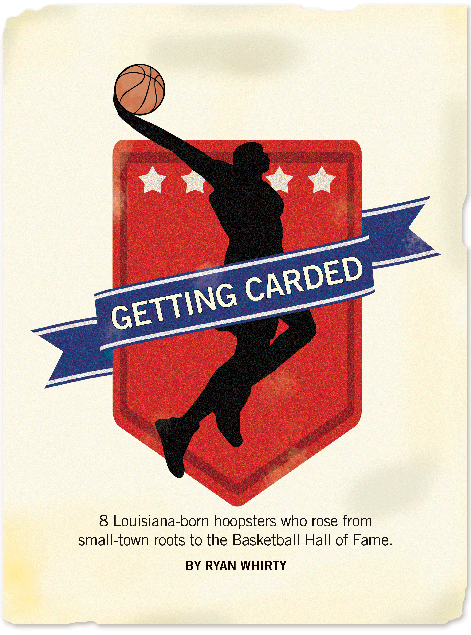 Let's face it: Much of the outside world views Louisiana as a football state. But that's not entirely accurate, says Naismith Memorial Basketball Hall of Fame member, Louisiana Tech coaching legend and Ruston native Leon Barmore, whose Lady Techsters were named national Team of the Decade in the 1980s. Barmore says that despite all the – forgive the semi-pun – hoopla over football, Louisiana is indeed a breeding ground for much hardwood talent. The proof? Eight Pelican State natives in the National Hall of Fame.
"We have to give football credit," he says. "It's definitely a football state. But I can go in a 20-mile radius in this region and meet people [and Hall of Famers] like Elvin Hayes, Karl Malone and Willis Reed. Basketball in this state has been very, very good, both men and women."
Even hoop fans and officials from none other than the Hall of Fame itself laud Louisiana's contributions to the hardwood game.
"Louisiana has always been a backbone to the game of basketball from its tremendously rich native talent including numerous Hall of Famers spanning eras from Bill Russell and Bob Pettit to Karl Malone and hosting countless NCAA Final Fours and NBA games," says Naismith Memorial Basketball Hall of Fame President John L. Doleva.
In addition to the aforementioned six – Barmore, Hayes, Malone, Pettit, Reed and Russell – Louisiana has birthed two other eventual members of the Naismith Hall: Joe Dumars and Robert Parish. With the Hornets season upon us and the college season in full swing, it's a good time to take a look at Louisiana's Elite Eight. Let's go in alphabetical order:

Leon Barmore
The only native Louisianian elected to the Naismith Hall of Fame as a coach, Barmore most definitely earned that honor. During his two-decade tenure as head women's coach at Louisiana Tech, the Techsters played in four NCAA title games, winning it all in 1988, and advanced to four more Final Fours. By the time Barmore left Tech in 2002, he had posted a career record of 576-87, his .869 winning percentage the highest in major-college basketball history, men's or women's.
What's perhaps most amazing about Barmore's story is that he's spent his entire life in his hometown of Ruston. Born there in 1944, he picked up All-State honors playing for Ruston High School and then earned Gulf States All-Conference accolades at Tech.
Barmore became head boys' coach at Ruston High for a brief stint before joining the Tech women's staff in 1977. By 1982, he was co-head coach of the Lady Techsters, and three seasons later he assumed the job solo. In addition to Tech's success on the national stage, the team had collected truckloads of various conference crowns by 2002.
Individually, Barmore garnered two national Coach of the Year awards and 10 similar conference accolades. He came out of retirement for a few years in 2008, when he joined the women's staff at Baylor, which is coached by Tech graduate and Barmore disciple Kim Mulkey (who won her own NCAA crown with the Bears last spring).
But through it all, Barmore has loyally stayed put in Ruston. He now proudly represents his hometown in the National Hall of Fame, which he entered in 2003.
"It's the greatest honor I've had bestowed on me," he says of his induction.
And his feelings for his home state? Ebullient.
"I'm very proud of my state," he says. "I was born and raised in Ruston, and I've lived in Louisiana my whole entire life. To represent Louisiana [in the Hall] really means a lot to me."

Joe Dumars
The Detroit Pistons legend was born in Shreveport in 1963 and starred at Natchitoches Central High School.
"I had a great childhood growing up in Louisiana, close family, great neighbors and a very proud community," Dumars says.
He then moved on to Louisiana's own McNeese State. Over his four years at McNeese, Dumars averaged 22.5 points per game and finished his collegiate career as the 11th-leading scorer in NCAA history.
"I had four wonderful years at McNeese State," Dumars says. "I really enjoyed my teammates and coaches, and it was the best decision I could have made in choosing a college that was a great fit for me."
Drafted by the NBA's Pistons in 1985, Dumars teamed with fellow guard Isiah Thomas to form one of the greatest backcourts in the league. The Shreveport native spent his entire playing career with the Pistons, and by the time he retired in 1999, Detroit had won two NBA titles, and Dumars had garnered oodles of accolades, both for his on-court achievements and off-court community efforts.
But Dumars wasn't done. He became the Pistons' president of basketball operations in 2000, and from there he guided Detroit to another NBA crown in 2004 and earned NBA Executive of the Year honors in 2003. In 2006, Dumars was elected to the Hall of Fame as a player. And it all began in northwest Louisiana.

Elvin Hayes
Born in Rayville in 1945, Elvin Hayes struggled in basketball in his early years, but many days and nights of intense practice led to an elite career at Britton High School in Rayville.
From there, Hayes developed into one of the best prep players in the state, guiding Britton to the 1964 state championship and averaging 35 points a game during the regular season.
Hayes then made Houston his adopted hometown, starring for the University of Houston, which he guided to two straight NCAA Final Fours; he was named College Basketball Player of the Year by the Sporting News in 1968.
Taken first overall in the 1968 NBA draft by the San Diego Rockets, Hayes returned to Houston when the Rockets migrated there, and after a championship-producing stint with the Baltimore/Capital/Washington Bullets, Hayes finished his pro career with the Rockets, retiring in 1984.
Hayes launched business interests and became a reserve police officer in Texas and now serves as the University of Houston's game analyst. He was inducted into the Hall of Fame in 1990.
Karl Malone
What needs to be said about "The Mailman," Karl Malone, a Summerfield native who went on to become one of the greatest players in basketball history, perhaps the best power forward ever?
But let's delve deeper into the story. Born in 1963, Malone certainly didn't have an easy childhood: His father committed suicide when Karl was 14, and the son worked at a farm and chopped trees growing up. But the trials gave Malone character – he led Summerfield High School to three state titles.
Spurning advances from the University of Arkansas, Malone chose to enroll at and play for Louisiana Tech, which he led to the NCAA Tournament for the first time in school history in 1984.
The rest of the story is nothing less than brilliance. Drafted by the Utah Jazz – a team that, ironically, started in New Orleans – in 1985, Malone and Jazz guard John Stockton formed an unstoppable scoring machine for Utah, one that advanced to the NBA Finals multiple times and produced two league MVP and 14 All-Star seasons for Malone.
The result? A whopping 36,928 career points – second all-time behind Kareem Abdul-Jabbar – and nearly 15,000 rebounds. He's first all-time in defensive rebounds and free throws attempted and made. Oh, and don't forget the two Olympic gold medals.
Alas, Malone was unable to grasp the ultimate prize of an NBA championship, making him arguably the greatest player never to win a ring. But perhaps that wound was salved in 2010, when he was inducted into the Hall of Fame. In 2007, Malone also returned to Louisiana Tech as a basketball staffer. He now keeps a house in Ruston, just one neighborhood over from Barmore.

Robert Parish
Sandwiched between legendary forwards Larry Bird and Kevin McHale, the 7-foot-1-inch Robert Parish played center during the Boston Celtics' 1980s glory days, a tenure that included three NBA crowns.
But it all began in Shreveport, where he starred first for Woodlawn High School and then tiny Centenary College. He was drafted by the Golden State Warriors in the first round of the 1976 draft, but his pro career really took off when he was traded to the Celtics in 1980.
With four future Hall of Famers on the squad, Parish's Celtics won three league championships in the 1980s before "Chief" closed his career with Charlotte and Chicago, with which he earned a fourth NBA title.
Parish was a nine-time NBA All-Star and ended his career 13th all-time in scoring, sixth in rebounds, sixth in blocked shots and eighth in field goals made. He was ushered into the Hall of Fame in 2003.
Parish's alma mater remains proud of its Hall of Fame product, hanging his Celtics jersey in the school's office. Current Centenary men's basketball coach Adam Walsh says it was significant that the young Parish decided to stay home in Shreveport for his college experience.
"It was a statement that many student-athletes have made by staying in-state to attend Louisiana Tech and LSU, but it was a particularly strong statement at the time for him because it was his hometown school and it was Centenary, which has always been much smaller than those others I mentioned," Walsh says. "At the time of his decision, Robert's choice made waves throughout college basketball and ultimately propelled the Gents into the Top 25 in the country."
Bob Pettit
The story of Bob Pettit's youth in Baton Rouge is the stuff of legend. Born in 1932 and famously gangly, awkward and clumsy as a kid, Pettit was cut from the Baton Rouge High School basketball team as a freshman and a sophomore.
But an amazing growth spurt, an infinite increase in coordination and countless hours practicing on a backyard hoop erected by his father remedied that.
"I practiced a tremendous amount of time – three and four hours a day," Pettit told the Baton Rouge Advocate in 1992. "My first couple of years I didn't get discouraged. I was able to keep it together, keep practicing and playing. I started improving, and by the time I was a junior, I was [6-foot-4-inches] or [6-foot-5-inches], and things were ready to start falling in place."
That they did. He led his prep squad to its first state crown in more than 20 years. He then moved on to LSU, where as a center he led the Tigers to the Final Four and earned All-American honors twice.
He was taken in the first round of the 1954 NBA draft by the pathetic Milwaukee Hawks. There, both player and team transformed – Pettit was moved from center to forward, and the Hawks became perennial league championship contenders.
Unfortunately, the Hawks – who eventually moved to St. Louis – reached their peak at the same time as the mighty Celtics, who were led by the final man on our list, Bill Russell. As a result, the Hawks and Pettit won only one title, but he was named NBA MVP twice and a first-team league All-Star for 10 straight years. For all of his efforts, Pettit was inducted into the Hall of Fame in 1970.

Willis Reed
On May 8, 1970, Hico native Willis Reed provided pro basketball with one of its all-time iconic moments and the city of New York with a treasured memory that burns bright to this day.
With his New York Knicks battling a powerful Los Angeles Lakers team in the NBA Finals, Reed was suffering from a crippling thigh injury before Game 7 and was placed on the doubtful list. But just before tipoff, a taped-up Reed limped out of the locker room, and the Madison Square Garden crowd went absolutely bonkers.
Reed proceeded to unbelievably out-tip Wilt Chamberlain and then score the Knicks' first four points. He wasn't a factor the rest of the game, but Reed's gutsy performance gave his teammates all the emotional fuel they needed to win the game and the crown.
But of course it all began way back in miniscule Hico and at West Side High school in Lillie. After growing up on a farm in Bernice, Reed starred at Grambling before being drafted by the Knicks in 1964.
Another former Grambling star, Aaron James, says it's an honor to be an alumnus along with a Hall of Famer like Reed.
"It doesn't get any better than that," says James, who was a three-time All-American with the Tigers and now serves as an assistant professor at the school. "Willis isn't just a great basketball player; he's a great human being. It just gives our institution a lot of credibility."
With Reed helping to build New York into a powerhouse based on teamwork and precise role-playing, the Knicks won league titles in 1970 and 1973, when Reed was named NBA Finals MVP.
Hampered by nagging health problems, Reed left the game in 1974 and became the first Knick to have his number retired. But, like fellow Pelican Stater Dumars, Reed enjoyed a second hoops career as an executive, first as a coach for various pro and college teams and then as the general manager of the New Jersey Nets in 1993. Along the way he entered the Hall of Fame in 1981.
Reed became the organization's senior vice president of basketball operations in 1996 and built the Nets into championship contenders. He eventually played similar roles for his beloved Knicks, but in 2004 Reed returned to his home state when he was named the New Orleans Hornets' vice president of basketball ops.
"[T]o come to New Orleans – I never thought I'd have a job in Louisiana," Reed said at the time. "For me to have a chance to come back and work in the state of Louisiana, even though I'm a northern hillbilly, is a great opportunity."
Like Barmore and Malone, Reed has made his home in Ruston.
Bill Russell
Perhaps it's not a coincidence that Bill Russell is last on our alphabetical list, because in many ways, we're saving the best for last. When it comes to the discussion about pro basketball's Greatest of All-Time, it boils down to three candidates: Michael Jordan, Chamberlain and Russell.
Russell was and still remains the greatest defensive player in NBA history, and as the linchpin of a Boston Celtics juggernaut that won 11 – count 'em, 11 – league crowns between 1957 and 1969, he almost literally and single-handedly changed the way defense was played in the sport.
He was born in Monroe in 1934 and spent the first dozen years of his life there. Growing up steeped in segregation and mired in the Great Depression, Russell was heavily influenced by his mother, Katie, who insisted young William stand up for himself and go to college.
Regarding his early childhood in West Monroe, Russell told Sports Illustrated's Frank Deford in 1999: "I remember that my mother and father loved me, and we had a good time, but the white people were mean. But I was safe; I was always safe. In all my life, every day, not for one second have I thought I could have had better parents."
But the Deep South's racism stung Russell's family when his father was denied a raise at the local mill, and the family moved to Oakland. Russell went on to a stellar prep career in the Bay Area before helping the University of San Francisco to two national crowns.
After that, of course, came the Celtics, five NBA MVP awards and a player-record 11 league titles. He eventually took over the team as a player-coach, becoming the first black coach in league history before retiring in 1969.
There they are, the Great Eight, the Louisiana natives now enshrined in the Naismith Memorial Basketball Hall of Fame. Some readers might be surprised that the list doesn't include a handful of players who either made their names in the Pelican State or who have close connections to it. There is, naturally, "Pistol" Pete Maravich, a legend at LSU and with the New Orleans Jazz, but he was born in Pennsylvania. And Clyde "The Glide" Drexler, while having family in New Orleans, was born and bred in Houston.
But as Dick Van Patten might say, eight is certainly enough, at least to establish Louisiana as a distinguished basketball state, one that its Hall
of Famers frequently return to or still live in.
"I get home maybe once or twice a year, but I love going home because of the people I've known all my life, and there's simply nothing like being back home in Louisiana," Dumars says.
Adds James: "With the quality of basketball players from this state who have left and gone on to higher levels, we've done pretty good. When you start teaching the kids the fundamentals at a young age, maybe they can go on to the next levels, and everybody will start recognizing Louisiana as a basketball state."