Getting Up Close and Personal With Louisiana Gators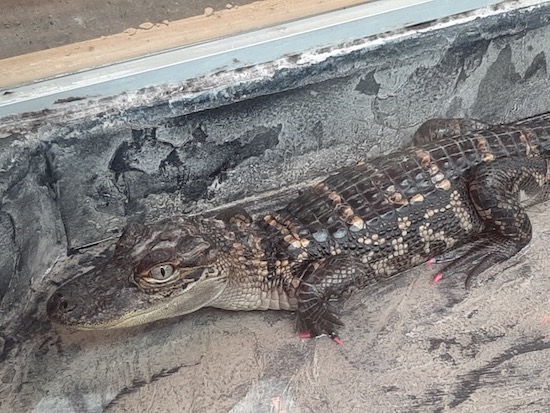 Jennings has always been the place to view alligators and pet a few. Yes, you can pick these babies up and give them some lovin'. And now, the up close and personal gator experience has climbed up a notch.
The Gator Chateau (otherwise known as the Alligator House) off Interstate 10 at Exit 64 rests next to the Jeff Davis Parish Visitors Center and inside the Louisiana Oil and Gas Park. It's long been a popular attraction for visitors, especially families with children, who take an I-10 pit stop to picnic and view an oil derrick and learn about Louisiana's oil and gas history. In the process, they have the unique chance to hold a baby alligator in the palm of their hands.
Now, it's even bigger and better.
Gator docents are available at the new and improved Gator Chateau to explain the state's scary reptiles — who really aren't that frightening when those baby eyes look your way — and let visitors pet their scales and tails. Visitors will learn where gators live, how they eat and grow and their life inside the rescue facility. Group tours may be scheduled as well.
Look close and check out the gators' nail jobs! Some of those babies receive pedicures so docents can tell them apart.
Best of all, the gator experience is free! If you want to help out the Chateau, however, stroll over to the Visitors Center to peruse their store full of gator souvenirs.
The Gator Chateau is open 9 a.m. to 5 p.m. Monday through Saturday, but closed on certain holidays. Public feeding times are seasonal, at 3:30 p.m. Fridays, June through September. Visit jeffdavis.org/gator-chateau for more information and schedules or follow along, plus post photos, on the Gator Chateau Instagram page.
For more information about Gator Chateau, Jennings and tourist attractions in Jeff Davis Parish, visit jeffdavis.org.