Ginger Kelly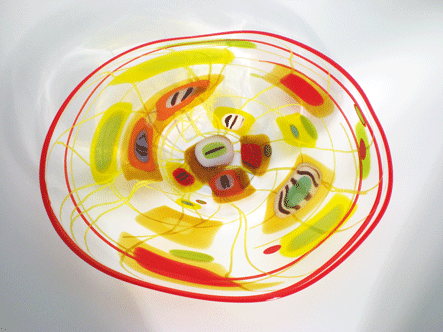 Sunlight fills Ginger Kelly's small studio, which is attached to the back of her wood-frame house. Playful rainbow-colored lights swirl and dance silently along tabletops and racks filled with beads and droplets of fanciful colored glass. Scores of small glass rods in various colors stand on end in old vegetable cans, waiting for their moment at the torch. In the midst of this almost surreal scene, one is reminded of young Tom Wingfield's last lines in Tennessee Williams' The Glass Menagerie: "The window is filled with pieces of colored glass, tiny transparent bottles in delicate colors, like bits of a shattered rainbow."
This little glass menagerie, located on a side street a few blocks from the center of old Breaux Bridge, is glass artist Ginger Kelly's studio. Her work is bright, imaginative and whimsical yet functional, with each step planned and executed with precision.
Kelly, like so many other artists, has found a creative home in Breaux Bridge, which, like many small towns bypassed by interstate highways, has a good number of late-19th-century commercial buildings. In a time of changing economies, old storefronts have found new life as art galleries and cafés. In fact, more than a dozen galleries can be found with art ranging from folk to funk, from worked metal to chain saw sculpture and from the purely aesthetic to the aesthetic and functional. Even coffee houses and cafés such as the famous Café des Amis feature Acadiana art and music. Like nearby Arnaudville, Breaux Bridge has become a haven for many artists, including those from the New Orleans area looking for a refuge after Hurricane Katrina. Each year on the Saturday following Thanksgiving and the Saturday before Mardi Gras, the city sponsors downtown art walks that feature artists from throughout Acadiana. "It's always amazing how serene the art world is," says Tina Begnaud, Breaux Bridge tourism director. "It's amazing to see the imagination in people's minds."
Kelly, who has built a cottage industry in creating and manufacturing functional but artistic glassware, moved to this old Bayou Teche community from Mandeville two years after Katrina. Actually, she is a relative newcomer to Louisiana. Born in Northern California, she spent many years in Seattle, working in the area's large art-glass community, which includes the famed Dale Chihuly. (Her artist son works with Chihuly in Seattle.) Before making the move, Kelly loved visiting South Louisiana and New Orleans for the food and music –– and she certainly didn't mind escaping the dreary Northwestern weather. Finally, in the spring of 2005, she decided to move to the New Orleans area. She sold her Seattle house in four days; moved to Mandeville, across Lake Pontchartrain from New Orleans; and participated in the 2005 New Orleans Jazz & Heritage Festival. She knew other artists in Mandeville, and she felt she had more room there than in New Orleans. A few months later, Katrina struck. Her house didn't flood, and she hung on for two more years before moving to Breaux Bridge in June 2007.
"I know people over here," she says. "It's a nice town, and I like the coffee house, the cafes and grocery store. I can walk downtown and go to nearby Lafayette, and I'm only two hours from New Orleans. I'd come over to Breaux Bridge to do things and had lots of friends in the area. Katrina took a big toll on me like everyone else. I feel better over here. St. Tammany has high taxes, insurance issues, flood insurance and all those things about being close to the lake and hurricanes. It's simpler over here."
Kelly describes her work as "not sculptural but functional." She makes glass jewelry, tableware, drinking glasses, vases, tabletops and other usable glassworks that she sells through a wholesaler or through galleries. She also sells her work in her own gallery on 103 S. Main St. around the corner from Café des Amis. Kelly is always in search of new ideas. Shortly after moving into her Breaux Bridge house, she went to a hardware store to buy cabinet and drawer pulls. It struck her: "I can make these." Her portfolio now includes a line of art-glass cabinet and drawer pulls through Spectra Décor. What could be more functional?
"Glass is a great material," she says, sitting in her studio, her eyes scanning tables and the workbench filled with beads and pieces of glass waiting for her next move. "Glass is translucent, it reflects, it has color, it shines, and you can do so many things to glass. It has an almost precious feeling. People are attracted to glass. Because I'm working with fire and heat, my work has a mysterious side to it. It's dramatic, and I never tire of working with it. It's a material in which the creative possibilities are endless. They even make buildings out of it, and it can be recycled."
Kelly started her career in art glass in the late 1980s while a student at California State University, Chico, in the Sacramento Valley. She started out to get a degree in graphic design –– to get a job –– but eventually ended up in the art department, blowing glass. "I've always gravitated toward functional things and making things that are useful," she says. "My father was a mechanic. I learned how to use tools as a kid."
After college, she pondered two choices –– move either to the San Francisco Bay Area or to Seattle. San Francisco was too expensive, she had two kids, Seattle was known for its large colony of glass artists, and her father's family was from there. Her 31-year-old son, who still lives in Seattle, also works in glass. Although Kelly does most of her work in Breaux Bridge, she returns to Seattle each summer to blow glass with her son and to visit with her 2-year-old grandson. Eventually, she hopes to have a place to blow glass in South Louisiana.


Kelly has an interesting technique for creating her unique pieces. She works mostly with sheets of colored glass that she fashions into various shapes with a propane torch that sits mounted to her worktable. She calls this "flame work." Her designs are totally abstract and decorative and at times look something like primitive human markings. She then fuses these bits of glass together in her kiln to form what she describes as tiles. For her larger blown-glass objects, she fuses these tiles to the larger molten globs of glass as she blows, works and shapes the final object. During this process, the colorful tiles become part of the blown-glass figure. "This process," Kelly says, "gives the work a little retro feel, and it's decorative."
Working in glass also requires some knowledge of chemistry, Kelly explains. All glasses are not the same. Each has its own chemical composition. The sheets of colored glass from which she makes her tiles must be compatible with the chemical makeup of the glass being blown. Otherwise, it will crack as it cools. In other words, you can't throw an old Coke bottle into the mix just because you like the color.
Kelly's work can be seen at various art festivals in South Louisiana and at the Ariodante Gallery and the Royal Cameo Glass gallery in New Orleans and the Sans Souci Fine Crafts Gallery in Lafayette. And then there is her gallery in Breaux Bridge: "I enjoy talking to people about what I do, and you never know who is going to walk in."