Go With Your Gut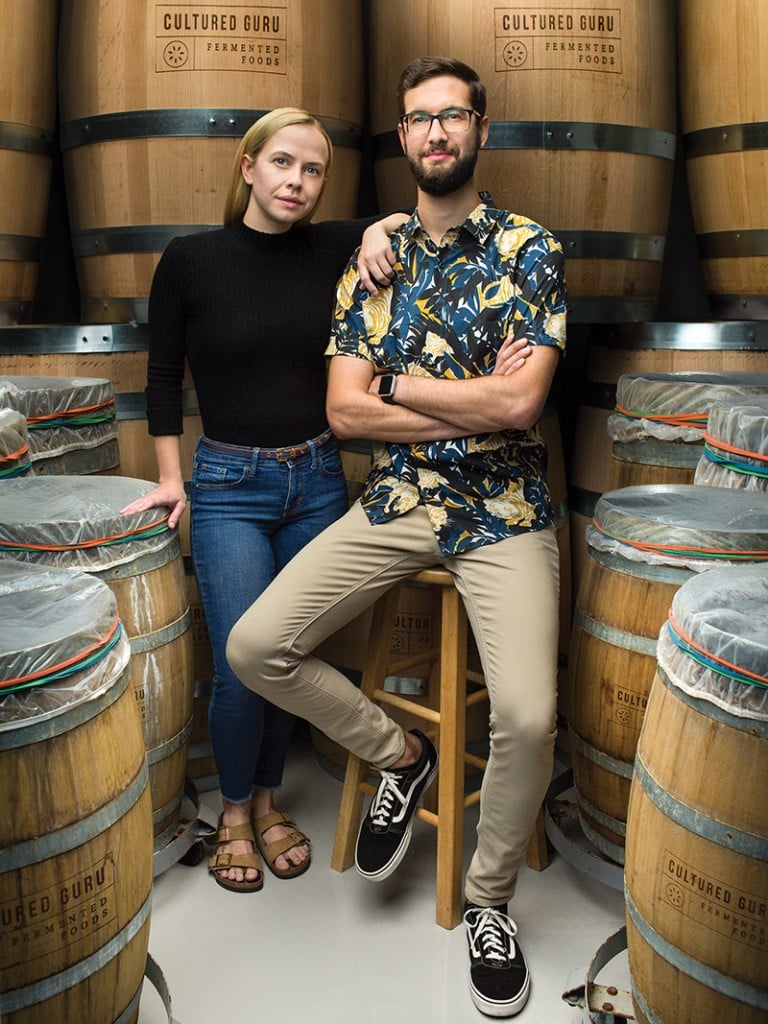 It takes a lot of courage to launch a new culinary brand, but for Kaitlynn Fenley and Jon Scott Chachere, the creative couple has guts down to a science.
As an informative wellness blog-turned-fermented foods brand, Cultured Guru is backed solidly by Fenley's microbiology expertise from studying and assistant teaching at LSU and Chachere's years of ad agency experience making tantalizing product and food photography.
Inside the duo's commercial kitchen in Baton Rouge, mason jars teem with fervently-hued fermented goods — mostly kimchi, sauerkraut and jalapeños, prepared through Fenley's FDA-certified processes and ready to ship to foodies and health-conscious customers, many of whom have embraced cooking with probiotics and digestive wellness in mind through Cultured Guru's frequent essays and recipes.
"The early blog posts were way more nerdy," says Fenley, who met Chachere while both served in the LSU Ambassador program. "I think when it comes to teaching science through blogging I wouldn't just start telling people about sourdough microorganisms without beautiful pictures of crusty Dutch oven sourdough bread. It's appetizing. It's drool-worthy. It looks so good that people want to know everything about it."
Cultured Guru's business has grown to supply more than two dozen retail stores, including Whole Foods Market. That expansion from concept to kitchens across the state in four years as Louisiana's first commercial fermented foods company is due in large part to how efficiently Fenley and Chachere work together.
From R&D and food safety, to writing, marketing and social media, between the two of them, everything at Cultured Guru is done literally in house. Despite the long workdays of a startup, operations are relatively painless. Communication, Chachere says, is key.
"Kaitlynn and I did not go to business school, so we are learning as we go," says the 26-year-old Chachere. "There are days that are frustrating, and it is so easy to take things personally and get upset with each other, but if you keep in mind that it is 'Us vs. the Problem' not 'You vs. Me,' it really allows you to tackle issues more effectively."
Using large American white oak barrels, the couple began cranking out batches of fermented foods in 2016 after Fenley, now 27, taught several sold out fermenting workshops in Baton Rouge. Kimchi, the brand's biggest seller, wasn't even on the initial menu of offerings. The blog then began supporting the ferments, showing how easy it is to incorporate gut-friendly, natural probiotics into daily cooking.
"We want to be a resource for all things good for your gut, so I want to make sure that my photography communicates that," Chachere says. "These foods look good for you, and they are good for you."
The COVID-19 outbreak hasn't affected their supply chains — at least not yet — other than slightly more difficulty getting fresh carrots and green onions. But orders are up, and they are having to restock grocery store shelves at a faster rate. Home cooking has a lot more people trying ferments and recipes from Cultured Guru.
Cultured Guru also creates biome supplement powders with probiotics that promote digestive wellness, hormonal balance and healthy skin. They'll be looking to expand their product lines in the next year or two, while Chachere also begins working with other like-minded companies to improve their branding and photography. But for now, Fenley is focused on another aspect of their work, the wisdom-sharing pursuit of the guru.
The couple already leads classes regularly and plans to launch a fermentation school in early 2021. "I was born to teach people a holistic view of the microbial universe," Fenley says. "To remove the fear and mystery of microorganisms through education and modern imagery so that everyone can embrace microbes as our necessary partners. The mission is to teach. To make microbiome health accessible."
Despite the extensive research and science-based approach that goes into their recipes, fermented foods and classes, Fenley stresses that eating a healthier, largely plant-based diet amounts to little more than a series of simple decisions.
"We always preach," Chacher says, "that eating a healthy, plant-based diet is not as complicated as people make it out to be."
---
Is there a food you'd like to ferment that you haven't yet? Green tomatoes. I'm actually trying it for a blog recipe. I love just making random ferments, then teaching people how to make it themselves. Right now, I have some red wine vinegar experiments on my counter, and some fermented baby bok choy that I can't wait to try.
Which of your drink recipes do you recommend people make at home this fall? If you are enjoying a football game or a nice fall brunch, definitely make the Kimchi Bloody Marys. If you just want a healthy drink, I'd suggest the Pomegranate Orange Water Kefir.
What is the biggest misconception about gut health? Definitely probiotic pills. There is no such thing as a probiotic pill for gut health. I believe that if we continue to exploit microbes the way the probiotic pill industry is, then we will find ourselves in a dangerous predicament. The ethical ramifications of the probiotic pill industry will catch up with us. If someone wants to achieve optimal gut microbiome health, one must eat plants. Mostly just plants. I'm not saying you have to classify yourself as a vegan or vegetarian, but your diet should be 90% fresh and cooked vegetables, legumes and whole grains.