Goaltending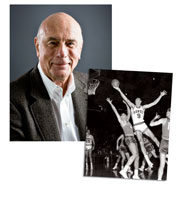 Nowadays people pay for self-improvement. They turn to psychiatrists, books on tape or life coaches. Bob Pettit looked inward.
In 1956 Pettit, playing for the St. Louis Hawks, had just won the National Basketball Association's first-ever Most Valuable Player award. He also led the league in scoring and rebounding. But he wasn't satisfied.
The Baton Rouge native returned home and asked himself one question: What can I do to get better?
Pettit sought out local fitness guru Alvin Roy who decided to put the lean 6-foot-9-inch Pettit on a weight-training program that would increase his strength without sacrificing his flexibility and agility.
The revolutionary regimen paid dividends. Over a five-year period Pettit gradually packed on 30 pounds of muscle and began to relish the NBA's bruising style of play.
His résumé is revelatory of a single-minded approach to accomplishing his goals: Pettit was the NBA's first dominant power forward. A two-time All-American at Louisiana State University, he made the NBA All-Star team in all 11 of his seasons with the Milwaukee and St. Louis Hawks. He led the Hawks to the 1958 NBA title. He retired as the league's all-time leading scorer, and in 1970 he was inducted into the Basketball Hall of Fame in Springfield, Mass. In 1996 he was named one of the 50 greatest players in NBA history.
"The thing that defined me as a basketball player was my determination to succeed," Pettit says.
It's an attribute that served him even after he took his final shot as a pro athlete.
In January 2006, he retired from Equitas Capital Investors, a financial consulting company that he co-founded, concluding a successful career in banking and investing.
Pettit's entree into business was primarily a function of necessity. It also recalls a bygone era in professional sports.
During his playing days, he would return to Baton Rouge during the off-season to work at his family's real estate and insurance business. In 1963 American Bank and Trust Co. in Baton Rouge offered Pettit a job with the caveat that he would play only two more years of basketball and after that time would begin his new career in banking.
Pettit told Hawks owner Ben Kerner of the plan, and Kerner signed off on it. And at age 32, Pettit willingly walked away from the game.
"All of us in those days understood that basketball was not something that at the end of your career, you could retire," Pettit says. "It isn't like today."
The NBA's golden age, both in terms of popularity and prosperity, was still several decades away.
"They weren't throwing silver dollars around," Pettit says. "You had to fight for every penny. It was a good learning experience, but the dollars were not there –– or at least the owners all said they weren't there."
Pettit worked in the banking industry in Baton Rouge and Metairie for 23 years before entering financial consulting in 1988. In 2002, Pettit and three partners founded Equitas Capital Advisors, which is the largest independent investment management-consulting firm in Louisiana.
"I associated with three very sharp guys, and I rode their coattails," he says modestly. "If you're going to go into business, go into business with somebody who's smarter than you are."
Although he's now out of the financial consulting game, Pettit, who turned 76 in December, still keeps an office at the company's downtown New Orleans headquarters.
But his famous focus, which enabled him to achieve so much athletically, is clearly on his wife, Carole, and their three children and eight grandchildren.
Pettit says he's enjoyed his post-basketball life as much as his life in the NBA. The adulation and the attention have waned, but his sense of fulfillment has not.
"An awful lot of [former professional players] continue to look back on basketball as the greatest part of their life," Pettit says. "They always live back in the past and I have not been bothered by that problem."