Grace Episcopal Church and Cemetery, St. Francisville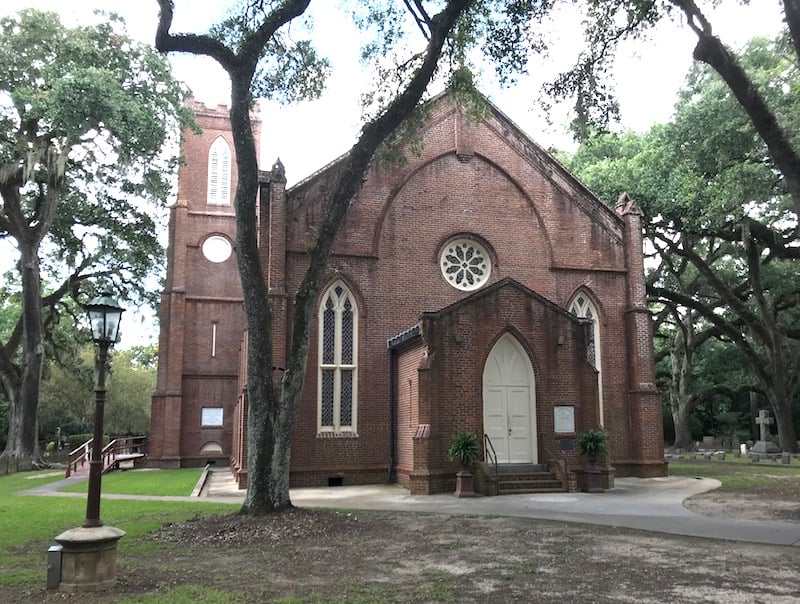 We all know that war is hell but sometimes there's a brief pause in the suffering when the light shines through and we remember our humanity.
U.S. Lt. Cmdr. John Elliott Hart happened to be commanding the Union gunboat U.S.S. Albatross in 1863, at the height of the Civil War, when he became deadly ill with yellow fever. Hart had been shelling Port Hudson above Baton Rouge while upriver Gen. Ulysses S. Grant was doing the same at Vicksburg, both hoping to free the Mississippi River for the Union.
The Albatross continued its shelling on Port Hudson but also its neighboring town that sat high on a bluff, St. Francisville. One of the town's tallest structure was Grace Episcopal Church and Hart and his men aimed their guns in its direction.
On June 12, 1863, the shelling abruptly stopped. Sick and raging with fever, Hart decided to end his suffering and took his life onboard ship.
Hart was a Mason and Masons have their own form of burial. So, a few of Hart's fellow officers did something most unusual. Executive Officer Theodore B. Dubois raised a flag of truce and entered the town, asking if other Masons lived in St. Francisville and would they offer their commander a burial with Masonic honors.
The town agreed, Mason residents were assembled and Hart was buried in the cemetery at Grace Episcopal with dignity by a party of both Union and Confederate Masonic officers. Grace's Rev. Daniel S. Lewis conducted the service.
In a turn of events — perhaps to remind us we are all one in death so why not in life — Confederate Army Captain William Walter Leake, who facilitated Hart's burial, is also buried at Grace. Leake later became a state senator, circuit court judge and newspaper publisher.
Grace Episcopal remains one of the few places where Union and Confederate officers are buried together. And every June, Hart's funeral is celebrated in St. Francisville with a festival titled "The Day the War Stopped."
Look for both their graves when visiting Grace Episcopal Cemetery, but take the time to stroll among the live oak trees and wrought- and cast-iron gates dating to 1855. The church is one of the state's oldest Protestant churches, its congregation dating to 1827, and the rebuilt church you see today in 1893. Grace Church is Louisiana's second oldest Episcopal parish.
In addition to Hart and Leake, many notable people lie beneath the landscaped acreage, a site so lovely it's used extensively by photographers and artists.
Robert Hilliard Barrow, a four-star general in the U.S. Marine Corps, and Junius Wallace Jones, an Air Force Major General, are buried here. Numerous Louisiana politicians have met their resting place here as well, including State Sen. Samuel Lawrason, Supreme Court Judge George Mathews Jr., U.S. Rep. John Bennett Dawson and Joseph P. Newsham, who moved to Louisiana after having served in the Union Army during the Civil War.
I've heard that in the back of the cemetery there's an empty crypt with stairs that lead down into the tomb. Some claim it was a hideout used by Confederates, but maybe that's just an old cemetery myth.
The cemetery and the grounds are open daily for visitors. Park at 11621 Ferdinand St. in St. Francisville. Grace Church is a working congregation with weekend services offered at 7:30 a.m. and 10 a.m. Sundays.