Great Chefs: Alex Patout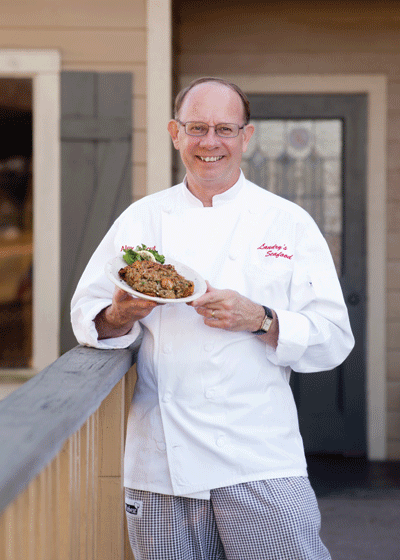 With this issue, we introduce a new section featuring recipes from the great chefs of Louisiana. We begin with Alex Patout, who is one of the top specialists at preparing the cuisine of Acadiana. Patout's career has taken him to various stops, including New Orleans and even a stint in Florida. Now he is back on his native turf at Landry's ("Not the chain," he is quick to say) located in New Iberia. Patout can talk Cajun cuisine history with the same proficiency with which he turns out savory preparations. We begin with a seafood-rich casserole – a masterpiece from Patout's kitchen.
Eggplant Casserole with Shrimp and Crabmeat
1/2 pound margarine
3 large onions, chopped fine
2 medium bell peppers, chopped fine
2 celery ribs, chopped fine
4 medium eggplants, peeled,
cut into 1-inch cubes,
boiled until tender,
drained and puréed
2 cups shrimp stock
1 1/2 teaspoons red pepper
1 1/2 teaspoons white pepper
1 1/2 teaspoons black pepper
1 1/2 teaspoons salt
4-6 dashes Tabasco
1 teaspoon dried thyme or
1 tablespoon fresh
1 teaspoon dried basil or
1 tablespoon fresh
1/2 teaspoon dried oregano
or 2 teaspoons fresh
2 pounds medium shrimp,
peeled and deveined
1 pound cooked crabmeat,
claw or white
1 cup chopped green onions
1 cup chopped flat leaf parsley
Breadcrumbs
Melt the margarine over medium-high heat in a large Dutch oven or other heavy pot, and add the onions, peppers and celery. Cook the vegetables until they are very soft, stirring occasionally, for 30 to 45 minutes. Add the eggplant purée, shrimp stock, seasonings and herbs to the vegetable mixture; return to a simmer; and cook over medium heat for 10 minutes, stirring occasionally. Add the shrimp, and continue to cook over medium-high heat just until the shrimp turn pink, 5 to 7 minutes. Add the crabmeat, and cook just long enough to heat through. Remove from the heat, and stir in the green onions and parsley. Add breadcrumbs to bind all ingredients. Serves 8.