Great Louisiana Quiz – Filmed in Louisiana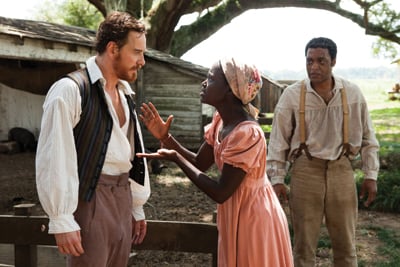 1. Pictured here is a scene from 12 Years A Slave. One of the performers won an Academy Award. Which one?
A. Michael Fassbender – Best Actor
B. Michael Fassbender – Best Supporting Actor
C. Lupita Nyong'o – Best Supporting Actress
D. Chiwetel Ejiofor – Best Supporting Actor
2. Another movie, filmed largely in Louisiana, competed with 12 Years A Slave for Best Picture. What was it?
A. American Hustle
B. Dallas Buyers Club
C. Gravity
D. Philomena
3. The original Tarzan movie was filmed in Louisiana in 1917. Near what town was it filmed?
A. Morgan City
B. Shreveport
C. Minden
D. Bordelonville
4. Blaze is about former governor Earl Long's relationship with stripper Blaze Starr. Who played Long?
A. Robert Redford
B. Robert Mitchum
C. John Wayne
D. Paul Newman
5. The famous café scene in Easy Rider was filmed in this town.
A. Bossier City
B. Morganza
C. LeCompte
D. Lake Providence
6. While overcome with too much Boone's Farm, your friend has this wild idea for a movie in which men go to space but land instead in New Orleans on Mardi Gras and think they are on another planet. He doesn't know that that was done already in 1953. What was the movie?
A. The Three Stooges in Space
B. W.C. Fields' Big Adventure
C. The Ass-tronauts
D. Abbott and Costello Go to Mars
7. Filmed largely in the vicinity of Natchitoches, Steel Magnolias starred six famous actresses. Which one was NOT one of them?
A. Sally Field
B. Meryl Streep
C. Shirley MacLaine
D. Julia Roberts
8. Among his many roles, this star played a fictional Saints quarterback in the film, Number One and Gen. Andrew Jackson in the film The Buccaneer, both set largely in New Orleans. Who was he?
A. Charlton Heston
B. Errol Flynn
C. Jimmy Stewart
D. Anthony Quinn
9. Besides doing film work locally, this star maintained a residence in New Orleans and has been involved in building post-Katrina housing.
A. Steve Zahn
B. Brad Pitt
C. Matthew McConaughey
D. Ron Howard
10. This actress adopted a son in New Orleans and has supported a high school there. Who is she?
A. Cher
B. Sandra Bullock
C. Cicely Tyson
D. Rene Russo
Answer this BONUS QUESTION and be eligible to win an overnight stay for two at the luxurious PARAGON CASINO RESORT: There are three AMTRAK passenger trains that go through parts of Louisiana. What are their names and what are their final destinations?
Send in your answer on a postcard addressed to:
Louisiana Life Bonus Question
110 Veterans Blvd., Suite 123
Metairie, LA 70005
Two winners will be drawn from among the correct answers. Each will receive an overnight stay for two at the recently expanded and re-modeled Paragon Casino and Resort in Marksville. Winners' names will be announced in the September/October 2014 issue.
For our JANUARY/FEBRUARY issue,
the question was: What casinos in Louisiana are owned by tribal communities? Where are they located? What is the name of the tribes?
The correct answer was:
Cypress Bayou (Charenton) – Chitimacha; Coushatta Casino Resort (Kinder) –Coushatta; Paragon Casino (Marksville) – Tunica-Biloxi; Jena Choctaw Pines Casino (Creola) – Choctaw.
Winners were:
Arleen Orgeron – Brousssard
Deirdre Yanes – Baton Rouge
(Note: One other person qualified for the drawing but did not include his/her name and address.)