Great Outdoor Experiences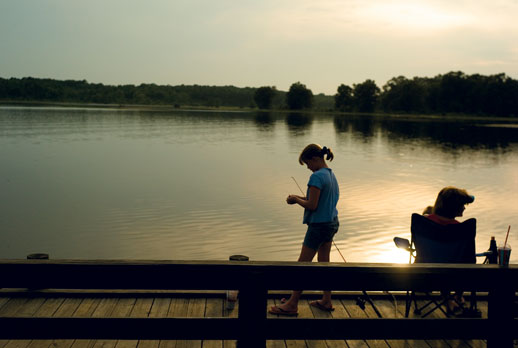 Do you remember the first time you canoed inside a cypress-studded swamp with egrets skipping from tree to tree? Or those family drives past crippled camps to secret crabbing spots and back home to Saturday night crab boils? And the spring fever days racing to the neighborhood park armed with a bag full of crumbs for a fan fest of hungry ducks? That moment when you felt connected, when time stood still and you never wanted to leave? Tied to our memories of Louisiana's outdoors, many of us are returning to our roots and building a new generation of stewardship.
Based on my chats with friends, family and fellow members of the Louisiana Outdoor Writers Association, it seems most of us dream of getting lost again. Hiking, camping, fishing and boating topped the list.

EXPLORING THE SWAMPS
My sister, Misha Guirard, recalls her weekend excursions at the family camp on Head of Island in Livingston Parish and says she still enjoys the simple things at her weekend home in Catahoula skirting the Atchafalaya Basin. She loves discovering Louisiana: packing an ice chest and hopping into a small flatboat with her husband, Ed, to explore the swamps or take advantage of the cool waters during the hot days of summer.
"With or without friends, we enjoy going to the lake to swim, tube and water-ski –– the same as we did at Lake Maurepas," she says, adding that today's camp is always filled with company who join her in picking blackberries for cobbler and thistles for salads. "I did the same thing with Dad; it brings back so many memories."
There's always fishing off the dock and bonfires at night, and eventually everyone gathers at the bridge for a little rock-throwing competition. Cane poles baited with hot dogs were the norm in the old days, and the whole family got involved. "The same bait applies – hot dogs. I hate to torture worms, and you never catch as many as you do on Oscar Meyer," says Guirard, noting that rods and reels have replaced cane poles but the bonfires never change. "The men especially love this, and the main goal is to burn the marshmallow –– from sticks to clothes hangers, that method has not evolved much."

CRABBING TRIPS (AND TIPS)
Eating hasn't changed much either: No takeout food but rather boils and barbecue –– and the more the better.
My father introduced me to my first taste of South Louisiana at the age of 12. (Well, minus the raw oysters he fed me on the back porch stoop in New Orleans at the age of 4. My mother caught him and scolded him good, but I kept crying for more.) No, my first real taste was a soft-shell crab poor boy.
With the food came the hunt, and for most of us, it's a coin toss as to which is more fun. Besides slurping on a large spearmint snowball, my fondest summertime memories have to be those family crabbing trips to Lafitte. We loaded up the two-tone Chevrolet with a bundle of twine, chicken necks, a plastic laundry basket and a scoop net. In 1969, we fought for the window seats and let the wind whip our hair. Past Barataria Boulevard, heading deeper into bayou country, the road seemed to get smaller and the smell stronger. In addition to the thrill of pulling in the tenacious critters, we always made a game of who caught the most, the biggest or sometimes the bravest of the basket. And on the way home, visions of boiled crabs danced in our heads.
On his Web site, John Felsher, a LOWA member and an avid fisherman, offers crabbing tips, including suggestions on bait, locations and technique. Fishing docks and seawalls –– preferably near restaurants or shrimp boats –– offer prime spots for healthy populations of crabs seeking freebie food scraps and remnants from cleaning fish. He suggests you cut twine into 15- to 20-foot lengths to reach the bottom and bait them with sturdy bait such as turkey or chicken necks. If there's a current, a small weight or rock will help keep the bait on the bottom. When the line becomes stretched, gently lift it, and when the crab is in view, move the net upward from the rear to cut off its retreat.
Felsher recommends throwing back female crabs when they are carrying eggs. "The female belly tabs resemble a woman wearing an antebellum skirt," says Felsher, explaining that this is where they carry and protect their eggs. "They resemble tiny blackberries, and killing one female in the berry stage could kill millions of crabs and potential future meals."

CAMPING IN STATE PARKS
Paula Ouder, a LOWA member and a devoted camper who grew up in Slidell and was a Girl Scout for 10 years, found that her scouting skills came in handy later in life. She has fond memories of camping at Fontainebleau State Park and making sand candles by digging small holes on the beach and filling them with colored wax. That was one of her last real camp outs until a trip to Asheville, N.C. Finding no available hotel rooms, she and her companion headed for the nearest department store for a cheap tent and some supplies and bedded down at a nearby campground.
"We collected wood, and I couldn't wait to make a real Girl Scout campfire –– big logs placed in a triangle with just the right amount of tinder and kindling filling the inside –– and to toast marshmallows and cook some food in the great outdoors," Ouder says. "We hung on to the tent, and I dug up my old mess kit out of the closet at my parents' house and added to our supplies."
Ouder picks up items at thrift stores and garage sales and makes a point to buy local honey at roadside stands. "Camping has become a new hobby and a great break from city life in Baton Rouge and my desk job at LSU," says Ouder, who suggests taking advantage of the huge bargains at Louisiana state parks. "Whenever we need to get out of town or to reconnect with nature, we load up the dog and the two camping boxes into the pickup and head for the hills or the woods."

BOATING ON THE OUACHITA RIVER
The Ouachita River in Northeast Louisiana was designated one of the Top 10 most beautiful rivers in the country by National Geographic some years ago. Locals are obviously still infatuated with it because it's the mecca of entertainment in the warmer months. "You'll find people fishing; boating; skiing; tubing; surfing –– yep, they'll try anything; and sometimes lounging around on the top deck of a party barge or just floating on an air mattress," says Mona Hayden, a Monroe resident and the editor of Louisiana Road Trips magazine. "We love our water in Louisiana and especially the Ouachita River!"
EXPLORING THE KISATCHIE NATIONAL FOREST
Spread across seven parishes in Central Louisiana, Kisatchie National Forest has provided an outdoor playground for many Natchitoches residents. Taylor Graves remembers family camping trips inside the Kisatchie and today continues to visit the forest with friends to enjoy the water and sun. "From the age of 5, I've traveled out to Kisatchie to fish, swim, build sand castles and picnic," she says fondly. "At night, we built a fire, cooked hot dogs, sang songs and told stories until bedtime."
Arlene Gould sits with her nieces and nephews and pages through photo albums of the Longleaf Vista Complex in Kisatchie. They would swim at the rocky rapids and sandy beach area and then ride the roads and trails, finishing with a picnic lunch while taking in the vista. "The elevation was so high and the views so beautiful," says Gould, a Natchitoches resident and an employee of the Natchitoches Area Convention and Visitors Bureau, recalling one trail she and her nieces and nephews explored 10 years ago. "I have great photos of their journey, and now, as adults, when they look at the photos, we all laugh about the fun time we had there."
FEEDING THE DUCKS
While visiting the Cane River Lake in downtown Natchitoches, Latisha McDaniel and her young daughter follow the same weekend traditions her mother and siblings set. "We would feed the ducks and slide down the riverbank on cardboard," she says. "I bring my daughter down here to enjoy the things that we did as small children."
Sometimes enjoying the outdoors can be as simple as an occasional visit to your neighborhood park with a bag of bread. "One of my favorite parks is the duck pond on East Kings Highway in Shreveport," says Brandy Claiborne, vice president of communications for the Shreveport-Bossier Convention and Tourist Bureau, who has taken her daughter to the park for years. "We enjoy the stream flowing through the park and bring a loaf of bread to feed the ducks, and then we play on the swings when the bread is all gone."

DISCOVERING CADDO LAKE
In the northwest corner of the state, Caddo Lake, the largest natural lake in the South, is surrounded by one of the largest cypress forests in the world with moss-draped cypress groves and lush vegetation. Nearly 33,000 acres of water flow across the state line from Morringsport, La., through the piney woods of East Texas. Several parks offer fishing, canoeing and birding along with tour and guide services.
Kelly Wells, vice president of tourism for the Shreveport-Bossier Convention and Tourism Bureau, visits Caddo Lake with his young family in what he calls a positive investment for their future.
"My son's favorite activity at Caddo Lake is canoeing or boating around the lake or one of the bayous," says Wells, adding that Caddo's sights and sounds calm his fidgety 2-year-old son. "I cannot get him to sit still anywhere else, but when we are on an expedition at Caddo Lake, he will sit mesmerized, afraid he will miss a squirrel climbing a tree, a water bug swimming circles along the shoreline, a buzzard circling high overhead or a deer running through a field."
Hook a big one on a charter boat, snag a catfish with a cane pole, or hang a crab line from public docks and roadside bayous. Follow thousands of birds roosting in cypress forests, or listen to the sounds of the night while canoeing down a river under a full moon. Dig out the old tent, and spend the night in the wild or maybe on a floating houseboat or in a swampside bungalow or a lakeside cabin. Give the tourism office a call, or drop in at a local restaurant to ask them about their favorite spring or summer outings. Odds are you'll find a new way to travel down memory lane.