Greater New Orleans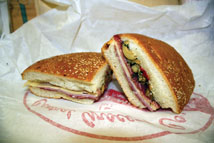 FORK IN THE ROAD
Muffy!
When we were in our late teens and early 20s and at the time possessed a metabolism that fortunately ran at the speed of hyperspace, my cousin and I haunted the French Quarter on Saturdays. We started with beignets, had our fortunes read at The Bottom of the Cup Tearoom on Royal Street and sometimes were really bad by having a Hurricane at Pat O'Brien's. Usually by an almost-unspoken agreement, we found ourselves strolling down Decatur Street at lunchtime, heading for Central Grocery and what was then the $3.50 bliss of a paper-wrapped muffuletta sandwich and a couple of squares of the best baklava to be found. We'd walk to Jackson Square, sit on the grass (sometimes amid blazing azaleas) and split a muffuletta between us.
This round delicacy is filled with equal layers of hard Genoa salami, Italian ham, mortadella and mozzarella and provolone cheeses and topped with the divine, savory mélange of an olive salad –– pimento olives, pickled cauliflower, capers, garlic, carrots, oregano and black olives, all marinating in oil that flavorfully soaks the hard round upper crust of sesame-studded Italian bread. It is so delicious it borders on the uncanny. The internationally renowned muffuletta can only be found in the Crescent City and was created at Central Grocery by its first owner, Salvatore Lupo, a Sicilian immigrant.
According to the cookbook Marie's Melting Pot, written by Marie Lupo Tusa, Lupo's daughter, the muffuletta was created in the early 1900s. Central Grocery has been in the same location since 1906 and was in close proximity to the farmers market. Most of the farmers who set up produce stands at the market were Sicilian. Frequenting Central Grocery daily for lunch, they routinely ordered salami, ham, cheese and olive salad served with long braided Italian bread or round muffuletta bread. Lupo would watch the farmers sit on crates or barrels, balancing their separate food items on little trays with difficulty. He suggested that they allow him to put all of their ingredients between two pieces of bread like a sandwich. The round muffuletta bread was perfect, and soon the farmers began ordering the sandwich they called "muffuletta."
Central Grocery is a tiny mecca for Italian, Greek, French and other international food items. The shelves of this small cozy store, which is perfumed by the rich aroma of muffulettas being made, climb the walls to the ceiling, filled with glistening jars and cans. Lines of people waiting to order a "muff" have been known to reach out to the sidewalk.
Central Grocery, 923 Decatur St., (504) 523-1620
LOUISIANA GROWN
Sweet peas
It was my good fortune to be born into a family that loved gardening. Before I was even school age, I remember kneeling in the small backyard of our cottage in Uptown New Orleans with my mother on a crisp autumn morning. She watched as I dropped rows of sweet pea seeds into a bed of soil. When spring arrived, the 7-foot-high chain-link fence above the flower bed became entwined with thin chartreuse vines jeweled in color. Flowers that looked like small ruffles fluttered in rich tones of deep rose, salmon, violet, pink, crimson rose, blue, scarlet and white. The petals felt like velvet and exuded an opulent scent that was a heady combination of orange blossom and sweet nectar. One particularly glorious March day the year I was 6, I was stuck inside with the flu, miserable, confined, feeling left out of everything. Suddenly, like magic, my father came to my bedside holding the largest bouquet of sweet peas I had ever seen. He bowed to me and said, "My Lady," as he handed me the flowers. My spirits soared, not only at the vibrant beauty of the flowers but also because he had known without my saying anything that I needed a real lift and that sweet peas were the exact ticket.
Sweet peas were thus christened by poet John Keats in the early 1800s. History says they were found growing wild on the island of Sicily by a monk named Franciscus Cupani in the mid-1600s. Cupani sent their seeds to Robert Uvedale, a British schoolmaster, and to Caspar Commelin in Amsterdam. The plant spread both in popularity and variety –– from the simple maroon-purple bicolor first discovered by Cupani, sweet peas have branched out and now offer the widest choices of color to be found in the plant kingdom. Navy blues, crimson reds, violets and pastels that are either solid, bicolored, streaked or flaked can fill early spring gardens in New Orleans with riotous Mardi Gras color.
The seeds need to be planted near a structure or support to hold the vines and tendrils once they've sprouted. Plant in autumn, and use a time-released fertilizer lightly or the blooming will be delayed. Sweet peas thrive when planted in southeast-facing beds. The flowers should be routinely cut to encourage further blooming. Although sweet peas belong to the legume family, both the flowers and seeds are poisonous.