Greater New Orleans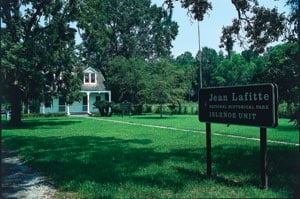 WORTH WATCHING
San Bernardo
The San Bernardo Scenic Byway, which winds past Chalmette Battlefield in St. Bernard Parish, travels the land of "Los Islenos"(the island people), who left the Canary Islands in the 1780s and colonized Louisiana in 1788. (The Canary Islands, 60 miles southwest of Morocco, were the last port of call for Columbus before he discovered America.) Many elderly Islenos in St. Bernard Parish still speak archaic Spanish, and the vibrant Basque influence on their heritage is apparent in their food, dance and celebrations. Their history is rich with the Spanish galleons that carried them to Louisiana and their ancestors, who fought with Galvez to repel the British from Baton Rouge, Mobile and Pensacola. Visitors can partake of this rich island culture at the Islenos Museum. The byway stretches along lower Louisiana 46, through Yscloskey and Delacroix through an area too rich with history and culture to ignore.
Los Islenos Museum, 1357 Bayou Road, St. Bernard, (504) 682-0862.
PROFILE
Fromage forte
Like firelight gleaming off an apple in a bottle of Calvados on a winter's night, the cheese island at Dorignac's Food Center in Metairie offers the same vivid and intoxicating comfort. Gerry Rudesill brings creativity and imagination to the selection offered in her dairy-to-the-ninth-degree department. The cheeses are laid out in waves amid fruit, wine and carafes. Selections include Tillmook cheddar from Oregon, with a flavor riding somewhere between mellow and sharp in maverick richness; and butter made from Italian Parma cream, the same base for Parmesan cheese, which is perfect for garlic bread. The sheep's cheese studded with pistachios and the vivid green pistachio cheese spread leave little wonder why this delectable nut was mentioned as a trade item in the book of Genesis.
Rudesill stocks ricottas that sell as quickly as toys on Christmas Eve. These time-honored fromages are flavored with lemon and chocolate and taste like cheesecakes.
Her own concoctions are both bestsellers and visual stunners – imagine an entire wheel of Brie in lavender honey filled with pecans gracing your New Year's Day table.
Rudesill created a pumpkin-pineapple spread and a blue cheese dip, half with walnuts and half without. She usually makes these spreads on Thursday; by Saturday morning, they're sold out. She suggests slathering a roast with garlic-butter spread before placing it in the oven. Rudesill, who thrives on interaction with her customers, also suggests that simple water crackers are the best way to enjoy cheeses because no other flavors compete with the cheese itself. In her book, the cheese indeed stands alone.
Dorignac's Food Center, 710 Veterans Blvd., Metairie, (504) 834-8216.
NEWSBRIEF
Do you hear what I hear?
Thanks in part to Physicians Choice Hearing Aid Center, hearing-impaired individuals will be enjoying more Christmas carols and Mardi Gras stomps. According to owner Frank Blanchard, the center, through Louisiana Commission for the Deaf and Associated Catholic Charities, offers free hearing devices and amplified telephones to the hearing impaired. Blanchard reminds the public that the state of Louisiana provides free hearing aids for people meeting necessary criteria. Complimentary hearing tests along with custom-made digital hearing devices are also available at low introductory prices.
Physician's Choice Hearing Aid Center, 3829 Veterans Blvd., Suite 203, Metairie, (504) 889-1812.
FORK IN THE ROAD
The winter of our content
Haydel's Bakeries' cavalcade of holiday cakes takes to the streets and skies of Greater New Orleans, destined for all lovers of sweets. Departing from its Jefferson Parish headquarters like Santa from the North Pole is the Kajun Kringle, a tender oval of flaky, buttery pastry encasing a pecan filling, glazed with caramel icing and more pecans. Turtles are alive and well at Haydel's, so mourners of McKenzie's, take heart.
Haydel's selection was designed with a cup of New Orleans coffee in mind. Festive Christmas and New Year's brunches are ideal for the French almond croissant, large, buttery breads shaped like the Crescent City, filled with vanilla cream, topped with French almond cream and almond slivers, and dusted with powdered sugar. Other treats include chocolate Doberge, praline cheesecake and Russian cake, a golden gateau combined with devil's food and almond cakes, mixed with rum flavor, anise and raspberry jelly. In January, braided Danish dough, laced with cinnamon and sugar and doused with fondant icing in purple, green and gold, crowns the winter season as the king cake comes to court.
Haydel's Bakery, 4037 Jefferson Hwy., Jefferson, (800) 442-1342.
LOUISIANA GROWN
And that was the mudlumps
When winter strips the trees along the batture of the Mississippi down to their wooden stays, you can see the river clearly from the levee. Walking past all those marsh-building sediments winding their way to the Gulf of Mexico, you might be unaware there is more going on in the winter-slowed river current than meets the eye.
As it nears the claw of its delta, the rate of the Mississippi gets slower and slower, its energy becomes sluggish, and the Ole Man begins to drop much of his sediment load for lack of strength to carry it. The sands fall first. Next drop the silts, which fall farther away and fan out to form alluvial plains. And the last to drop are the clays, which possess weak, electrical charges that repel each other; for this reason, they live in suspended animation. But when these tiny clay pods approach saltwater, crystallization causes a clumping effect known as "flocculation." That's why the "prodelta," or the place where the Mississippi first hits the shiny, briny sea, is made of solid clay. Other sediments may layer on top of it. The phenomenon is best seen around South Pass.
The coastal currents of Louisiana, like the spin of a hurricane, flow in a counterclockwise direction just off the Continental Shelf, sweeping sediments to the Chenier Plain and Texas coast.
When the Mississippi loads incompressible sands over the clay in its birdfoot delta, a phenomenon called "mudlumps" starts. The heaviness of the sand pushes the clay outward and upward, where there is less sand cover. Rising mudlumps have been known to unearth both fossils and old ships that lay beneath the river. They can grow as high as 4 feet in 24 hours and cause navigational havoc. And when marsh gases mix with a mudlump, you have a spewing volcano of projectile mud on your hands, face and just about everywhere else. Yet another charming feature to the uniqueness of our state, the Mississippi River possesses the only delta in the world where mudlumps appear on our coastline like bubbles in a roux.