Grotto of Our Lady of Lourdes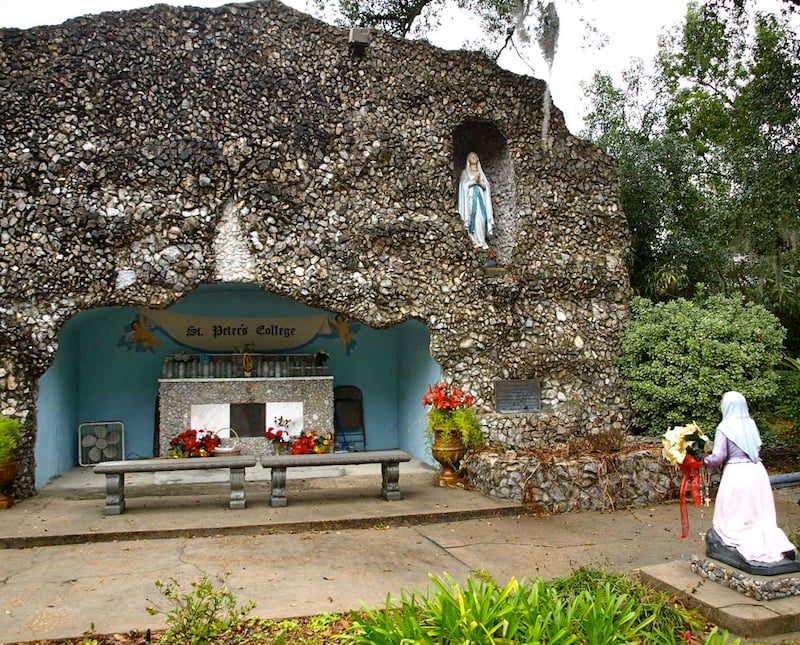 Stroll through the historic downtown of New Iberia and you'll find gracious live oak trees, beautiful historic homes and the Shadows-on-the-Teche plantation, spots where James Lee Burke used in his best-selling novels and the cement Grotto of Our Lady of Lourdes.
On any given day at the grotto, you'll find worshipers besides the replica of Bernadette Soubirous who, in 1858, witnessed the appearance of the Blessed Virgin Mary in Lourdes, France. Soubirous, who was canonized as a saint in 1933, claimed to have seen Mary 17 more times at the French spring of water that became known for its miraculous cures.
The New Iberia grotto at 445 E. Main St. in the heart of New Iberia pays homage to both Soubirous and Lourdes, France. The concrete and Louisiana marble structure was built in 1941 on what was the campus of St. Peter's College, a boy's school operated by the DeLaSalle Christian Brothers. The grotto sits next to the parish's Main Library and New Iberia City Hall, contains a statue of Our Lady of Lourdes perched high within its wall and is shadowed by a peaceful live oak tree thought to be about 150 years old and a member of the Live Oak Society. A statue of Saint Bernadette Soubirous knees in front.
The Grotto of Our Lady of Lourdes was re-dedicated by the Veterans of Foreign Wars in 1967, to honor those from New Iberia who died in the service of their country.
To reach the grotto, take U.S. Hwy. 90 to the New Iberia-Hwy. 14 exit. Take Hwy. 14 into New Iberia (it becomes Center Street) and at St. Peter Street (Hwy. 182 east) turn right. Travel down St. Peter Street and turn left on to Bank Street, then another left on to Main Street (Hwy 182 west). The grotto will be on the right, immediately past the library.